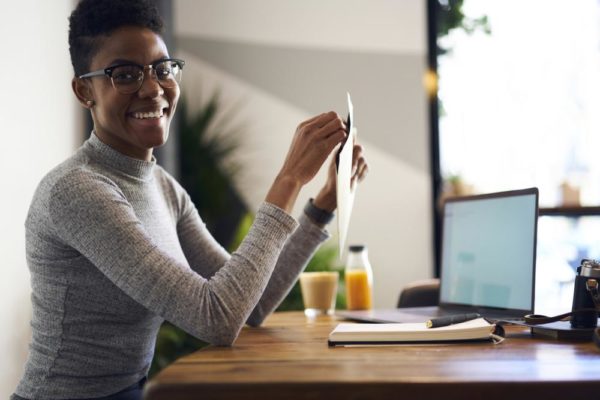 I have had various work seasons in my life:
Full-time (Mondays to Saturday, 8am to 6pm);
Part-time (Mondays to Thursdays, 8am to 3pm) and
Contract-time (Mondays, Tuesdays and Thursdays, 8am to 5pm).
Presently, I work from home full time … And. I. Love. It!
I don't have to leave home by 4.45am, heart beating as I drive through CMS or third mainland bridge, get to work by 5.30am, and sleep in the car till 7.50. I don't have to buy takeaways for dinner or eat whatever is available at home because I'm too tired to cook what I like. Now, when I'm done for the day, I can sit back with a book/movie and a sumptuous dinner.
And I love this rainy season! I remember how I used to be stuck for hours in the horrendous Lagos traffic whenever it rained, tired and frustrated because I knew that even if I got home by 12p.m, I had to leave home by 4.45am the next day. I didn't have a choice. These days, depending on my mood, I just snuggle deeper into the sofa and work on my laptop with a mug/plate of something hot beside me – or I stand at the window looking down at those trying to get to work, and feel sorry for them.
I can feel the envy and sighs coming through already 🙂
Okay, seriously now. This is a season many people desire and dream of. However, without self-discipline and proper handling, it can also end up being very unproductive. You can decide, instead of working, to watch Telemundo, or sleep for an additional two hours when it rains, or camp out on social media – and before you know it, when/if this season passes, you wouldn't have achieved much.
So, let me share some practical steps to help you maximize this season if you are working from home.
First Of All, Set Definite Goals
Your goals should be long, medium and short term. What do you hope to achieve during this season? Get a job? Write a book? Build your clientele base? Partner with a leading firm? Those are long term goals.
Once you know your long/medium term goals, break them down into short term goals. Preferably the night before, or early in the morning, write down your goals for the day. How many hours do you plan to work? I believe the barest minimum should be 8 solid work-filled hours. As a writer, how many chapters or articles per day do you plan to write? As a marketer, how many clients do you plan to call? As a job-seeker, how many CVs do you plan to send out? (Personal development and sending out CVs should be your full time job as a job-seeker).
Structure. Structure. Structure
I cannot emphasize this enough. A bestselling author was once asked how often he felt inspired to write. He replied, 'Every morning at 9'o clock, I sit at my desk and I am inspired to write.' DO NOT leave your work to chance.
Have a timetable which takes your written goals into consideration. For example, a writer's timetable might look like this:
8am to 10am – Write article for Naija Oil and Gas blog
10am to 12am – Write four book chapters
12pm to 1pm – Lunch break
1pm to 2pm – Research
2pm to 5pm – Write six chapters
5pm to 6pm – Personal development
A tele-marketer who is determined to pitch to 100 clients per day might have a structure like this:
8am to 10am – Research for names and numbers of prospective clients
10am to 12pm- 40 clients (20 clients per hour)
12pm to 1pm – Lunch break
1pm to 5pm – 60 clients (20 clients per hour)
5pm to 6pm – Personal development
A job-seeker's timetable might read like this:
8am-10am – Personal development
10am – 11 am – Update profile and interact on LinkedIn
11am to 12 am – Send CVs
12pm to 1pm – Lunch break
1pm to 5pm – Send CVs
5pm to pm – Personal development
(The above is obviously a very simplistic guide. Some might have just one thing on their to-do list. Some have 15. Some people are night owls and begin work at 1 am. Whatever items you have on your list and whatever time is most suitable for you, make sure you have a structure you follow consistently.)
If you plan to work from 8 to 6, make sure you begin by 8. Just like an office employee would rush out of the door to get to work by 8, you should keep an eye on the clock while going through your chores, grooming and breakfast (if you have it that early) to make sure you are seated at your workspace by 8. No matter what happens – except in dire emergencies – resume work at 8.
Concentrate on only your goals until it's time for your break, and then you can do anything you want to do. After your break, go back to your schedule and stick with it.
If you borrow work time, make sure you pay it back. What do I mean? If you spent an extra 15 minutes on your break because a friend dropped by, make sure you close 15 minutes later. If you only work when you feel like it, you will find you haven't achieved much at the end of the day.
Minimize Being On Social Media – Or Avoid It Altogether.
This is so important, I had to give it its own paragraph. Social media can be such an insidious and alluring thief of time and creativity. You just want to wish Bola birthday on Facebook, and two hours later, you are still liking and commenting on posts. Except your work has to do with constantly being on social media, I would advise you log out of all social media until the end of your work day. You would be AMAZED at how much you achieve at the end of the day, as well as your mental clarity.
You would even begin to notice a diminishing desire for social media because your brain is booting, your creative juices are flowing, and there is so much you can achieve! A famous Nigerian personality once remarked that he logged out of social media for one day, and at the end of the day, he had been able to come up with two scripts, spoken with a movie director about one of them, and started work on his third.
Be Flexible
Yes, structure is needed for maximum results, but productive flexibility is also necessary when working from home. Let's say you are to research from 8am to 10am, but the network is so poor that you spend over 30 minutes loading up one page. It would be unwise to spend two hours loading four pages, wouldn't it? Instead, you can make an exchange with the 4pm writing slot, and do your research when the network is much better.
Or, if you are a mum and your children are on holidays, you can try to get more work done earlier in the day and later at night until school resumes. The most important thing is to aim to make sure you achieve all of your goals before the end of the day.
Personal Development
It can be so easy to get carried away with work, or become too comfortable being at home, that you forget to develop yourself. Make sure you slot in at least an hour a day for your personal development. Read a book in a desired field. Sign up for online courses. Develop yourself within and beyond your field.
Just make the most of this season so that, whether in or out of an office, you are still on top of the game.
Photo Credit: Gaudilab | Dreamstime.com