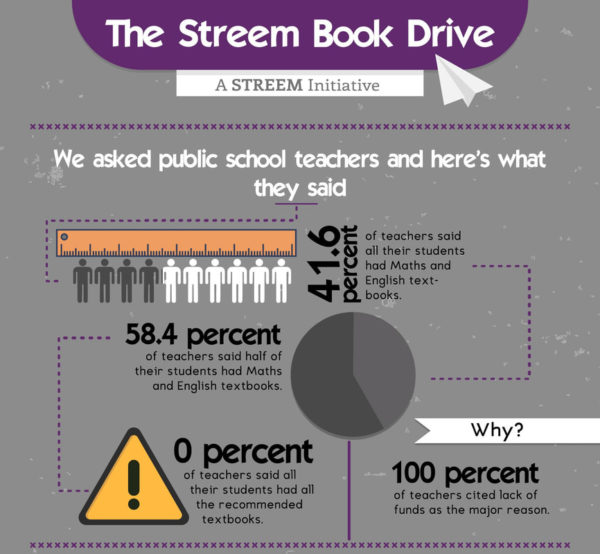 Streem Book Drive recently conducted a survey on the number of Children in public schools who actually have the textbooks they need for school, and the results were alarming. Only 41.6% of teachers said that their students have Mathematics and English Textbooks for school, while just 58.4% said that up to half of their students had the recommended texts needed for school.
The effects of this are quite disturbing. Here's what their teachers had to say about the effects of not having school books on their students.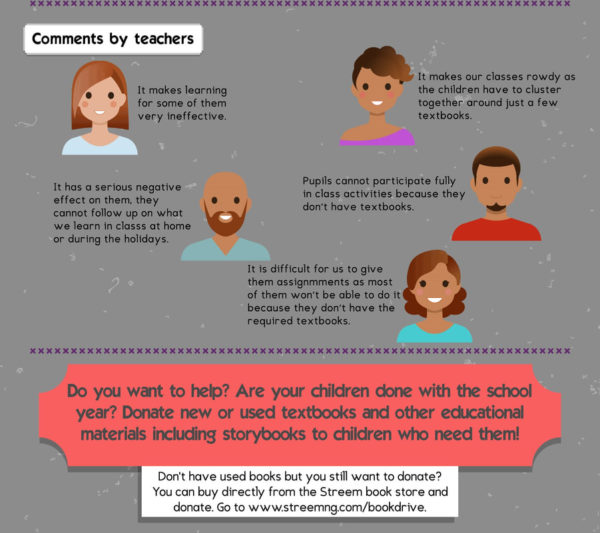 Care to help Out?
Are your children/siblings done with the school year? Don't keep their old school books locked up in a bag or room somewhere!
Help a child today, donate new/gently used school and story books to the Streem Book Drive.
Drop Off Stations: Kid Entrepreneurs Centre, Lekki ( IG: @kidentrepreneurs )Emerald Suites, AkokaTimepoint Travels & Tours, SurulereLifematics Centre (IG: @thelifematicscentre)
All donations will go to students of public primary & secondary schools in Lagos on the basis of need.
For more information, visit us on Instagram, or visit our website here. You can also contact us on 09090665398 /08186799017 /08026012849 if you have books to donate and there is no drop off station close by.
Streem is an online bookstore for textbooks (primary, secondary, tertiary), educational materials and Christian/Inspirational Books. Learn all about us here.
———————————————————————————————————————————
This content has been published for free as part of BellaNaija.com's commitment to youth, education, healthcare and community development as part of our corporate social responsibility programme