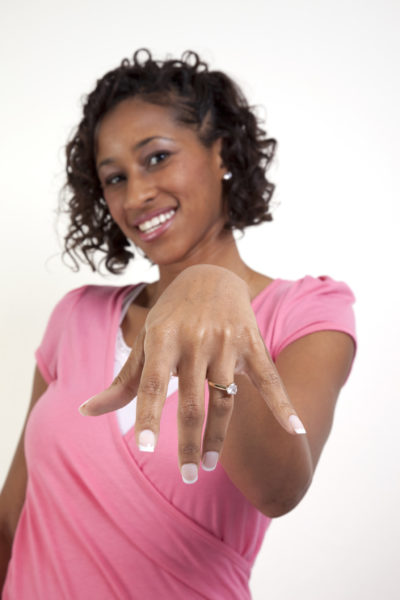 10 pm. It's a Sunday night and you have plans of sleeping early, then your phone rings. It is an incoming call from Eniola… Gosh! You just got off the phone with her like 3 hours ago. What does she want again? But really, what are doing with your life? Also, she is your best friend. You pick up the call:
"Babe?
* Squeeeeeeaal* "Oh my God! You won't believe what Nnamdi just did!"
"What?"
"He proposed to me! Babe, I'm engaged!"
"What!"
"Hah! lemme send you a picture of the ring on Whatsapp, I'll call you back with the full gist. I'm so excited! "
The call ends and there's a loud beep on Whatsapp. True to her word, there is the picture of a giant ring flashing on your screen. And instantly, you're filled with so many emotions and there are so many thoughts swirling around your head.
We are getting Married!
Goosebumps. Pure, unadulterated happiness. You can't believe your best friend is about to be married. Like, actually married. It's a stage in life you both have been ready for and looking forward to, so it feels as though it is happening to you too. You legit feel like you are the one who just got engaged. You want to shout it out to the world, so you quickly change your Whatsapp DP and put up a picture of your BFF's ring. Also, you post it on Twitter and Instagram. You are super excited you don't even realise you screaming like a mad person, even though you are alone in your apartment. What would the neighbors think? But who cares about neighbours right now? You start to get misty-eyed, but no you will save the tears for your speech at the wedding. Nnamdi truly made an honest woman of your girl!
WOW! So, she is going to only have sex with 'Nnamdi' for the rest of her life?
Amidst the intense feelings of joy and happiness, it dawns on you that your BFF getting engaged to her man means that he is her final bus stop. She is going to be with just him now, no more side toasters and flirtations. How will she cope? Someone who used to find it challenging settling on which person to go out with on any given night…and OMG! She will have to have sex with just him for the rest of her life! Ewwh! But that's not even the real issue here, all the juicy gist you will hear from then on would be about the one man …forever? Ah! And even, now that they are about to be married, she may not give you the full gist again. Heartbreak. Your friendship will now be dry. Gosh. You start to get agitated and depressed.
Does this mean she will abandon me now?
Ok, maybe you are now starting to make it all about you…but shouldn't everything be about you really? She is engaged. Yes. You are happy for her, but does it also mean you will not be her BFF anymore? Fear starts invading your mind. One time she had joked that her husband would be her No. 1 BFF, but you didn't take her seriously because you guys were 15 and you were secure about her love for you…now things are different. Will she be able to spend some time alone with you like she used to? Will she still be able to sleep over every weekend? Wait….what if she had to choose between you and her fiancé, would she even choose you? Of course, she will choose him. The bitch. She probably wouldn't even bat an eyelid while at it either even though she's known you for far longer. The hoe. At that moment, you realize that you perhaps have lost your friend for good and you start to miss her already. You also feel a little betrayed because you convince yourself that you would never choose any man over your BFF if the reverse were the case.
I have to be the chief bridesmaid or our friendship is over
While still wallowing in the feeling of self-pity over losing your friend, you console yourself with the fact that you will be the chief bridesmaid. She has to do that for you at least right? You are the BFF, everybody knows that. The idea of being her right-hand man and sharing juicy gossips on the wedding day brightens your mood and you resume with the questions: What girls will be on the bridal train? What colors will they pick? Gosh, you will probably have to plan the bridal shower! You get excited at the idea and even go online for bridal shower ideas. From there you go on to looking at themes, bridesmaids' dresses…e.t.c
But wait, ow much will this wedding cost me?
At some point, it dawns on you that as the BFF you will have to go all out for her and that will cost you a lot: time, emotions, money. Yes. MONEY! From the Asoebi to contribution for the bridal shower, bachelorette party, bridesmaids dress and shoe, e.t.c you are already looking at a whooping sum. And what if they decide on a destination wedding? Hian. Can you honestly afford a trip abroad? In these hard times? When you won't be sharing her marital bed with her afterward! Hmmnn. But she is your best friend and saying No to anything will look somehow. You have to make the sacrifice. Gosh. But will she do the same for you if the reverse were the case?
When will it be my turn?
Somehow you start to imagine yourself in her shoes. You are legitimately still happy for her, but …when will it be your turn? No, seriously, WHEN? Both of you were single AF and out of the blues, Nnamdi appeared. Now-now they are engaged and you are still there, being ghosted by all and sundry. What if you never find your own 'someone'? That is how you will be 'doing' bridesmaid and spending money on other people's weddings until you are 40. Ah! Life is unfair.
I can't believe she is getting married before me sha
From wondering when it will be your turn, you start to imagine how you stood a better chance to be married before her. You are the one who is better educated: you went on to do masters in the UK after university while she hustled in Lagos for petty jobs. She still doesn't even earn much after 6 years. You are well-traveled, she has only been to Ghana… and while let's face it, she is a hoe… you are more of a wife material. In fact, you are even a demi-virgin. Basically, you have your shit together and you are a better package. Why is she the one getting married first? And to this dude that is clearly out of her league (of course you would never say that to her, you love her and you know she deserves him too). But…you both always believed you would get married first, she would follow and your first son will marry her first daughter. That was the plan. Now your daughter will have to marry her son. How did it come to this? We all feel understandably testy in the face of other people's happiness, it's totally normal. What's not normal, however, is letting it grow into flow blown envy and looking for ways to rubbish her happiness.
But what if something happens and they break off the engagement
You can't wait to see her walk down the aisle… but what if something happens and they break off the engagement. It will take everyone back to square one…including you. Your BFF would be so broken though because she really loves the guy. Ah, No! If he does anything stupid, you will break his neck. No one can hurt your BFF and get away with it. Oh my God, what if he hits on you before the wedding and you are now forced to tell your BFF though? You become the cause of the breakup? God forbid. The wedding has to work biko. You become legitimately afraid that something may go wrong with the engagement, but also determined to help your friend make sure they go through with the wedding. The protective mother hen in you takes over and all the self-pity fades.
It is well
At this point, you are back to the joyous mood you were in at the start. You can't wait for her to call back anymore, so you dail her number for the juicy details. If it's happening to her, it's happening to you too. Y'all are getting married, Yo!
Did you have any thoughts when your best friend got married? Are there other thoughts that came to mind? How did you resolve them?
Photo Credit: John Penezic | Dreamstime