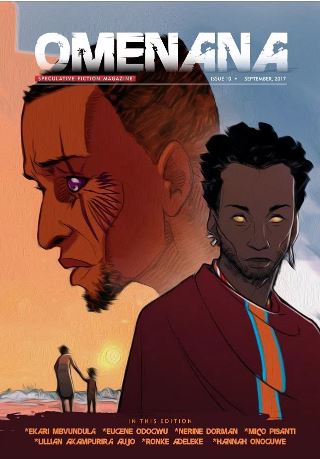 There is an African proverb that goes thus: Until the lion tells his side of the story, the tale of the hunt will always glorify the hunter. This, or a variant of it, must've been on the minds of Chinelo Onwualu and Mazi Nwonwu when on November 30th, 2014, they launched the first issue of Omenana after deciding that Africa needed a speculative fiction magazine of its own. Fast-forward three years, and Omenana has since provided lovers of quality literature with ten solid issues featuring fiction, essays and reviews by some of the biggest names in the spec-fic business on and off the continent. The landmark 10th issue of the magazine, released online and on Okadabooks in September this year, showcases one of the strongest lineups of stories from a mixture of old hands and new names in the African speculative fiction space.
Issue #10 opens with stunning cover art donated by Ghanaian artist Setor Fiadzigbey and Chinelo Onwualu's editorial "Journey into Light", where she introduces this issue as "part of our attempt at stepping into the light." Next is a spotlight on the interior artist, Olisa Onwualu, who discusses his art in relation to matters like the general lack of appreciation of art in Nigeria and the most discouraging time of his career. Following this is seven pieces of fantastic speculative art by Olisa, matching each accompanying story for its mood and theme.
"Baby Bones" by Eugene Odogwu is first up, bringing us a chilling twist on the relatable image of a lout or "area boy" smoking joints in an uncompleted building–especially for those of us who've ever sought refuge in such a building on a rainy day. Arizona's disturbance of some stowed away bones plunges him into a series of mind-scarring hallucinations, causing the guilt of mistreatment of an ex-girlfriend to weigh on him anew. Rape and the Nigerian society's maltreatment of the mentally ill also feature in this story, which ends with Arizona rising above his cowardice to resolve the hallucinations and quench his guilt. The story's creepiness bleeds through with increasing alarm so that when it all ends with a light at the end of the tunnel for Arizona, it leaves the reader exhaling in a sigh of relief.
"Blood Ties" by Ronke Adeleke tackles traditional patriarchal family values of marriage and offspring loyalty, summed up in its eighth paragraph by the question: "Who marries for love except for fools who forget that the life of their child is tied to the family they are born into?" Our protagonist understands this truth, yet defies it all to have a baby by a Gifted, a nomad of short bloodline and blood ties. When their daughter, Nyanga, is born, our protagonist struggles to find people willing to tie Nyanga's bloodline to theirs and prolong the child's life. The resolution, albeit bittersweet, follows through with the theme of hope and fulfilment that resonates throughout this heartfelt piece.
Mico Pisanti's "My Brother's Keeper" opens a window into the oft-overlooked life of Africans living as immigrants within the continent. Fifteen-year-old Godfrey and his family, Tanzanians living in South Africa, struggle to keep their heads down amidst rising tensions against foreigners. Things come to a head when Gabriel loses his mother in a church attack by extremist nationalists; it forces the hand of his grandmother, who teams up with a local priest to hold the fort against a final wave of xenophobic assaults. They both combine their knowledge of the magic of the darkness and the old ways in order to protect their community. It's a thrilling tale of sacrifice and vengeance; of violence and hate, yet of purpose and protection. It is one that is sure to get the reader's heart thumping.
In Hannah Onoguwe's "Old Photographs", Wakama seeks more knowledge of her estranged father, despite her mother's constant unwillingness to provide relevant information. Curiosity gets the better of her, and she steals an old framed photograph forbidden by her mother, only to discover that not only has she unearthed something she should never have, she finally gains new knowledge of her father–and her mother–and neither is of the kind she expected. The story expertly takes us on a ride in the mind of a Nigerian teenager living under single parenthood, exploring the dangers of neglecting said teenager's needs and leaving them to seek answers in places–and people–we'd rather they didn't visit.
"On The Other Side Of The Sea" by Nerine Dorman follows Lindi and Annetjie, sisters lugging their late mother's ashes across the veld to safety over the sea according to her final wishes. The lands they flee from and travel through are harsh and dangerous, as are the people who live in them; so that even when they get help from old Miriam who stumbles upon them, they soon abandon her in fear. Only when they reach the sea do they realise that the starving, shrunken ruins of this dystopia will offer no desirable future, and they're better off taking a chance on the ray of light they've found in the darkness of the here and now. The story is rich in description and features well-handled prose, which ferries the reader over the waves of fear, pain and resignation that the girls feel; so that when they do make the final decision to survive, the reader makes it with them.
Lillian Akampurira Aujo places us in the soul of an aborted, unborn child in "The Name Giver." The viewpoint character, a victim of a miscarriage due to domestic abuse, becomes a "breeze" caught in a limbo of shadows and souls, where she is forced to feed on prayers and memories and combine with other souls to grow and keep from fading away. Here, she meets Jazzy, a baby soul, and they together carry on the tedious business of catching and naming others. It is a pleasant work of slipstream delivered in almost lyrical prose, which intensifies its themes of pain, suffering, belonging and hope.
To wrap up a solid issue is Ekari Mbvubdula's heartfelt tale of relationships and resilience, "Undying Love". Tawene's boyfriend, Kaliwe, is possessed by a Chintu, a parasitic spiritual eye infection feeding on intense negative emotions, and absolutely abhorrent of any feelings tender and gentle. She helps him find a temporary solution to quell the parasite, but a misunderstanding at an office gathering sets the Chintu free again. Tawene arrives in time with a cure and ends up realising that only a sacrifice of love will will free Kaliwe from the Chintu's hold. It's a heartwarming story of enduring commitment and is a great way to end a splendid issue.
Want Omenana's latest issue? Get one here at OkadaBooks.com
—
Suyi Davies Okungbowa is a storyteller who writes freelance from Lagos, Nigeria. His (mostly speculative) fiction has been published or is forthcoming in Fireside, Podcastle, The Dark, Mothership Zeta, Omenana; and the anthologies Lights Out: Resurrection and A World of Horror; amidst other places. His nonfiction has appeared in Lightspeed and Klorofyl. He is a charter member of the African Speculative Fiction Society and an Associate Editor at Podcastle. Suyi also works in brand and content marketing. He lives online on Facebook, tweets at @IAmSuyiDavies, blogs at suyidavies.com and chatters at his monthly jabberwock, After Five Writing Shenanigans.