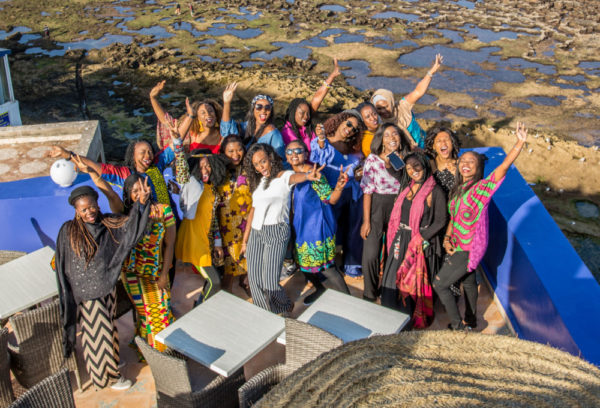 Naija Nomads is pleased to present 'The Green Passport Movement'. We take Nigerians to countries that aren't such a hassle to go to. The ultimate goal is to encourage Nigerians to travel more and enjoy the benefits of it (experience culture, be adventurous, eat local food, volunteer etc).
First stop on the list of destinations is Morocco. We had a blast with 20 women, and hope you can join us on our next trip.
***
Morocco is definitely one of the top destinations for Nigerians this year. What's not to love about this gorgeous North African country? Their culture is rich, the people (well some of them) are welcoming and it only takes 4 hours from Lagos by air.
You can also get any kind of holiday you want; a leisure/beach holiday in town Essaouira, a cultural city escape in Marrakech and a Saharan adventure in Merzo​uga. Our epic Moroccan adventure covered all three and it was definitely one for the books!
We landed at the Casablanca airport around 10.00am and embarked on a 4-hour road trip to the oh so gorgeous blue and white city, Essaouira. We toured the quaint city the next morning and set out in the afternoon for a 3-hour road trip to the pearl of the south, Marrakech.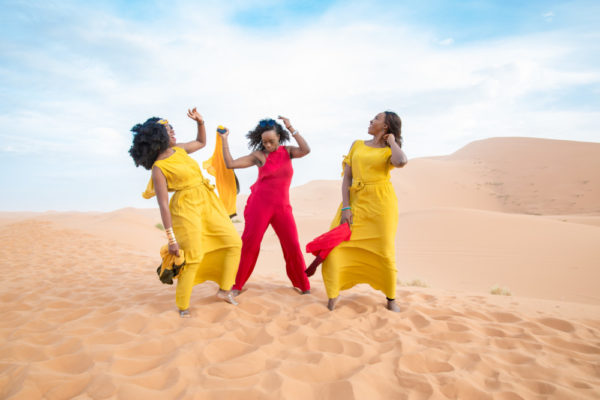 Marrakech is everything you have read about; vibrant and fast paced with tons of scammers along the way. After 2 nights in Marrakech, it was time to go on a 10 hour road trip to the Merzouga (the Sahara with tall dunes). A 2- hour "return trip" on uncomfortable camels, dancing around a bon fire with Berber Nomads, eating the best Tagine Morocco has to offer, an epic photoshoot in the cold, watching the most beautiful sunset and sunrise, the Saharan adventure was the climax of our trip!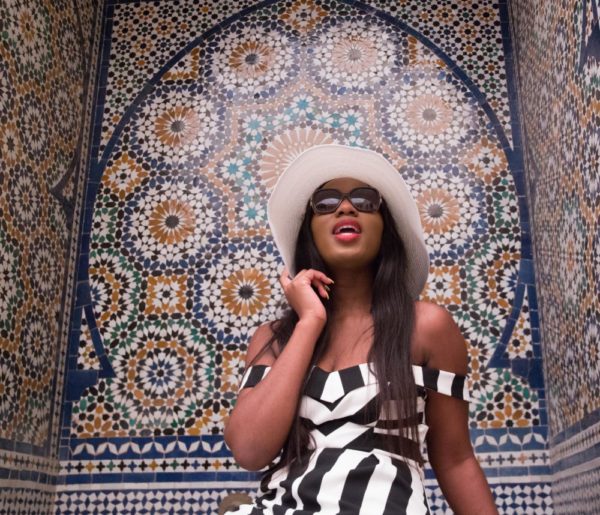 After another 10 hour road trip back to Marrakech, it was time to bid Morocco Adieu and head back home to Nigeria. The next day, we took the train from Marrakech to Casablanca and hopped on our 4 hour flight back home.
Morocco was a blast and a half and I'll be honest, 5 days is too short to visit especially if the Sahara experience is a part of your itinerary. I'll try my best to pen down our experience but if I'm being honest, it's best you experience it yourself.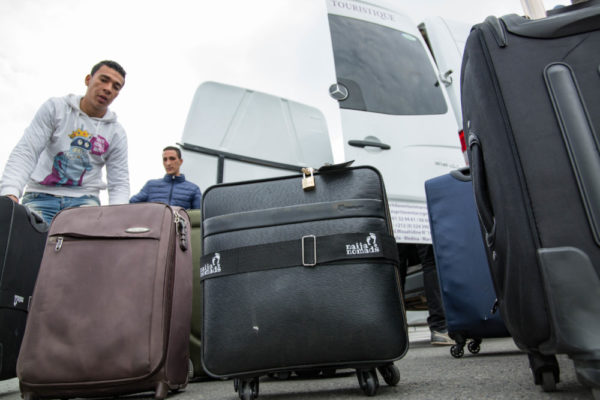 Day 1: Flights and Road Trips
The flight to Casablanca was a smooth one and everyone was ecstatic, the #nomadsinmorocco trip had begun! Earlier, we had an unfortunate incident with immigrations holding us "hostage" at the Murtala Muhammad airport simply because we were a ladies only group. You know in Nigeria, it's impossible for ladies to travel on their own, we had to be going for "work".
Anyway, we did not let that dampen our already high spirits. We were on our way to Morocco and nothing was going to stop us!
We landed in Casablanca picked up our bags and our bus driver, Mehdi the greatest, was waiting right outside departure with a sign.
A lunch break and multiple pee breaks later, we arrived Essaouira at 6.00pm. Essaouira welcomed us with its beauty and also its freezing weather. A lot of us were not expecting Morocco to be freezing cold, but it was. Because Essaouira is a coastal city, it was extra chilly! We walked through cobbled streets in the old medina and found our Riad, Palais De Rampart. The customer service was impeccable and they offered us cuppa mint tea. In morocco, you'll be offered mint tea in every shop, riad, hotel, and restaurant even on the road side. Mint tea to Moroccans is like 'minerals' to Nigerians.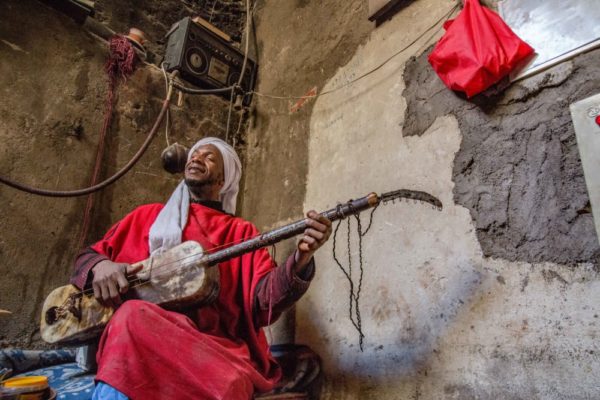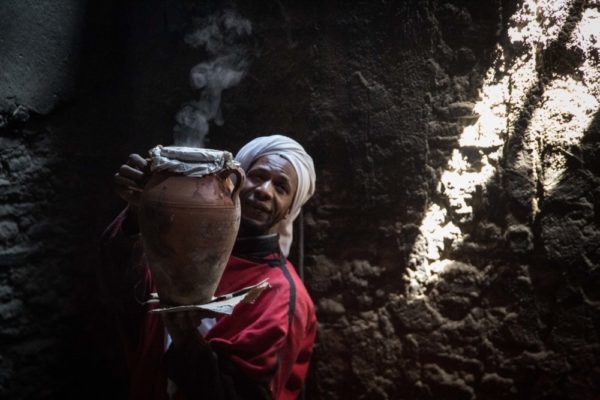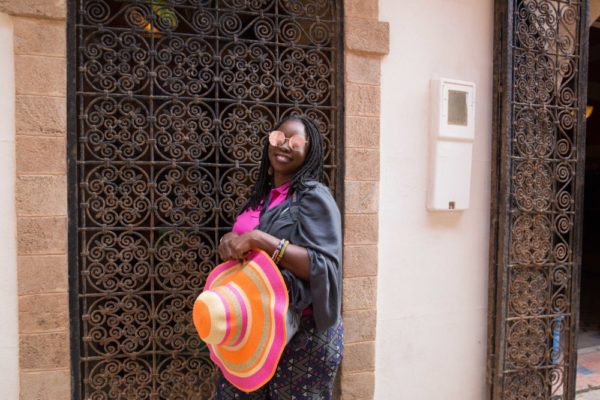 Some of us were curious to explore a night in this small town so we braved the cold, dressed warm and headed for a roof top restaurant called Taros. Taros was a vibe and when the band realized they had Nigerian girls in the building, they played Nigerian music to 'make our heads swell'. Our heads did swell and we really felt special. Believe me, Nigerian music sounds better abroad. We were so hyped that night and we tried our best to dance the cold away. It was a great way to end our first day and get pumped up for the next!
Exploring Essaouita by Foot, Visiting an Argan Oil Factory & Off to Marrakech 
We were not going to pass up on a photoshoot at the rooftop of our riad, Palais de Rampart. The riad was basic but the roof top is one of the prettiest roof tops in Essaouira. We gathered together right after breakfast and tried to make the most of our time, taking photos. Our guide, Hassan, probably already frustrated, was already at the reception waiting to take us on a tour of the city.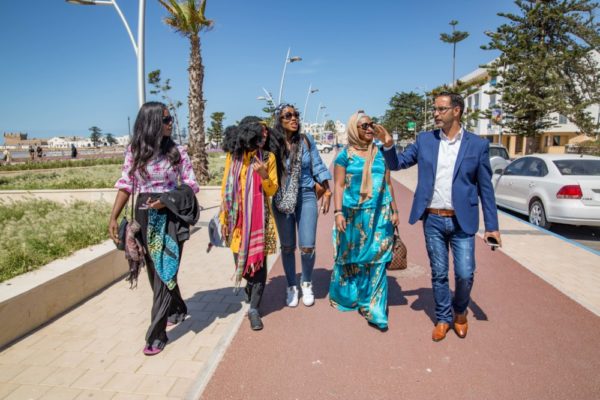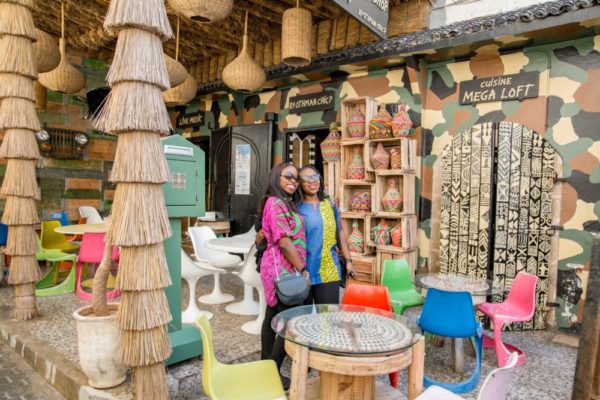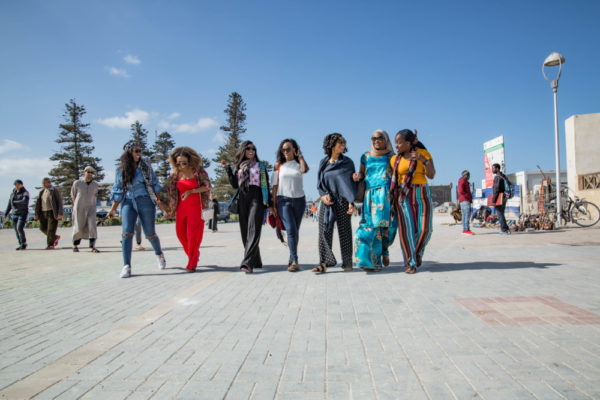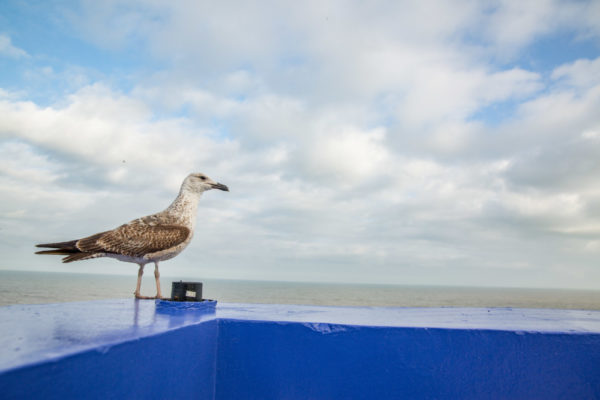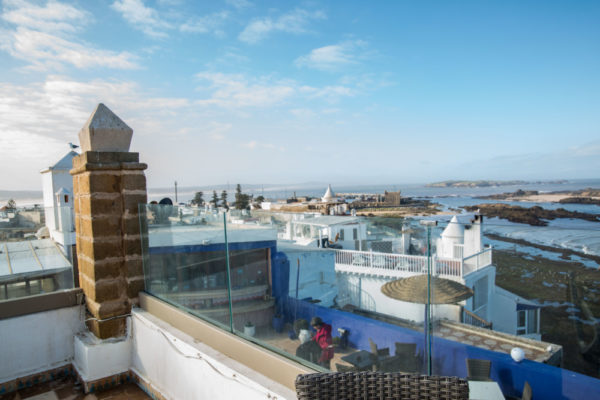 Essaouira is a small coastal town about 3 hours away from Marrakech and one of the homes to famous Argan trees. We learnt about the history of Essaouira, walked through the Medina, the city walls, the fishing harbour and ended up having lunch at a sea food restaurant while listening to Gnaoua music by the beach.
We set out to Marrakech at about 2.00pm and stopped by one of the biggest Argan Oil factories in the country. The process was indeed a PROCESS and it all made sense why pure Argan Oil costs an arm and a leg. The Berber women crush the nuts with their hands and extract the oils manually. There are no machines used during the process. We were in Argan oil heaven and couldn't resist making a few a lot of purchases. The products ranged from hair to skin to anti-aging to cooking. You name it, they had it!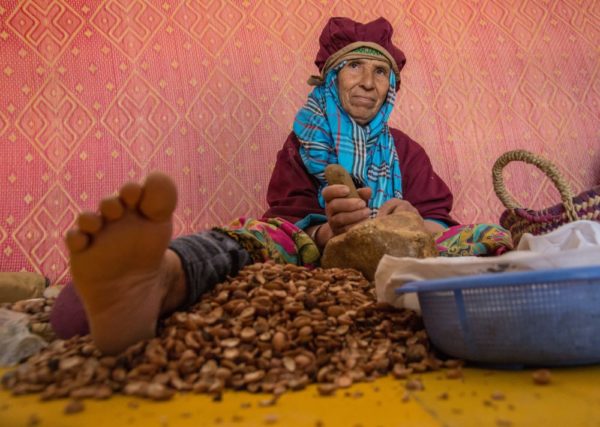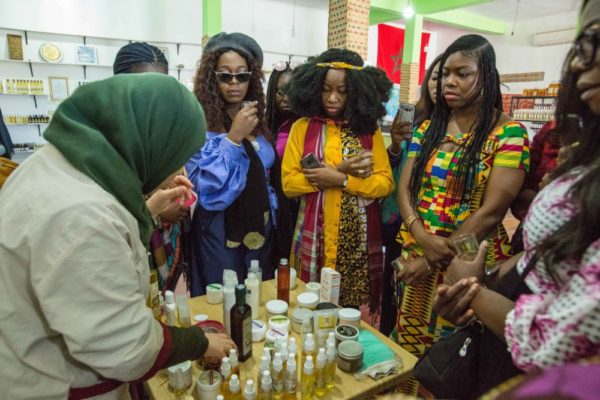 Our Marrakech accommodation, Residence Dar Lamia was in the Palmeraie area and a sight to behold! The service here wasn't the best, but that's story for another day. Because we were a party of 20, we opted for villas instead of a Riad in the Medina. The only downside to staying at the Palmeraie is it's about 20-25 minutes away from the centre and it takes 45 minutes for Pizza Hut to deliver a box of pizza!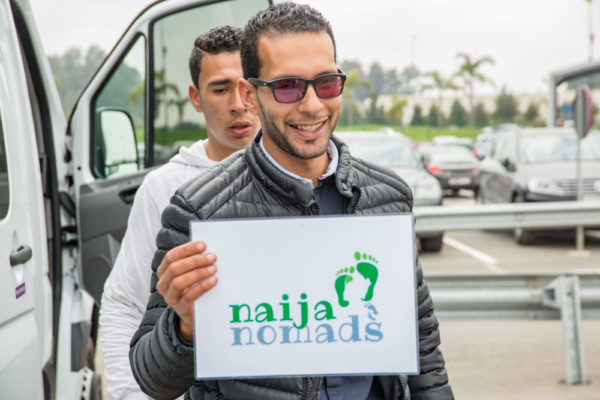 Marrakech Madness & Getting Scammed! Whattt???
Marrakech, especially the old Medina, was a mad house. Our tour kicked off with a short visit to the famous Jardin Majorelle and everyone was in awe of its gorgeousness! The colours were blinding but the good kind of blinding. We got a brief history of the gardens and how and why Yves Saint Laurent started it out. We surely had some of our best photos taken here.
The market was just like Balogun Market, chaotic. Our guide, Camal (or Scamal like we call him now) took us around the Medina in circles which we believe he did on purpose. After we had visited a communal bakery, a carpet factory, a furnace and the Marrakech Museum our last stop was an "herbalist's" shop. This is where we got scammed. We ended up buying herbs and spices at ridiculously inflated prices. We realized much later on our last day in Marrakech.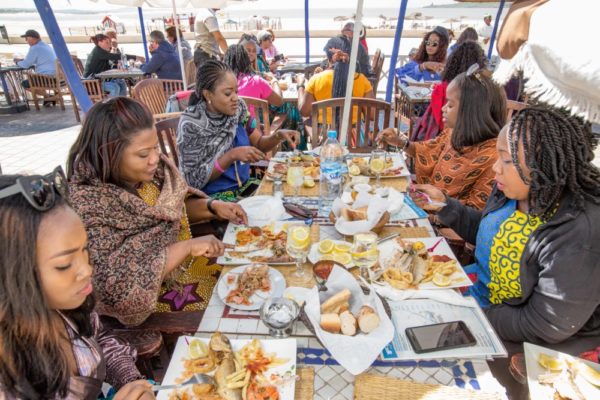 We had lunch at the secret garden, explored the market a little more and ended up with dinner at the ever vibrant J'maa El Fnaa square. We called it a night at 9.00pm because we had to be up at 5:00am the next day for the best part of our trip, the Sahara adventure.
A Night in the Sahara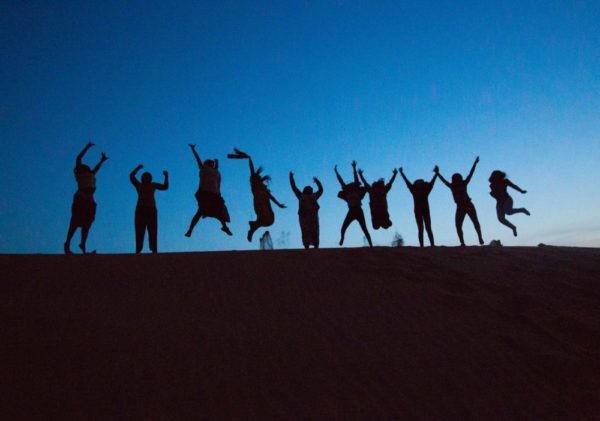 After traveling for 10 hours, we finally arrived at the Merzouga desert right on time to watch the sunset. Our bus stopped at the end of the road and we got into 4X4's to get closer to the desert and mount our camels. I must warn you, camel rides are extremely uncomfortable, but you really have no choice.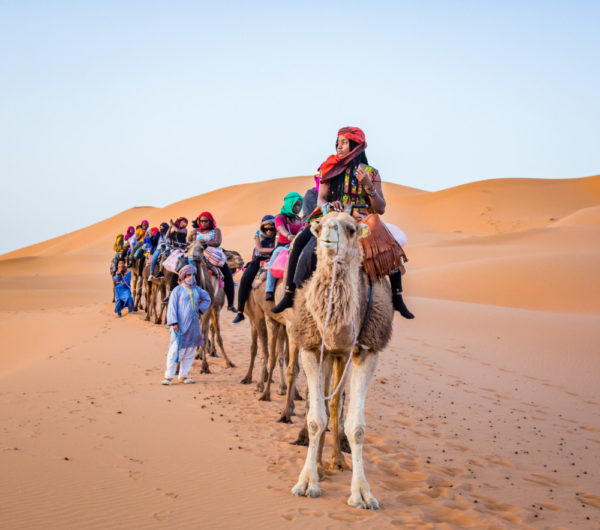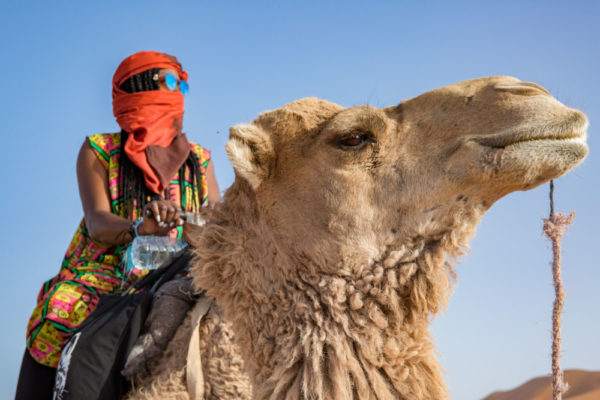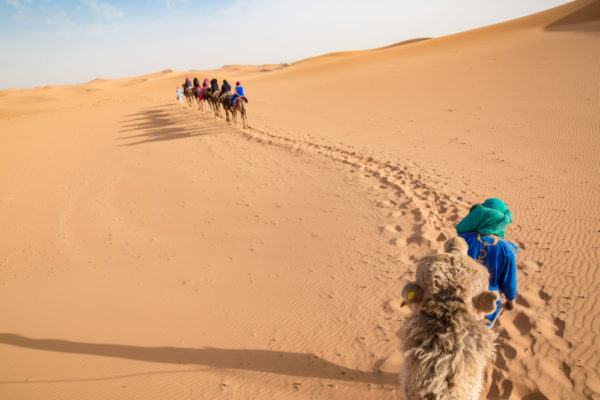 That's the only way you can get to your resting place for the night.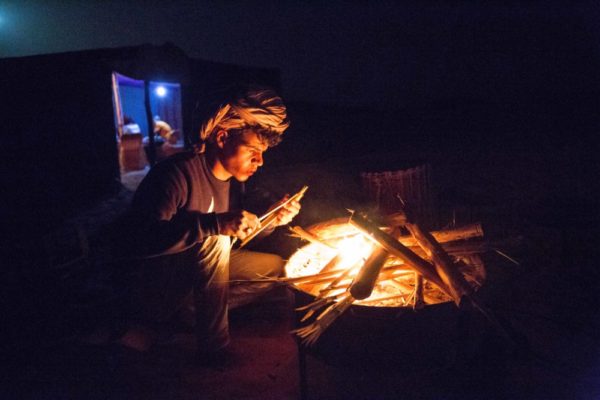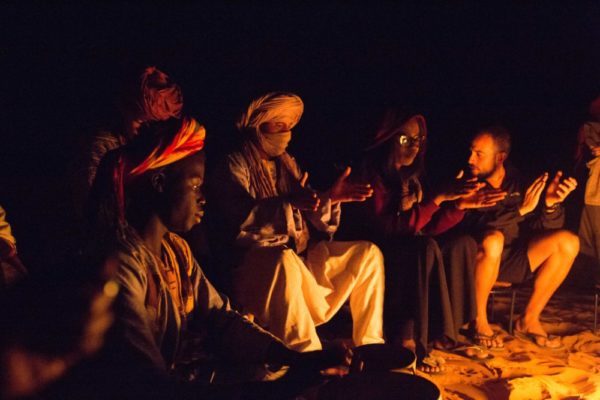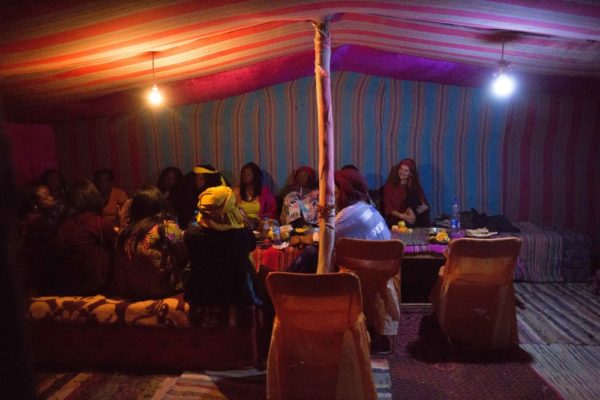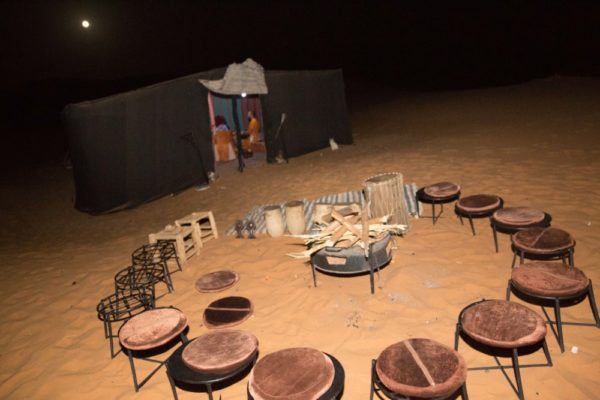 We had our portable speakers and literally bumped to Nigerian music for the duration of the camel ride. We watched the sunset right before us and the reflection made the desert sand extra orange and extremely beautiful. Our tents were rustic, far from fancy and we were welcomed by Ayoub, the leader of the desert boys (as we have now nicknamed them). He chatted with us for a while and showed us how to tie their famous "gele".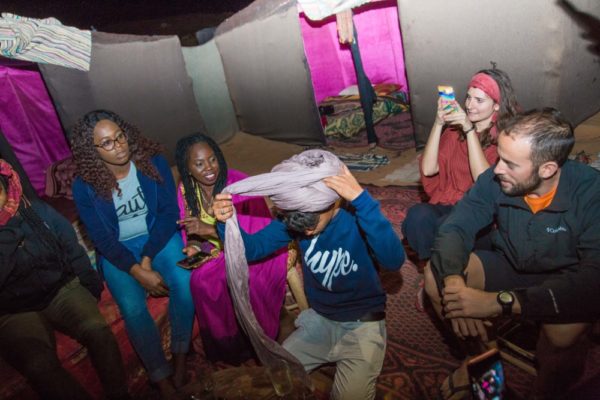 Dinner was the best Tagine we had in Morocco. If ever you are looking for a finger licking bottom pot tasting Tagine dish, just head straight to the Sahara desert! With our full bellies, we danced around the bon fire and of course chanted all the Nigerian songs known to man. It was one loud and noisy night and the Sahara definitely knew Nigerians had arrived!
The next morning was the day of our photo shoot and we braved the cold for about an hour, taking photos for our memories the gram. We hopped back on our camels, caught the sunrise and headed back to Marrakech for another 10 hours! The night in the desert was the cherry to the already iced cake. It's quite difficult to describe this experience or put it into words so we'll allow the photos do the talking. This experience climaxed our 5-night adventure!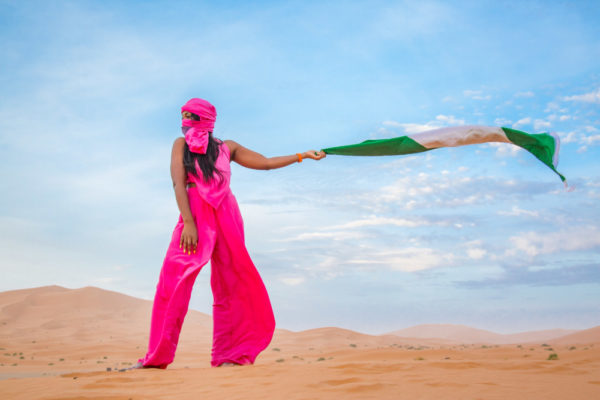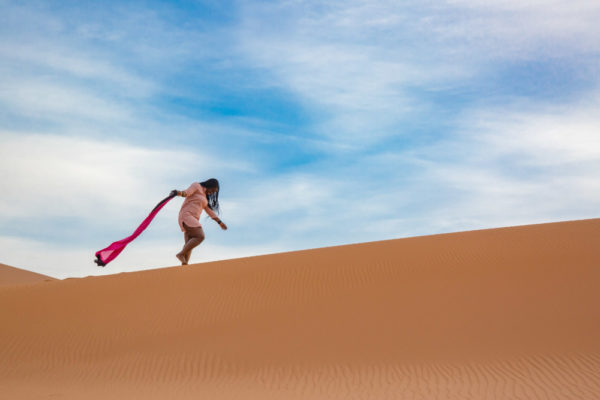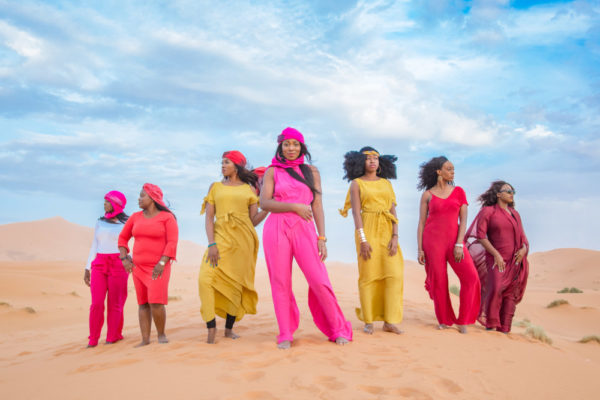 Off to Casablanca and Goodbye Morocco
Going back home was without a doubt an anti-climax but we left Morocco with grateful and content hearts! The train ride was an experience as well and everyone loved it. The ride felt like we were traveling within England. The landscapes were gorgeous and the coaches, comfy. We got to Casablanca right on time and took a drive through the city to the airport.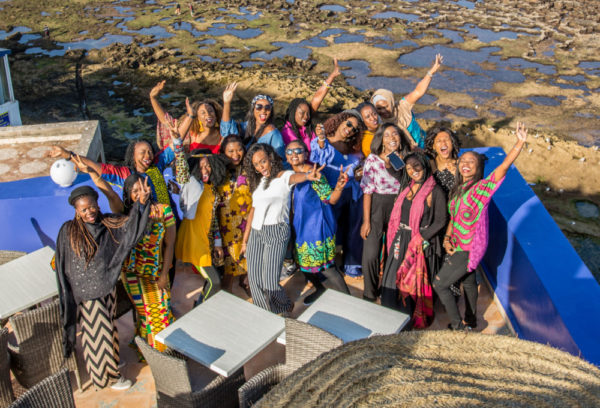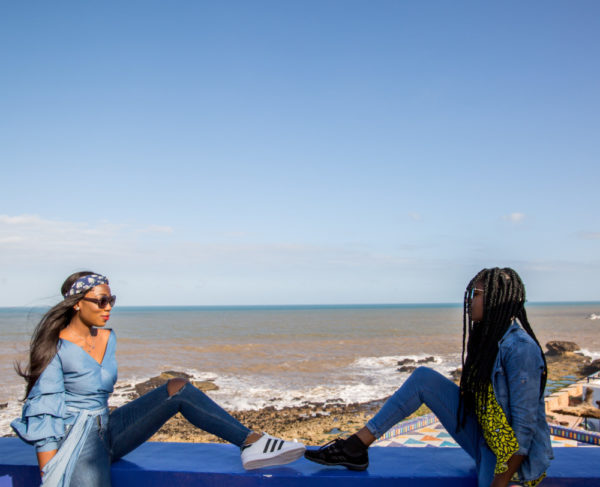 We landed at the Murtala Muhammed Airport at wee hour of the morning. We said our last goodbyes and promised to have a reunion party filled with tagine and mint tea.
If Morocco is somewhere at the bottom of your list, it's time to bump it up. If it's not there at all, you better put it on your list!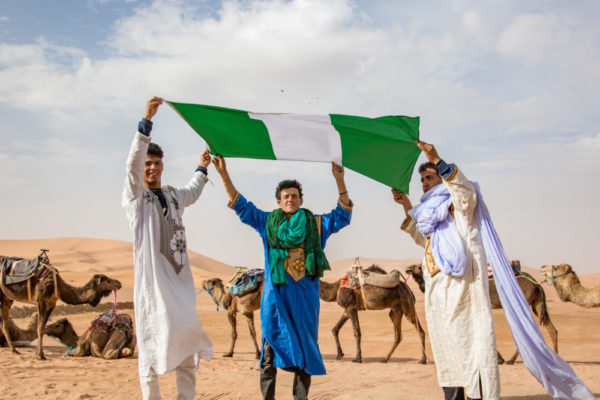 We hope you liked reading our experience as much as we enjoyed sharing it. You wanna come for our next adventure?
You can sign up here. For lessons learnt from the trip, read our story here.
Next stops on the tour:
Lebanon 13th June-19th June
Rwanda 22nd August-27th August
Tanzania 30th September-5th October
Mozambique 22nd December-28th December
Photo Credit: @nguher_zaki