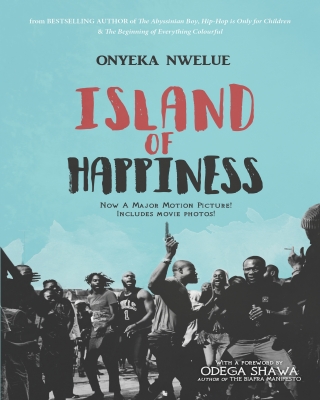 Onyeka Nwelue, in his book, "Island of Happiness?" introduces himself in this way:
"Onyeka Nwelue, that writer and film-maker, who has been selling his new novel, the Beginning of Everything Colourful, around here and carrying cameras all over the markets, restaurants, guesthouses, churches, Igwe's palace, and even Ezenwanyi's shrine, with his long dada hair like a madman."
Now that you know who Onyeka is, let's look at his book. Some years ago, a survey declared that Nigerians were the happiest people on earth. The results of that survey surprised many because Nigerians are faced with the challenges of living in a developing nation. Some people, however, felt that the doggedness and determination that characterizes the "Nigerian Spirit" had been captured by that survey.
"Island of Happiness" is set in Oguta, an oil-producing town in Imo State. It tells the story of the residents – their poverty in the midst of affluence; their deprivation in the midst of abundance; and their desperate quest for success and a sense of belonging.
The story is written in first person narrative with multiple characters telling the story from their own perspective. The beginning of each new perspective is identified by each character's name as the subtitle, and there are lots of characters.
Initially, I found it a bit difficult to keep track of all of them, but as the story progressed, I could see how all of them were linked to one another, and to their 'Island of Happiness.' Using multiple points of view and writing in first person narrative helped me to connect with the characters better.
Onyeka Nwelue is a master storyteller, and in this book, he discusses serious issues with ironical humor. But be assured, it does not whittle down the seriousness of the theme in any way. Some of the themes explored in this book include the societal pressure to marry at a certain age, the quest for greener pastures in foreign lands, deception, sexual abuse, oil pollution, environmental degradation, and corruption. As I read the book, I felt like I was taking a tour around Oguta – its magical lake, and oil exploration fields.
A sub-theme that runs through the story is man's dissatisfaction with his status and quality of life. Most people want a better deal for themselves even if it is to the detriment of others. Corruption in the community is evident as relief meant for the entire community is withheld by a few individuals. Respectable people in the community in a position to speak against the injustice kept quiet because they were profiting from the deals.
The author writes a little about violence in Oguta. Though the episodes of violence are not written in very graphic details, this book may not be suitable for children.
The addition of the author's personal notes, individual comments by the actors, as well as the movie production team at the end of the book, added more depth to my understanding of the story and the inspiration behind it. The pictures at the end made the notes even more realistic.
While reading "Island of Happiness", the fact that it had already been made into a motion picture made me happier.
I enjoyed reading this story very much, though it would have benefited from another round of editing. It states the problems of youth unemployment and restiveness in oil-producing communities in Nigeria. There are many lessons to learn from this book. It can help paint the picture of what really happens in oil-producing communities. This can help policymakers make effective policies in their decision-making processes.
"Island of Happiness" is a satirical mirror reflecting the good and bad events happening in our communities. It is a call for a re-evaluation of our societal values and ideas. It is a call to action for us to put in place viable systems that will ensure true happiness in our communities and replace the desperate struggle for phantom happiness at all costs exhibited in the Island of Happiness.
You can get a copy of the book on Okadabooks. Please click here
**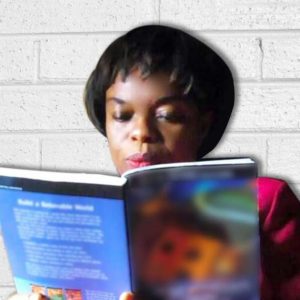 Mrs. C.A. Mbadugha's debut short story collection "Beyond the Trial" won the 2017 Samuel Ajayi Crowther Award for best Christian Fiction. She tries to balance family and work commitments with book and manuscript proofreading, editing and reviews. She is presently trying to rouse her muse to write a sequel to "Beyond the Trial". The stories in "Beyond The Trial" are published on Okadabooks as the stand-alone novellas: Erased Reproach, Rude Awakening, and Shadows of the Past.