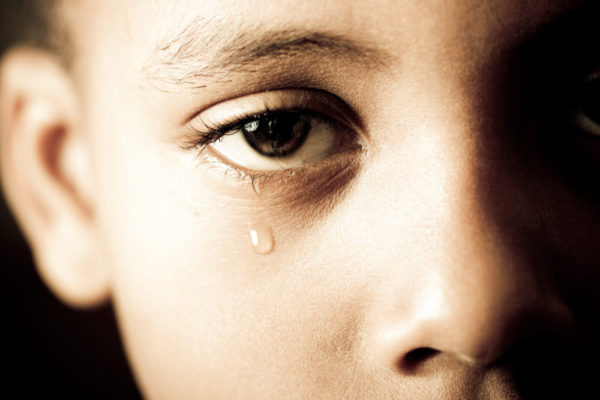 If you've ever had a health-related issue in Nigeria, then you will probably understand that it is extremely difficult to fund your treatment and navigate the healthcare system.
In view of this, BellaNaija launched the BN Community Centre. This online platform will feature calls for help" as submitted to us. This includes information, photos and account numbers.
BellaNaija has partnered with DonateNG to continue to raise awareness for health related crowd funding cases. We visited one of the recipients of BN Community Centre, Mr. Falode over the Christmas 2017.
Please, help in any way you can.
**
Mubarak Akorede was born on the 15th May, 2015 at the General Hospital,  Ifako – Ijaye. 
The mother was admitted on the 13th May 2015, induced on the 14th May, due to prolonged labor gave birth on the 15th late at night, after the baby had been stressed up -Birth Asphyxia. Unfortunately, the Doctor didn't inform the parent there was danger ahead, but he was admitted for twelve days. Fortunately, his neck stood, he could sit after six months, but he could neither crawl nor stand independently till he was almost a year.
He was taken for a checkup where the Doctor said his parents were supposed to have started therapy for him after six months from delivery.
They were referred from Ifako Ijaye General Hospital to Lasuth, from Lasuth to Child and Adolescent Mental health Centre Oshodi. Test results revealed Mubarak would need speech therapy, occupational and physiotherapy.
He has been registered for physiotherapy, occupational therapy and speech therapy treatment. Unfortunately, the EEG shows he has brain damage and seizure and has been placed on drugs such as Mentat Epilim, Omega H3, DHA Emulsion, Neurovit and Spradon.
His parents have spent and are spending so much to continue his therapy and drugs recommended but they need financial support.
He needs a private therapist, which costs N50, 000 for each of the three treatments for a minimum of six months making it N150, 000 a month, and for six months N900,000. 
The drugs recommended for him is about N20, 000 monthly and for six months that will cost N 120,000. The normal therapy is every week and it cost N 6,500 Monthly, while Transportation costs N5,000 weekly.
https://donate-ng.com/campaign/mubarak-needs-help-to-walk-and-talk
Oyindamola needs your help.
Idowu Oyindamola is a 5-year-old girl, diagnosed with Dermoid (Epibular Dermoid) in her right eye from birth.
She would need a surgery to have this removed from her eye. Please donate towards the operation of the surgery. Thank you.
https://donate-ng.com/campaign/help-oyindamola-eye
I am Michael Iyorowe O. Please I need your help in paying my baby's hospital fees. Baby Ighodalo Michael is a twin given birth to by Rose Michael as a premature (neonate), at Ifako Jaiye General Hospital Lagos. After birth we were informed that there was no incubator to keep the set of twins. A letter was given to us to look out for hospitals with incubators pending when there is space for the twins.
After a long search, we were able to get an incubator at a private hospital (Inton hospital 6 Adenelcan Salako by Catapillar bus-stop Ogba., Ifako general hospital) the cost per week was 150,000 naira per child for the use of incubator. A week later, our baby girl was pronounced dead due to stress.
I have not been able to pay the hospital bill and recently the doctor called to say that my baby boy has issues with breathing explaining that he is not breathing normally after much prayers and with the help of the doctors he was stabilized and right now we are told that baby needs blood transfusion. We are in dire need of support to enable us carry out all requests from the doctor and to enable us pay our bills. 
Please help save the life of my son, you can visit both hospitals to verify this.
https://donate-ng.com/campaign/save-baby-ighodalo
A 7 months old child with symptomatic congenital heart disease (holes in the heart) and will have to undergo 2 stages of surgery in India.
He has triscupid atresia (the valve is flat), large VSD and ASD (holes in the heart) and transposition of the great arteries. Eric will require further cardiovascular evaluation and possible open heart surgery to correct his heart defect in order to forestall irreversible and life threatening complications.
https://donate-ng.com/campaign/erics-open-heart-surgery
Adult related Campaigns
Mr Bola Olasupo has just been diagnosed with Kidney Failure and about N10m is needed for a transplant. He is currently undergoing dialysis every other day at St. Nicholas Hospital.
He urgently needs your donations for his transplant to be done as quickly as possible.
https://donate-ng.com/campaign/help-save-a-life-a-new-kidney-for-supo
I was diagnosed of heart failure last year 2017 and needed to undergo an open heart Surgery (Mitral Valve Repair) The surgery was done on 15th May 2017. The surgery was a success and I felt better. Unfortunately, the symptoms appeared again and it was discovered that the surgery failed and this has made me to be losing blood. Anytime I urinate I feel weak and find it difficult to breathe well and was told to go for another open heart surgery (Mitral Valve Replacement)
I am from a poor background and the cost of the first surgery which gulped N3.5million was paid by someone that I worked for as a nanny because my family could not afford to pay for the surgery.
https://donate-ng.com/campaign/urgent-open-heart-surgery-for-chinonso
December 2017, Mrs. Bola Ojo was diagnosed with Breast cancer in her left breast
She was scheduled for an immediate mastectomy but due to lack of funds the surgery was deferred to January. However, the cancer had spread so fast that an immediate mastectomy had to be done by 3rd week of January
Despite commencing this treatment, the cancer has progressed to the liver by the last result after the surgery. The doctors says she will require at least 6 rounds of chemotherapy to prevent the spread of the cancer to other parts of her body.
The total cost of treatment is estimated at (N7, 241,000)
As you pray please donate to this worthy cause of helping Mrs Bola Ojo get well
https://donate-ng.com/campaign/win-the-battle-against-cancer
Community related Campaigns
Iyabo is 16 years old. She was accosted by three boys and was almost raped. To defend herself, she broke a bottle thereby injuring one of the assailant. The police was called in and she was charged to Court for assault. We fought for her in Court and got her out on bail.
Ade is a 15 years old boy, who witnessed his Mother and brother beaten by an adult. He could not resist further when he saw his Mother pushed down and could not move. He saw a cutlass nearby and attacked the assailant with it to stop further assault on he is Mother. He was remanded in prison (in an overcrowded cell with adults and where he could only bathe once in 2 weeks) He was there for almost a month because his family could not afford his bail and a lawyer.  We were able to provide free legal service for him to get him out on bail. We still continue to represent him in Court until the case is determined.
These are the type of people we help to get justice and provide legal support for. In less than a year, we have released 16 inmates from prison. We are also representing over 100 inmates in a class action for awaiting trial inmates with many other cases on going. These people are majorly indigents who cannot afford the services of a lawyer.
The money to be raised is to support our ongoing cases in the areas of human rights violations, domestic violence, infringement of rights of vulnerable people, purchase of equipment for a prisoner-a barber (He is also to teach other interested inmates) and to support Iyabo's hairdressing apprenticeship.
https://donate-ng.com/campaign/fundraising-for-gavel
In March 2017, residents of the OtodoGbame community in the Lekki area of Lagos were forcefully ejected from their homes. Amidst a lot of threats and violence, they fled for their lives, losing everything they had – Jobs, clothing, homes.
Today, some of them have relocated and are trying to rebuild their lives – not an easy feat in the least. Roselyn, our contact, lives in a tiny uncompleted room with her husband, kids and grandkids – all totaling 16. The kids need school items and the adults need daily living items.
This year, on Good Friday, The Relief Team is having the 4th installment of The Relief Project, extending some love to some of the survivors of OtodoGbame – who now reside in Sagbokoji, a riverine community off CMS in Lagos. Please join us to do this by donating what you can. Food items, clothing items, household items, space for apprenticeship, business support, whatever you have will go a long way.
https://donate-ng.com/campaign/relief-drive-for-the-people-of-sagbokoji
The IDPs suffer from poor nutrition, skin diseases and infections caused by poor hygiene. They lack social amenities like good housing, portable drinking water and standard health system. They go through physical, psychological disorders too
https://donate-ng.com/campaign/resource-distribution-for-idps
Photo Credit: Roger Mcclean | Dreamstime.com