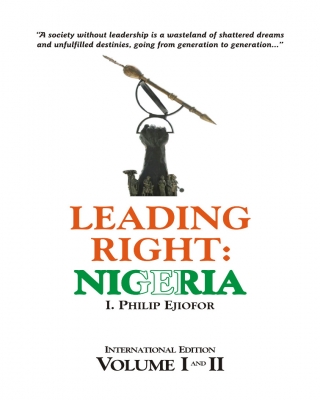 This non-fiction book about the leadership challenges Nigeria has faced and is still facing was written by I. Philip Ejiofor.
It is a long book. There were thirteen chapters and 957 pages.
The author, I. Philip Ejiofor, appears to have the educational training and experience to have written this book. He has a Bachelor's Degree in History/Political Science and a Master's Degree in Public Administration. He is presently undergoing a Ph.D. in Public Policy and Administration. He has had three decades of working experience in the Public and Private sectors.
In "Leading Right: Nigeria", I. Philip Ejiofor asks all the questions you and I, and perhaps every concerned citizen of Nigeria, has asked – Why are we plagued by so many problems? Why are we here? How can we move this nation forward?
I love the dedication of this book to Nigerians who have been victims, who are disgruntled, who die without achieving their potentials because of the rot that has plagued virtually every sector in the systems that make up Nigeria. It is a dedication page in which I am sure we can all see ourselves. I certainly saw myself in one or more of the categories of Nigerians listed.
The author rightly declares that the dedication is designed to prick the conscience of our political actors. It does not only do that, it also pricks my conscience as a citizen of this potentially great nation to demand more from the people in public office in the land of my birth. He achieved this aim well.
I like the opening statement of the author on the publisher page. It reads:
"No remedial, preventive, supportive or developmental measures undertaken by any government, no matter how well conceived, will work, unless the scarce resources of the nation are consolidated, secured and evenly redistributed and managed by leadership"… I Philip Ejiofor.
"Leading Right: Nigeria" is a well-researched book that gives a detailed and accurate historical analysis of the problems that have been bedeviling Nigeria. It gnaws at our conscience collectively as Nigerians and urges us to have the courage to do what is right to make the long-standing vision of Nigeria as the Giant of Africa a reality, rather than the cliché or illusion that it is appearing to be.
He rightly identifies the greatest challenge to political leadership in Nigeria as the inability of political leadership in Nigeria to escape from the dilemma of primordial stereotypes hinged on tribal, ethnic, and religious sentiments. I doubt if many Nigerians truly care which tribe or religious inclination their leaders hold as long as the systems work and a peaceful and secure environment that ensures peace and productivity exists.
The contents of this book are topical and very relevant to the political history of Nigeria. Its publication is timely – just before another general election. It is my hope that many political aspirants will read and assimilate the contents of this book. It may provide direction and clarity to their quest to lead this great nation.
The Nigerian masses also need to read this book to help them redefine political leadership in Nigeria and provide some guidance on the kind of political leaders they should vote for.
It is a rich book with chapters dealing on value systems, governance, political principles, the role of political office holders, federalism, various arms of government and their roles in governance, the role of the media, citizens' involvement and non-governmental organisations as the mouthpiece of the voiceless.
It was a professionally edited book as there were no distracting grammatical or punctuation errors. This book should be in all university libraries as it simplifies the work of future researchers on this and similar topics. Students of political science will find it an invaluable reference test with a rich bibliography that can provide more answers should they decide to read more.
Politically aware and conscious Nigerians should read this book. It is a very educational read and it might provide some answers to the questions we have been asking, and the solutions it proffers may be what we have been looking for.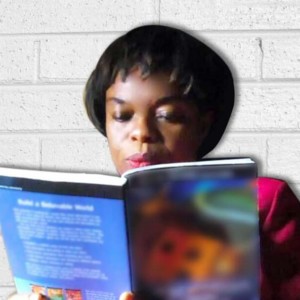 You should get "Leading Right: Nigeria" on OkadaBooks. Click here
C.A. Mbadugha's debut short story collection "Beyond the Trial" won the 2017 Samuel Ajayi Crowther Award for best Christian Fiction. She tries to balance family, work commitments, book and manuscript proofreading, editing and reviews.
She is presently trying to rouse her muse to write a sequel to "Beyond the Trial".
Her stories in "Beyond The Trial" are published on Okadabooks as these stand-alone novellas:
Erased Reproach, Rude Awakening, Shadows from the Past.