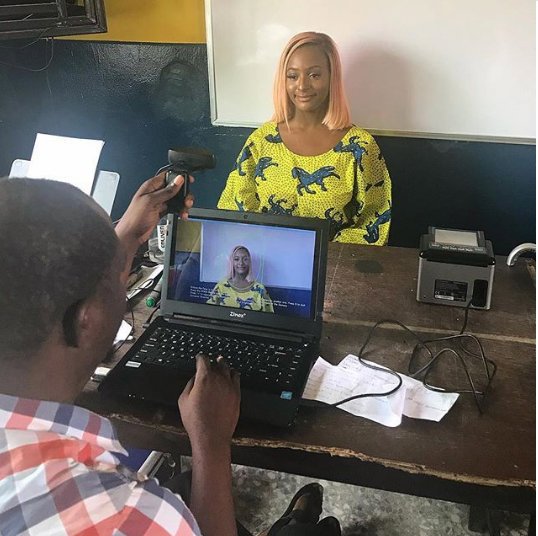 In the words of the great Frank Ocean: Why see the world when you got the beach?
It's possible to be so privileged that you become completely blinded to the realities of others. And it is possible that, because of this blindness, you begin to oppress others with this privilege.
A few recent instances come to mind.
The mainstream media has been pushing for a more active citizenry, urging the Nigerian youth to get involved and get their Permanent Voter's Card (PVC) in the just-concluded Continous Voter Registration (CVR) exercise.
Nigerian celebrities keyed into this, going out to polling units to get their PVCs, sharing photos and videos of their experiences on social media.
What they didn't show us, though, was the other side: how with their entourage of bodyguards and photographers they sailed past the masses on the queue.
People have shared their personal experiences, Reekado Banks and DJ Cuppy arriving at their polling units and simply walking in, smiling past and ignoring the queue.
RE this Cuppy thing..truth is, highly privileged people are rarely concerned with life outside their bubble.

Y/day I stood for 4.5 hrs trying to get my PVC, got there at 7, left at 11.30
Cuppy strolled in at 10.30 with her entourage and mopol,walked past all of us on the queue..

— Ifeoma N Chukwuogo (@FizzyThatcher) August 30, 2018
Reekado Banks is the DJ Cuppy of my PVC registration center cc @FizzyThatcher

— Isioma Osaje (@MsJazzyfied) August 31, 2018
And it sort of makes sense. Many of us would do the same were we in their shoes.
Which begs the question, is classism standing in the way of our journey to becoming a better country?
We see it everywhere: Nigerian roads are awful so government officials buy SUVs rather than use their positions to ensure the roads are fixed; security is terrible on interstate roads, but, hey, they'll either travel with a convoy or fly; Nigerian schools are terrible? they can just fly their children outside the country; Nigerian hospitals when they're sick? Why? London, Germany, India exists.
The rules simply are different for the rich.
Davido arrived at the National Youth Service Corps (NYSC) camp on Thursday and he was driven into the camp premises. Soon after, he jetted out of the country. DJ Cuppy & Reekado Banks walked past people who had been waiting for hours, got registered, and left.
Which is why the average Nigerian aspires to wealth; so that he too may oppress back, show them!
We want to be rich so that we too may become isolated away from the hardship the common man has to suffer. Leave the common man to his own struggle.
Imagine if the rich had to go through all of the things the average Nigerian goes through; if they had to arrive at the NYSC Camp with their luggage over their heads; if they had to arrive at polling units as early as daybreak just so they could register to vote sometime around noon, would Nigeria stay the same?
Photo Credit: Instagram/cuppymusic