Oris Aigbokhaevbolo: Lara & the Beat is Shallow But Enjoyable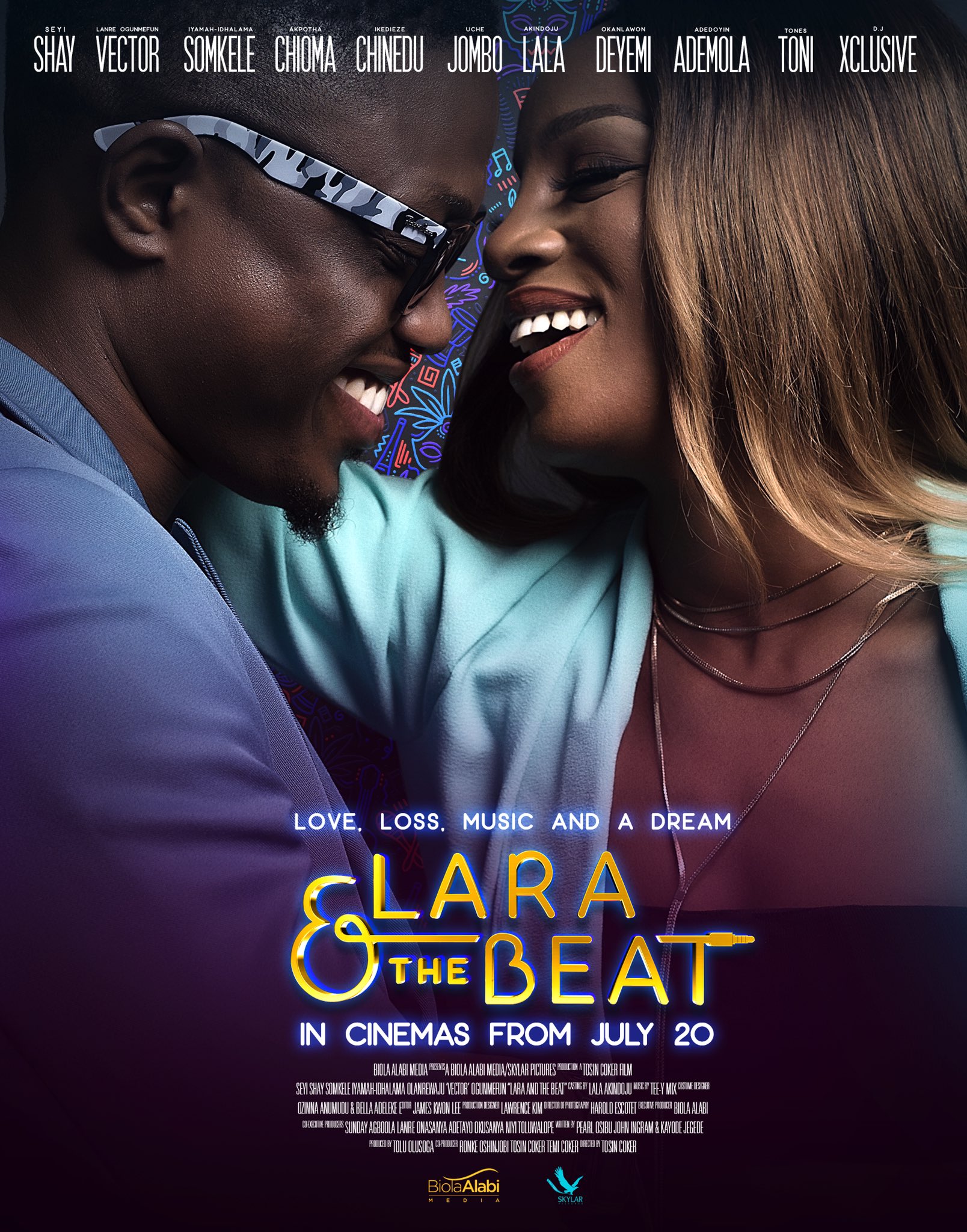 The premise upon which "Lara and the Beat" is suspended is a familiar one: what happens when a family loses its fortune? It is the basis for many soaps and soppy dramas. Lara and the Beat takes the trope and with it highlights a romance.
The family here is a pair of sisters, Lara and Dara Giwa as played by Seyi Shay and Somkele Iyamah-Idhalama respectively. The girls are born into a rich family and run the family's media company. Early in the film, the government acquires the company building and other assets.
Apparently, someone had been holding back on taxes.
They beg here, they beg there, but nothing much happens and they end up at their maid's place. Lara is disturbed by the fall from grace. "There is no AC," she cries. Dara is better adjusted.
A young man who had always been in their lives comes in as a kind of saviour and the film kicks into romance mode. If that all seems familiar, that's because it is. Each turn has been done to near-death by films in the romcom genre.
For a long time, Michelle Dede's "Flower Girl" had been the peak of a genre that has to be measured by how successful Nigerian directors have localized an essentially American form. Jade Osiberu's "Isoken" has now taken pole position in how well-made it was and how Nigerian it succeeded in being, from its title to some of its characters' antics.
"Lara and the Beat," though not as well made as both these films, is better than some of the others—including the recent uber-feminist howler "Seven and a Half Dates."
Although enjoyable, many things could have been done better. We are never quite certain about the motivations of some of the film's villains, and its corporate politics seem to have been written in a climate of haste. Opportunities to explore sibling rivalry in Nigeria, or class differences in Nigerian romance, or the nature of the Nigerian music industry are all missed—probably because there are no American models for these.
And as though to emphasise the American origins of the plot, there is a scene with a kiss under the rain—except that the rain is clearly not real and is instead a terrible torrent generated on a computer. "This one na American film," someone said in the hall in which I saw the film. "Yeah," I thought, but worse.
The presence of scenes like these—so ridiculous, clearly expecting the viewer to permit its stupidity—has led to many viewers losing confidence in Nigerian films. The past, sadly, is never quite past in Nollywood.
I did, however, enjoy a cheeky deflation of the film's own American aspirations, as in this exchange between the leads: "I need a baseball bat," says Lara.
"We are in Nigeria," goes the response. "We don't play baseball."
If only that subversion by screenwriters Pearl Osibu, John-Arthur Ingram, and Kay I. Jegede, and director Tosin Coker was taken as the film's ethos.
Still, "Lara and the Beat" gets the basic ingredient right: there is chemistry between Seyi Shay and Vector (as Sal aka Mr Beatz). Unfortunately, none of them is a natural or, at this point, a career actor. This means they do better when they are in a scene together, one's mediocrity working well with the other's amateurishness. They are not in danger of any awards, but if they were each would have to take half a trophy home.
Where Seyi Shay's Lara is too histrionic for the viewer's sympathy, Iyamah-Idhalama's Dara is too passive to be entirely engaging. The one actor who steals every scene he appears in is Chinedu Ikedieze, who is famous for melodramatic scenes that have found their true homes on Twitter. As Big Chi, a studio owner, he produces strong scenes of humour with the smallest of gestures. I wished he was in more scenes here. Out of the film under review, I wished he got better roles.
So far, films produced by Biola Alabi have two clear features. The first is an investment in a woman's point of view, typified in "Lara and the Beat" by one scene featuring an intense woman versus woman exchange, which recalls and verbalises the fight between the female lead of "Banana Island Ghost," Alabi's previous film, and a woman ninja. Both are highlights in their respective films.
The other feature is something she shares with Mo Abudu, another media-savvy madam. Both are invested in a cinema of light and lightness. Their movies are vehicles for celebrity, colour, and shallowness. Nothing wrong with that, of course, except for just how much space they currently occupy in our cinema and, soon and scarily, in our imagination.