'Mistah Cole presents: The Top 20 Nigerian Music Chart' is here
Posted on Tuesday, July 19th, 2011 at 8:42 AM
By Jibola L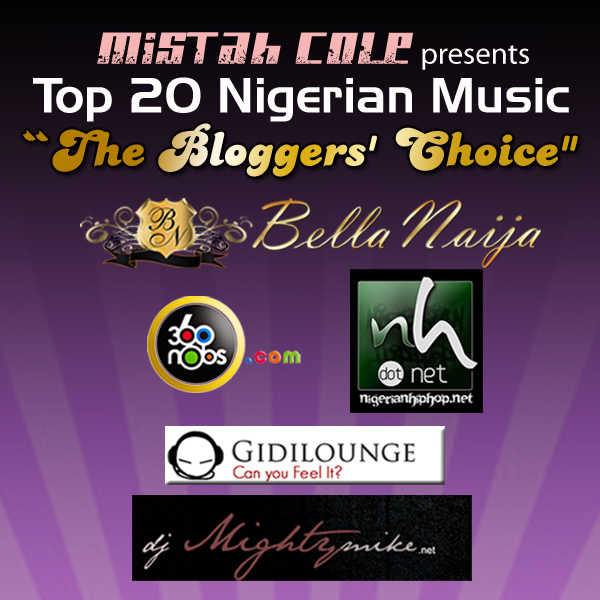 As previously mentioned, for the 1st time in Nigeria (and possibly Africa), 5 Top Music Bloggers from some of your favourite websites have collaborated to provide the 1st Volume of the Top20 Nigerian Music Compilation for your listening pleasure.
@iamQuedy @JibolaL @Mistahcole @OsaGz & @oyeakd have outdone themselves with a playlist that's sure to take up residence on your iPODs, phones and mp3 players this summer. This playlist was chosen from songs (no freestyles) released between January, 2011 to date.
Tune in!
| | | |
| --- | --- | --- |
| S/N | TRACK-LISTING | PLAY |
| 1. | A1 ft Shank – Lets Get Down | Audio clip: Adobe Flash Player (version 9 or above) is required to play this audio clip. Download the latest version here. You also need to have JavaScript enabled in your browser. |
| 2. | BeazyMusicMondays: Beazy ft Teeto, KB, D-Black, X.O Senavoe, Show Dem Camp, El Flaco, Shank, Efya, Myst, Djinee and Chykay – Bad Guy(remix Pt 2) | Audio clip: Adobe Flash Player (version 9 or above) is required to play this audio clip. Download the latest version here. You also need to have JavaScript enabled in your browser. |
| 3. | Black Magic – Rainbow | Audio clip: Adobe Flash Player (version 9 or above) is required to play this audio clip. Download the latest version here. You also need to have JavaScript enabled in your browser. |
| 4. | Davido ft Naeto C – Back When | Audio clip: Adobe Flash Player (version 9 or above) is required to play this audio clip. Download the latest version here. You also need to have JavaScript enabled in your browser. |
| 5. | Dipp ft YQ, Blaise, Kel & Muna – Good Girls(remix) | Audio clip: Adobe Flash Player (version 9 or above) is required to play this audio clip. Download the latest version here. You also need to have JavaScript enabled in your browser. |
| 6. | DJ Klem – Farabale ft Yemi Alade & EFA | Audio clip: Adobe Flash Player (version 9 or above) is required to play this audio clip. Download the latest version here. You also need to have JavaScript enabled in your browser. |
| 7. | Eva – I Done Did It | Audio clip: Adobe Flash Player (version 9 or above) is required to play this audio clip. Download the latest version here. You also need to have JavaScript enabled in your browser. |
| 8. | Ibiyemi ft Dipo – It Would Be | Audio clip: Adobe Flash Player (version 9 or above) is required to play this audio clip. Download the latest version here. You also need to have JavaScript enabled in your browser. |
| 9. | Ice Prince – Super Star | Audio clip: Adobe Flash Player (version 9 or above) is required to play this audio clip. Download the latest version here. You also need to have JavaScript enabled in your browser. |
| 10. | Kahli Abdu – Toast | Audio clip: Adobe Flash Player (version 9 or above) is required to play this audio clip. Download the latest version here. You also need to have JavaScript enabled in your browser. |
| 11. | L.O.S ft Shank – Magic | Audio clip: Adobe Flash Player (version 9 or above) is required to play this audio clip. Download the latest version here. You also need to have JavaScript enabled in your browser. |
| 12. | Lami ft IcePrince – Ori Mi Wu | Audio clip: Adobe Flash Player (version 9 or above) is required to play this audio clip. Download the latest version here. You also need to have JavaScript enabled in your browser. |
| 13. | Naeto C ft Asa - Share my blessings | Audio clip: Adobe Flash Player (version 9 or above) is required to play this audio clip. Download the latest version here. You also need to have JavaScript enabled in your browser. |
| 14. | Omawumi – I Go Go | Audio clip: Adobe Flash Player (version 9 or above) is required to play this audio clip. Download the latest version here. You also need to have JavaScript enabled in your browser. |
| 15. | Omolara – Lover | Audio clip: Adobe Flash Player (version 9 or above) is required to play this audio clip. Download the latest version here. You also need to have JavaScript enabled in your browser. |
| 16. | Overdose – Ginjah me up | |
| 17. | Reminisce – Kako Bii Chicken | Audio clip: Adobe Flash Player (version 9 or above) is required to play this audio clip. Download the latest version here. You also need to have JavaScript enabled in your browser. |
| 18. | Sunny Neji – Lovey-Dovey | Audio clip: Adobe Flash Player (version 9 or above) is required to play this audio clip. Download the latest version here. You also need to have JavaScript enabled in your browser. |
| 19. | Tiwa Savage – Love me, Love me, Love me | Audio clip: Adobe Flash Player (version 9 or above) is required to play this audio clip. Download the latest version here. You also need to have JavaScript enabled in your browser. |
| 20. | Vector ft 9ice - Angeli | Audio clip: Adobe Flash Player (version 9 or above) is required to play this audio clip. Download the latest version here. You also need to have JavaScript enabled in your browser. |
Download all the Songs HERE
Volume 2 drops in September!!!
Mistah Cole presents: The Top 20 Nigerian Music Chart –"The Bloggers' Choice" is powered by the following websites:
http://www.bellanaija.com
http://www.djmightymike.net
http://www.gidilounge.com
http://www.nigerianhiphop.net
http://www.360nobs.com
Disclaimer: None of the sites in the collaboration will be held liable for any symptoms of addiction manifested by listening to the compilation
Tags: Beazy, Black Magic, Blaise, Chykay, D-Black, Davido, Dipp, Dj Klem, djinee, Efa, Efya, El Flaco, Ice Prince, KB, Muna, Myst, Naeto C, shank, Show Dem Camp, Teeto, X.O Senavoe, Yemi Alade, YQ
Custom Search