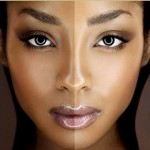 A few weeks ago, I attended a wedding. One of the huge weddings that had me saying hi to my friends, my husband's friends, relatives on both sides of my family and tons of 'aunties'. While doing the rounds, one of these 'aunties' grabbed me in a bear hug and spent the next 5 minutes asking how every member of my family was doing. Then she focused on me, said I looked good but……'Uzo, you have to do something about your skin. You are too dark'. For a split second, I thought I heard wrong but the look on her face told me she had actually said the words. So I laughed and asked her what I could do about this 'problem' and she told me she would 'mix some cream and send it to me'.
Now I am more than secure enough with myself now so I walked away from that event, having had a great time and not worried about my dark skin. But that conversation got me thinking. Apparently to this 'auntie', my appearance was not perfect because of my dark skin.
A few weeks later, I was at a shopping complex on a mission to find a local massage place I had been referred to. I found the address and the ladies rushed to me – 'auntie, wetin you wan do. Rolling, toning? I was curious, so I asked about the toning package. I was taken to one of the rooms in this 'beauty center' and my guide explained – that I would lay down on this bed (which was covered in heavy duty plastic wrap – at least I think that was what it was), 'cream' would be slathered all over me (I would be completely nude) and then the massage girl would massage this cream into my skin using a rolling pin. Apparently this procedure has the benefit of also breaking down fat as well. I would need to do this once a week until I got to the desired shade and then come once a month for 'maintenance'. In between, I would use the creams mixed for me. I was speechless and high tailed it out of there.
This incident got me thinking again. I remembered a conversation I had with another auntie (this one a real blood relative) before my wedding. I was at a funky spa getting the pre-wedding package done. She came to pick me up and as we walked past the products portion of the spa, she stopped and said she would get me 'the brightening range' to even my complexion out and give me even more beautiful skin. She must have been bothered by my dark skin again.
What is this obsession with having lighter skin? There appears to be a global perception that lighter is more beautiful. I have read several pieces that attribute part of the success of ladies like Beyonce, Halle Berry to their lighter skin tone. These articles have compared their talent to actresses such as Viola Davis and Alfre Woodard who are 'spectacular' actresses but who get less face time because of their darker skin. There was a lot of backlash with L'Oreal and Beyonce last year – allegations that L'Oreal used technology to make Mrs Carter a few shades lighter. Of course Beyonce's camp issued a statement about her being proud of her heritage and all – but don't the pictures get approved by the celeb before they go to print? Even Lil Kim (regardless of all her issues) has been on an altering mission for a few years – with all the surgery, colored contact lens and definite skin lightening.
In Nigeria, I see 'multicolored' ladies on the streets with bright orange faces and dark legs, knuckles, knees and elbows. I guess the more well-to-do ladies must opt for brightening ranges from French products that give more even results with fewer side effects? Men are not exempt either. I see men walking around who are definitely lightening up. If women are not lightening up, they are using lighter shades of foundation and powder to achieve the lighter look
Do we blame the media following the age old logic that 'white' has been pushed in our faces as the perfect standard of beauty? Or are we looking at a deeper self-esteem issues? Or is it really just a matter of personal choice? After-all this is a day and age where anything can be changed- get boobs increased or reduced in size, change your eye-color, hair color, hair length, nail length, get padded jeans to boost your derriere etc…perhaps skin tone is simply something else that can be changed because once chooses to.
Clearly, I am perceived by some to be less beautiful or downright unattractive due to my darker skin. I am so secure in my fabulousity that frankly I don't give a damn but I enjoy watching the looks of horror on the faces of 'friends' and aunties' who don't understand why I am not interested in coming along with them to get some mixed cream to make me more 'beautiful'.