Good Afternoon BellaNaijarians, Happy Wednesday!
We are so happy that you all have decided to join us this sunny day and that is why, it is with great joy we present to you this week's BN Bargains slot where Africa's pace setter for all things Entertainment, Fashion, Lifestyle, Music & More – BellaNaija.com constantly makes it a point of duty to update  you with all the exciting freebies and most affordable bargains taking place right now.
The Olusola Lanre Coaching Academy is giving us all a fantastic opportunity to harness the power of emotional intelligence at their Emotional Intelligence 101 Workshop and trust me when I say you don't want to miss out on this and try your luck once again this week for a chance to win a ticket to see Sisi Nene music star – Wizkid perform live in Manchester and London.
Hope we are not saying this too much but we LOVE you all. We hope you get all your heart desires this week and remember to always to show love to everyone around you.
See you all next week, ciao!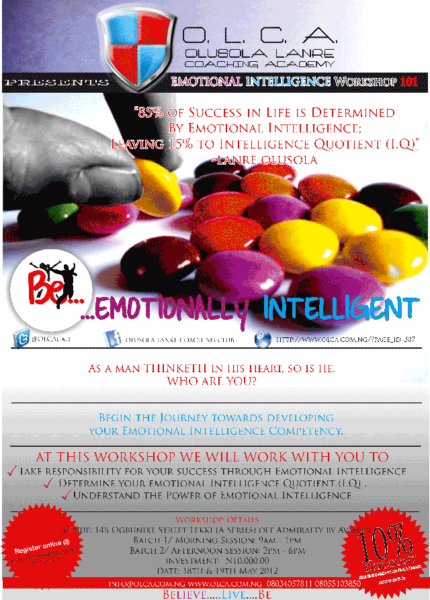 Get a 20% discount from Olusola Lanre Coaching Academy
From Friday 18th May – Saturday 19th May 2012, the Olusola Lanre Coaching Academy will hold a half day emotional intelligence 101 workshop. The workshop taking place at 14B Ogbunike Street Lekki off Admiralty off Avalon House (Drive in, turn left, turn right and drive down ogbunike street), Lagos, will see attendees taught by skilled professionals on how to harness the power of Emotional Intelligence to build successful, healthy and productive relationships and unlock their personal powers. The fee is N 10,000 but OLCA is giving all BN readers a 20% discount
To get this discount, Call or E-mail them and they will let you know all the information you need.
For more info and general enquiries, Call 08030852832 | E-mail anu@deefrent.com | Like their Facebook Page – http://www.facebook.com/pages/Lanre-Olusola-Fans-Page/256110704754 | Follow on Twitter @lanreolusola | Log on to their Website – www.Olca.com.ng
____________________________________________________________________________________________________________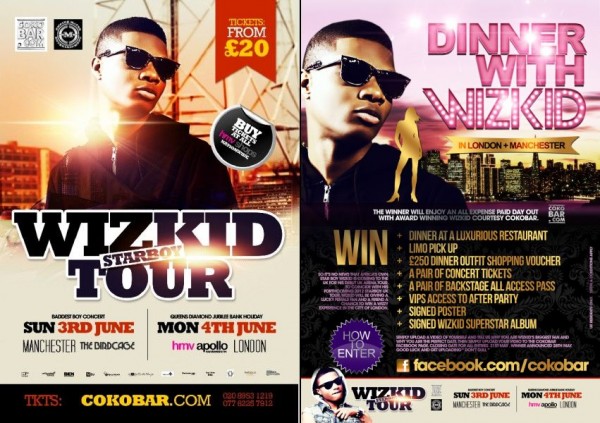 Win a Ticket to Wizkid's Starboy Tour in the UK
UK based event organizers – Cokobar is giving a lucky BN Reader a ticket to Wizkid's Starboy Tour taking place in London and Manchester. To win answer this question;
Question
What is the prize of Wizkid's video competition?
Send your answers via E-mail to kristiina @cokobar.com and make the subject of your mail "BellaNaija". The winner will be mailed on how to collect the ticket.
Congratulations to Alex Alli, you are the last week's winner of a ticket to Wizkid's Starboy Tour Concert.
This competition is open to only UK residents or those who will be in the UK at the time of the show.If you will like to win a date with Wizkid, see the flier above for all the details.
_________________________________________________________________________________________
Sponsored Content
Will you like to have bargain to be featured on BN Bargains? Email us via adsales @bellanaija.com