As part of our 6th anniversary celebration, and in line with the BellaNaija ethos of entertainment, information and positively impacting lives, we are sharing 6 stories of real people who have been dealt with some of life's unexpected cards. In spite of these challenges, these people have found the strength to pull themselves up and trudge on and are  willing to encourage others going through their own issues. Life hands us lemons everyday, but it's not all of us who successfully make that tall glass of lemonade. Ugo Igbokwe, owner of Make Me Salon, celebrity hair stylist and entrepreneur (Wigs & Extensions), pulled himself out of poverty and obscurity through hard work and dedication, built his brand and business. We sincerely hope that you are inspired by his story.
"I can do it" These four words define me. I'm a man who came from a very humble background and I have worked very hard and God has blessed the work of my hands. I'm married to a beautiful, talented woman, Olubukola and I have two lovely daughters, Kamsiriona and Chizaram. They're the pride and joy of my life.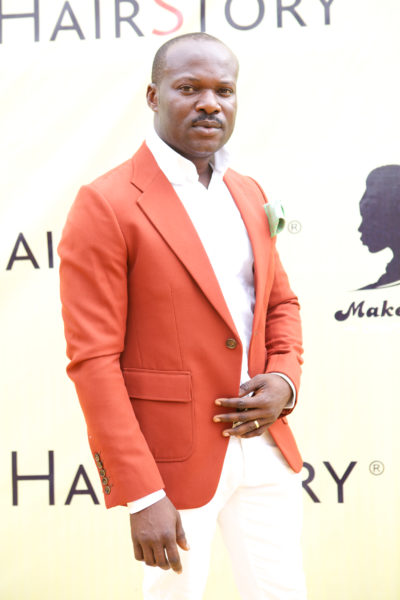 Aba made…
Born and bred in Aba, I'm your classic Aba boy.  I was born into a family of 5. My dad died when I was really young and so my maternal grandmother raised us.  In that community, a lot of things depended on my grandma to function and then all of a sudden everything changed. From living in a 3 bedroom house which was ours, we moved to a rented two bedroom and from there to a one-room flat. It was a progressive regression, things were really bad. I dropped out of school in JSS 3. I had to work to make money to help support the family. I was doing a lot of odd jobs and later I got a job cutting hair. Leaving school was a really difficult decision for me but I was really unhappy with the situation at home and it was worse because I felt helpless. There I was, going to school and  everybody at home was sad and depressed. There was no money, sometimes there was no food. I had to help out. I would go to school and come back and the home was sad and depressing. I was brought up with a lot of caring, provision and everything; suddenly everything changed. Till now I can't explain what went wrong. I spent the bulk of my teenage years cutting hair, and using the money to support the family until my uncle came from Jos and took me away with him.
The Change
My sister died and I had to return to Aba. I was distraught and to make matters worse our little one room was crammed with people, mourners and condolers. It was all too much for me, there was very little room for my mum and grandma to grieve properly and something snapped in me. I drove everybody out,  told my  grandma "Enough of the crying" I told my grandma and mom that if they didn't stop crying I would leave and never come back. There was a quiet calm that descended and from that moment I found that I commanded respect in my family and people listened to me and I realized I had a position of authority in my family. I stayed back in Aba and I started the only thing I knew to do… cutting hair. It was tough but it was all I had.
The Big Move
Something needed to change. It was 1999 and I was earning N3000 a month from hair cutting but it was barely enough to get us through. I was was paying for our board and the NEPA bills. It was really a struggle and I knew I needed to make more money. A friend of mine got me a hair cutting job in Lagos but I didn't want to go. I was worried that there would be nobody to take care of my family so I went to talk to an older friend of mine, to seek advise and just talk about everything that was going on. He asked what my reason for not wanting to go to Lagos was and  there and then he banned me from coming to his house because he said I had clearly become too comfortable and I wasn't willing to take a risk.
"If you want to be someone, get out of this place, run out of this place as far as you can and see what you can do for yourself. Your family will survive."
I thought about those words for a long time because I love my family so much and it felt like I would be abandoning them.  It took me a few days to try and make sense of his words. I felt like I was turning back on my family and I wasn't concentrating on my job any more and as a result I lost the job I was holding on to as security. That was a very difficult period in my life because the money I was bringing in was really helping out and I had lost even that; in my shame I couldn't go back home. How would I face my mother and my grandma? I stayed away from home until my mother came to look for me. I told her I was ashamed and I felt helpless. I told her about the opportunity in Lagos and all my fears. I poured my heart out to her that day and she encouraged me to go and give it a try. She said I wouldn't know how it was if I didn't give it a try. My mother had a little money saved and she gave me gave me money for a bus ticket down to Lagos, but when I got to the bus station (Innocris Motors) I found out that I knew the  bus driver and he gave me a free ride to Lagos.
I didn't have too many expectations about Lagos, neither did I expect the streets  to be lined with manna from heaven but I had big dreams and I was going to work hard.
Baby Steps Forward
By the time I arrived, the job I was counting on was no longer available so I was stuck. I stayed with my friend for 3 weeks doing nothing. I was optimistic that something good will come. Then my friend's boss told my friend and I that if we went back with him to Aba to work on the house he was building as labourers, we could come back with him and he would build a place we could stay to make hair and all that. So we went off to Aba again and this time I was in Aba for 4 months, working as a labourer building the man's house in Aba. When we came back he kept his word and we started the salon. Once again I was cutting hair in the barbing section. I was sending money home to help out with my grandma and my mum but it was really overwhelming and after a while I really couldn't cope. I was focused on making a new life but somehow I couldn't be that same person who was constantly looking backwards so I made a decision to cut everybody off. I made it clear to everyone that I didn't want anybody to tell me about problems because telling me about problems would render me helpless since I was unable to help from afar. My grandma was particularly hurt by my decision to turn my back on everybody because I was very close to her but I tried to explain that in the end of the day I wouldn't be able to focus if I kept worrying about them. I'm not going to say it's because they respected that that things turned around, I must say that was just God.
The Hair Stylist
While I was working in the barbing section downstairs, I noticed that the stylists in the female section were making more money. We were cutting hair for far less money than the people in the ladies section were and I got very curious. I wanted to learn how to do what they do.The hair stylist was born out of an interest and a determination to learn about doing women's hair. I started by watching and asking questions. My wife taught me the basics of styling because we were working in the salon together at that time and marrying her is the best thing that happened in my life. I'm a creative person and I totally love my job. There's nothing I'd rather be doing than making beautiful hair.I understudied the styling part and then much later I realized the importance of having formal training of hair dressing and styling but this didn't come until later when I started traveling abroad. At that time, I had a belief that all good things and everybody who was rich and successful made it "abroad". I tried every means possible to get into Europe. I was a victim of "Embassy Fraud" twice.  I paid money to some guys who were supposedly going to get me a visa and by the second time I had lost everything I had saved. I was devastated and I completely disoriented and before I knew it I was jobless again. I was sacked.
"Make Me" Beautiful
My wife and I were working together in that salon and we lost the job together. I was back to square one but this time I had help. My wife was an inspiration and a source of strength. We did a lot of home service. Making hair for people in their homes but it was incredibly stressful and we decided it was time to start our own salon formally.I toyed with the name "Make Me" because people would come to the salon and say "Make Me Beautiful". Make Me interprets who I am on the job; I want to make you beautiful. With no funds, Bukola and I just relied on our skills and started the business. We worked every time with little time to rest but we encouraged each other and we were convinced it was the right thing to do.
Business started growing and more people started coming and then an opportunity came for me to travel abroad.It was ironic because all of a sudden the "abroad" I had craved so much to go previously had been dropped on my laps because of my skills as a hair stylist and nothing else. Surprisingly, when the opportunity came, Make Me had just started and I didn't want to go because it came at a time when nothing else mattered to me than my work. I got an invitation to be the head hair stylist in a fashion show in Paris at the Nigeria Fashion Show Paris in 2004. The trip was for six days and initially I turned down the invitation because I had just started my salon which was few months old, the organizers of the show were not paying and I wasn't ready to travel just for the sake of traveling, but my wife said I should go that she would take care of things on the home front, so I went on that trip. It was really challenging as there were a lot of things I had to adjust to.  I really couldn't wait to back.
Today
Before my grandmother died in 2010, one of the things that she told me she regretted the most was not being able to come to Lagos to see Make Me because she was too ill to travel. My mother and my grandma were two women who sacrificed so much for me and today my mother lives with me.
There are thousands of people going through situations like I went through and honestly I can tell you it was such a difficult time. However, I didn't let the circumstances around me deter me from becoming what I envisioned for myself. I held on to God and today I thank God. My daughters' names are a reflection of my journey through life. Kamsiriona- How I asked of God and Chizaram- The Lord answered. There's no need to hold on to the fact that if family, friends or relatives don't help you, you'll be unable to move forward. With hard work and trying and trying again and again you can make it. I am a very focused person who doesn't let anything distract me.
Once I get a conviction from God nothing anybody says can distract me. I stick to my goal. I watch every step towards that direction. I believe everything is possible and nothing is impossible. Nothing works unless you make it work and so I do everything within my power to make things work. I throw myself wholly and fully into everything I do. Today, I don't keep a lot of friends because sometimes the friends may be a distraction. I don't really keep a lot of friends. I'm still curious and very interested in learning. For instance, I'm a hair stylist, most of them feel it's a woman's thing but I don't feel that way and so I try not to associate with friends who would discourage me or try to belittle what I do and what I have specialized in over the years. I don't begrudge them, I just know that we don't share the same goals and I understand that so it doesn't weigh me down.
I'm entirely different person when it comes to my work, it makes me feel like I'm on a stage competing so I am very vibrant and energetic and I am very passionate about what I do.

You Can Do It!
I believe that money making is the easiest thing to do once you have God's grace because one of the things that keeps us from making money is not saving and not having good plan that ensures that you save. There is no amount of money you make that can not be spent. People make millions and people spend millions, it's not about the figure you make, but the important thing is that the  little you're getting, how do you structure it? Understanding that that little should take you further. You should be able to project that little to take u to the next four months, the next year.
If you're making a little amount, you need to be able to structure a certain amount for savings. Cut off the wants and even some needs need to be cut off with discretion. Tell people "No" if you must but do it with every sense of focus. My wife and I put money aside and constantly projected for the next month, and the next year.  We were able to acquire the building where Make Me is currently operating from.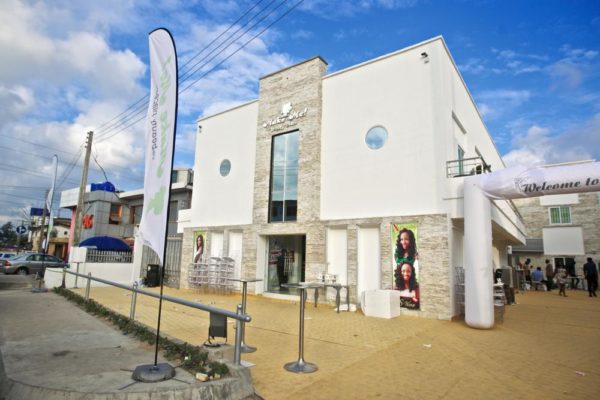 If you're putting aside 500Naira everyday, break it down into 30 days and break that even into 24 hours that way you would be able to project how much will last into the next 30 days, the next month and the next year. You can't make a new year resolution without a budget and you have to be realistic with today's earning. Today's earning, not projected earning or monies hoped for and then you can tell yourself "by the end of this year I'd be worth this amount of money in savings"
Along the line, God has given us wisdom to make wealth. You should also invest, so you can make extra apart from what you've projected.
You're not in competition with anybody. Be yourself, work hard and the sky is only just the beginning.