As part of our 6th anniversary celebration, and in line with the BellaNaija ethos of entertainment, information and positively impacting lives, this is the 6th of a series of stories of real people who have been dealt with some of life's unexpected cards. At wedding ceremonies, couples are enjoined to "Be fruitful and multiply". They are encouraged to start families because children are a source of joy and blessing. The pride and joy in the heart of parents when they're expecting a baby is usually very visible and the culmination of this joy is when the baby is born, healthy and happy.  But life has a way of throwing curve balls at us even in the face of all our happiness and so we find that not every expectant mother has that "expected happily ever after story" but we have to make a conscious effort to pull out of whatever challenges we're facing. Tochukwu and Harrison Nwozo have gladly offered to share the miracle of Olanna with the BN readers. We hope that you will be inspired and uplifted by their story.
Our family
The family comprises Mom (Tochukwu "Tee" Nwozo), who's an HR Consultant; Dad (Harrison "Harry Baba" Nwozo), who's a Marketing Consultant and is the CEO of Tribex Marketing/ Entertainment. We have three lovely daughters- Olanna Naomi, who recently turned 8 in June; Maranna Mikayla, who turned 6 in July; and Kelenna Olivia, who'll be a year old in August. We reside in a Maryland suburb that's right between Baltimore City and Washington, DC.
Olanna's birth
Olanna was born on June 7th, 2004. I was due in September (specifically, 9/11), but Olanna had other plans and couldn't wait to come meet us, and so, I went into early labor when I was 6 months pregnant and I was admitted into Labor & Delivery on June 1st. The doctors did everything they could to delay the preterm delivery of baby Olanna, but I eventually went into labor 6 days later, on June 7th.
Stint at the hospital
At the time, I was 6 months pregnant with Olanna (she was due in September, 2004). I was working as an HR Manager in a fast-paced corporate office and we were in the middle of a major recruiting blitz to staff a major contract that was starting in less than 30 days… I was literally in the middle of interviewing someone, when I felt like I needed to excuse myself to consult with my OB/Gyn because I felt a little "funny". When I made the phone call and described my symptoms to my doctor, he calmly said, "…You're in labor and you need to get to the nearest hospital." I was a bit confused because none of my symptoms involved pain or contractions, or my water breaking- all of which I associated with labor (Thanks to my prego bible at the time- "What to Expect When You're Expecting")
Because I didn't see these symptoms and as this was my first pregnancy and I wasn't intimately familiar with the process, I naturally assumed that the well-seasoned and highly knowledgeable physician, all of a sudden, had no idea what he was talking about. But just to be extra sure (that he was clueless and that my baby was, in fact, okay)… I immediately approached my boss to explain why I had to abruptly leave the office. As I explained that I was heading to the hospital because my doctor thought I was in labor, my boss (a white-haired, Caucasian male in his 50's, who had recently retired from the FBI as a high-ranking official) surprisingly appeared very concerned. Suddenly, the level of urgency was turned up a notch (hmm…was it something I said?). He rushed me down to the garage and we got into his sleek, shiny red sports car. Then we zoomed to the nearest hospital- George Washington University hospital, which was only a few blocks from my office at the time. Again, I repeated what my doctors said to the medical staff on duty and I was immediately admitted.
Even after I was admitted I was still unsure of what was going on, mostly because the nurses weren't forthcoming with the information immediately. I neither felt pain nor contractions, and I was almost certain that after they ran the necessary tests, they would confirm that the baby was okay and I'd be back home in a couple of days. I kept asking for how long I'd be at the hospital and then suddenly, I got the answer, "…Until you have the baby!"
Reaction to the first diagnosis
Then the diagnosis and the explanation followed. I was having preterm labor and my cervix was 100% effaced (i.e. completely thinned out). Till this day, doctors are still unsure of how and why I went into preterm labor. With my cervix being completely effaced, I would soon start dilating and the baby would arrive shortly thereafter. They estimated that at this point, she was probably less than one pound (about .9 oz). To stall the labor process, I was given all types of shots and medication to strengthen the baby and increase her chances of survival. I also had to hang slightly upside down to elevate the lower half of my body. It was indeed a scary time for me as they hinted that there may be a strong possibility I may lose my first baby.
At some point, doctors and specialists began to give me statistics of survival rates of babies born that early. The statistics they quoted were between 24% – 60%. It was so disheartening to me, my husband and our family members, hearing all the negative feedback we were getting from the doctors. At this point, we knew we had to trust and believe in God as the situation was totally out of our hands.
Somehow, I knew God had other plans for our baby. She was OUR blessing from God and so, I knew that no weapons formed against us would prosper! My husband, Harrison, and I prayed passionately and unceasingly for God's mercy, grace, healing and blessings. We knew that with God all things were possible and that He would never leave or forsake us. We believed His will was the survival of our yet unborn child.
At a point, I became indignant and impatient with statistics-bearing physicians/specialists and had politely asked for a cessation of future conversations on that topic. I knew they meant no harm and were only doing their jobs, but I had to do mine as a child of God and trust that we would meet Olanna and that she would be a tremendous blessing unto her family.
Challenging times
Besides the natural anxiety associated with my circumstance, there were a few particularly challenging moments (some more so than others):
When I first got to the hospital, doctors wanted to further delay my delivery so I was 100% confined to the hospital bed, hanging upside down, for an extended period of time. I knew the stakes were high so as uncomfortable as it was, I was prepared to live upside down on my hospital bed, for as long as it took. It got scary for me when I had to cough or sneeze or laugh- I had severe headaches because then, I felt a great deal of pressure in my head. But it was no shaking for me as long as my baby came out okay.
On a more serious note, when I finally gave birth to Olanna, she came out kicking and screaming (all 1 lb, 9 ounces of her). We were so excited and couldn't wait to see her at the NICU (Neonatal Intensive Care Unit). However, by the time we got there, she had stopped breathing!!!… my whole world collapsed in that moment… ! They eventually revived her…(Praise God!!) . Our next few visits to the NICU were quite tough. Her super small, skinny frame was in an incubator, hooked up to several tubes as she lay helplessly. We barely saw her face or knew what she looked like for the first couple of months because of all the tubes she was hooked up to, covering her head, coming through her nose, into her mouth, through her stomach… It was quite challenging to see our baby this way. But even then, we saw the fighter in her and to God be the Glory… it became a thing of joy- watching her slowly develop in the incubator.
The doctors and medical team had us sign waivers and consent forms releasing them of any liability. We also signed blood transfusion forms. It was just a scary time for us with each day and each new development. At one point in time, the doctors called from the hospital in the middle of the night (around 2 am) and told us Olanna was having trouble breathing. My husband grabbed my hands and we both went into serious prayer. After the prayer, he said, "She's going to be fine." As we were leaving for the hospital after our prayer, the nurse on duty called us back and told us all was well and she was doing a lot better.
For 3 months Olanna stayed in the NICU and we went to visit her every single day. We had to scrub, wear masks and other protective gear when we would go see her, especially to hold her. We thank God for the love and support of family and close friends that also came with us to the NICU to visit baby Olanna. Even in her early days at the hospital, she knew how much she was loved!
Olanna eventually came home 3 months later (weighing a little less than 4 pounds). She was still strapped up to tubes and machines. One of them- the apnea monitor was used to detect apnea spells, which would occur when she occasionally stopped breathing. The monitor had an alarm that was as loud as a fire alarm. Every time, it went off, everyone in my family would jump up and run to her to make sure she was okay. Ironically, the alarm was so loud that it would wake her up, which would stimulate her and cause her to start breathing again. Her first few months in the hospital and at home was a major adjustment, but with time, and as she grew and developed more, we were more at ease.
We celebrated absolutely every development (major or minor) and continue to do so, even till this day. If we skip a beat, she'll remind us to recognize her achievement because that's what she's become accustomed to… and we gladly oblige. Given her journey, we're indeed thankful for all that she's been able to accomplish and all that she's done so far.
During those challenging times, how did you pull through?
God had everything to do with our pulling through. We had a sense of peace and assurance that everything would be okay. We just believed that He had this one and as it turns out… He did!
My family was also amazing… my husband, Harrison, hung with me every night and day and would sleep on his little couch next to mine at night. I always had visitors and was constantly in good spirits because of all the visitors I had.
I was in the hospital for about a week. I went into labor about 5- 6 days after I was admitted. I was dismissed from the hospital 2 days after I gave birth to Olanna. However, she stayed in Intensive Care for about 3 months. Thankfully, she didn't go through any major surgeries (just a lot of scares) and we truly consider her our Miracle Baby!
Support from my friends and family
I didn't need financial help- I was able to go back to work after 2 weeks. Since I went into labor at the hospital close to my office, I'd go to work and then go see Olanna in the hospital either after work or during lunch hours.
However, I needed a great deal of emotional support and my family and friends were amazing in providing that. Besides my hubby, who was always by my side; my best friend, who was 7 months pregnant with her first as well, drove down from Atlanta to see me. My family- my mom, sisters, in-laws, cousins, etc all kept me company. Most importantly, they kept me laughing… to keep from crying… I love them to pieces!
I remember my first weekend in the hospital- my mom flew in to DC and would bring home-cooked meals to the hospital for me and everyone else to eat. On one of those days- in the early evening, she came over with my sisters, my brother-in-laws and my hubby and we played "Taboo" and "Mad Gab" (two very fun Charade-like party games) till about 11pm, when they were finally all ushered out of my room as visiting hours ended at 8pm (oops!). Shortly after that, right before 12 midnight, my cousin, who attended George Washington University at the time, had somehow managed to get through security to see me (University privileges, I guess! NOC :). Anyway, it was such a fun night, that I had strong contractions the next day, and a horrible headache from all the upside down laughter from the previous night. I didn't go into labor, but they restricted my visitor privileges because they said laughter and excitement could further complicate matters.
My family was also great with their support after Olanna came home. Both of my parents, my sisters, Harrison and I spent the first week on inflatable mattresses in the living room just so we could all keep an eye on her.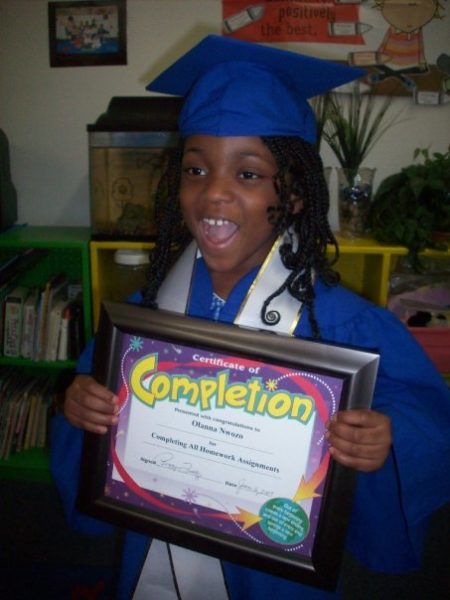 Olanna's distinguishing qualities
Olanna is really passionate about her academics, especially Math. Case in point, whenever we hang out, she'll insist on being quizzed with Algebra questions to practice her mental math. She loves reading and reads a couple of grades above her level. She also enjoys watching movies- from princess-themed movies like "Snow White" to super-hero themed movies like "Avengers". She plays soccer and is on the liturgical dance team in church. She also enjoys Ice Skating, bowling, miniature golf, and will be taking up Ballet and Hip Hop dance in September.
Olanna today
Olanna is a very responsible and mature 8 year old. She is as awesome a daughter as she is a big sister. She's very intelligent and will be in the 3rd Grade in August. She campaigned and ran for Class president in the 2nd Grade and won. She is top of her class and received all A's in every single subject this past school year. She is always advocating for her rights and those of her sisters, and sometimes, she wins with superb logic. She is incredibly sweet and cares about the interests of others. Olanna is truly a jewel! (Olanna means "God's Jewel" in Igbo)
Olanna is also very competitive and has a strong drive to succeed. She enjoys being celebrated and thrives on positive reinforcements, which, as I mentioned earlier, probably stems from her development and upbringing.