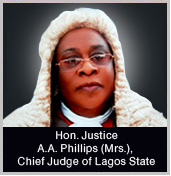 The Nigerian Judicial system has been criticized severally for not giving alleged criminals their full rights. For instance, hundreds of people are languishing in prisons, including the Maximum Security Prisons, even though their cases have not been tried in a court of law. These people who have not been declared guilty or sentenced by a judge spend years "awaiting trial" and it is often the case that some of them are innocent of the crimes they are accused of.
The recent action of the new Chief Judge of Lagos State, Adeyoola Phillips has therefore been lauded. On Tuesday 18th September, 2012, she freed 233 inmates awaiting trial at the Kirikiri Prisons in Lagos.
The inmates had spent between four and twelve years in Prison without any sentencing. While 130 prison inmates awaiting trial were freed from the Kirikiri Maximum Security Prison, 103 were freed from the Kirikiri Medium Security Prison.
According to Premium Times, the alleged criminals were ecstatic when they were called to be released. The description of their reaction when they were called was truly emotional.
Inmates on awaiting trial whose names made it to the 'freedom' list were full of delight and dance after their names were reeled out.
Chima Ndubuisi was not in the hall when his name was called; his friends dashed out of the hall screaming his name and when they found him, they practically dragged him into the venue.
Mr. Ndubuisi had been on awaiting trial since 2004.
For James Odekunle, it was time to let loose pent up emotions. He dashed out of the hall, fell on the football pitch, rolled on the grass, leapt up, and gave a nearby prison warden a bear hug.
"There is a big feeling in my body today," said Mr. Odekunle, 29, awaiting trial in prison after he was accused of murder in 2007.
"I thank the Lord for what God has done in my life. The next thing now is I'm going to face my work and my family," Mr. Odekunle, an electrician, added.
It is sad that such a large number of people were in prison for a long period of time awaiting trial. My Lawyer friend who often advocates for people who have been dealt with such injustice mentioned that there was still a larger figure of such people awaiting trial in the Prisons.
The Deputy Controller of the Medium Prison, DCP Tunde Ladipo noted in another report that 2,370 out of the 2,502 inmates of the prison were awaiting trial.
This is a wake-up call to the judicial system to ensure that suspected criminals are properly tried in court to determine whether they are guilty or not. For the State Government to fish out these 233 people, it might have been ascertained that they were innocent of their accused crimes or there wasn't enough evidence to prove they were guilty. It is not fair to allow people spend years in prison for crimes they are innocent of.