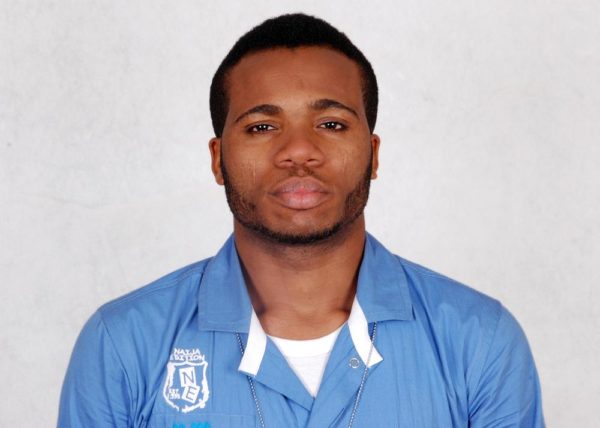 In many countries across the world, prisons are perceived as places where the worst members of the society live. Inmates are segregated from the society and aside from visits from close relatives and friends, they receive minimal attention from members of the society. Often, upon their release, they find it difficult to integrate back into the society.
In Nigeria, one man who is trying to build a bridge across this barrier between prison inmates and members of the society is Yinka Lawanson. Popularly known as Lamboginny, the 27 year-old artiste founded the Say No To Crime Project in 2009 and so far, has organized 7 musical concerts within Federal Prisons in Lagos. With help from other celebrities who join him at the concerts, he uses music as a tool to reach out to the inmates, break their resistance, and reform them.
He speaks to Bellanaija's Adeola Adeyemo about his pet project and his experiences from interactions with prison inmates.
It's quite rare to see young people taking special interest in prison inmates. How did you conceive the idea of Say No To Crime?
I was thinking how best I can help to fight against crime in my country because all we keep hearing is the government is bad. But the truth is that we are the society so to a large extent, the society has a role to play and if the so-called government has let the society down, we as the members of the society should not let ourselves down.
Tell me about your music career. When did you start off as a musician and how far have you come?
I started music in 1999. In 2002, I was part of the first artistes in Star Quest Reality Show. I came fourth in Benin. I've done collaborations with the likes of Sammie Okposo, Solek and Mike Aremu. My first album would be released this year.
Would you say your work with your foundation has sort of slowed down your music career in any way?
Stylishly, it did. But thank God for my very good friend Yemi Sax. He was able to get me back into the music industry properly this year. I started off this year by signing on to his record label, Sax Records and I've been in the studio doing a whole lot of work. I've recorded over 8 songs and I'm back on my feet musically now.
What does your music mean to you?
For me, music is a language that can be used either for good or for bad. I have decided to use mine as a tool to reintegrate both the general society and ex-convicts and inmates in general.
Of all the avenues you could use to fight crime in the society, why Prisons?
The fear of the regular person on the street is to commit a crime that would take them to the prison but anybody that has been to the prison and is not properly rehabilitated gets back to the street without any remorse. They will say "Is it not the prison? We've been there before and we can go back again." Eighty percent of people in Nigerian prisons are youths and if not properly rehabilitated, they get back to the street and attack innocent people without looking back.
So, how do you use your music as a tool to fight crime?
In the history of Nigeria, we've never had a musical concert in prison until I started it. So far, I've organized seven concerts in Lagos prisons – 3 in female prisons and 4 in the male prison. I go to Ikoyi Prisons, Medium Security & Maximum Security Prisons Kirikiri and Badagry Prison.
First and foremost, I try to take their minds off whatever brought them to prison. I usually do what we call 'Season in Prison' which is celebrating every major season like Christmas, Easter, New Year at the Prison. It has helped so much in the healing process of inmates. I remember when I did Valentine in Prison on 14th of February, 2011. I brought in Stella Damasus, Shan George, Midnight Crew, Jedi, Jafextra, Chief Dele Momodu, Dekunle Fuji. We had different Valentine cakes. Lanre Lambo gave us his cocktail machine and for the first time, inmates had cocktail in the prison. It was a sober moment when the celebrities that came with me held flowers and were picking inmates as their Valentine. So many of them were crying at that point.
From personal experience, I know getting into Nigerian Prisons with cameras is not an easy task. But you've done it several times and even organized musical concerts for the inmates. How were you able to get the necessary approval from the authorities?
I happen to be a friend of the daughter of the former Controller-General of Prisons in Abuja, Olusola Ogundipe. When I told her about my idea, she said "that is a wonderful idea. I could talk to my Dad. I'd get you a ten-minute appointment with my Dad. If you can convince me, he would give it to you."
I got into his office in Abuja and I was able to make my point in 10 minutes and I told him how music can help inmates in Nigeria. And he said "Hmm, you want to bring entertainment into my prison? OK, I'd give it a try but I would be there myself to make sure nothing goes wrong".  He flew in from Abuja to witness the first concert we held in Kirikiri in 2009.
Having organized seven concerts in the Prisons so far, have you gotten any recognition from the Nigerian Prison Service?
I was endorsed as an anti-crime ambassador to Nigerian Prisons Service after I released my I No Go Loose My Head all stars song. That was the same year my project was endorsed by three Controller Generals – Immigration, Civil Defence and Prisons. My ambassadorship became stronger on the 6th of December 2010 when I was given a honorary appointment as an Officer to the Nigerian Prison Service.
Does this grant you regular access to the Prison on days when you aren't holding concerts?
Yes. Sometimes, I just go there to chill with them. We chat, they pour out their hearts to me.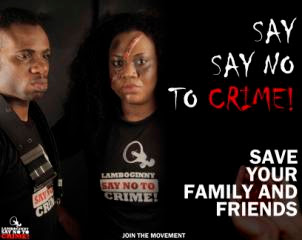 How were you able to convince the celebrities who go with you to the Prisons to support your cause of fighting against crime?
Initially, when I started calling people to go with me to prison, people didn't want to go but over time and after seeing the impact it has made, they've been lending their support. I have a good relationship with lots of them. So far, I've had over 40 top Nigerian artistes go with me into the prisons.
Where do you get the funds to sponsor these concerts in the prisons?
Truth be told, I use my personal funds for all of this because no corporate brand has never agreed to sponsor. Stella Damasus has been of great help and all the time, she has paid for the sound production which costs about N150,000 for each concert. My friends also support and contribute with different stuff. DJ Roland and DJ Jimmy Jatt are always there for free. All the musicians also come for free.
How would you describe the attitude of the inmates during the Musical Concerts. Do they give you any trouble at all?
They are very calm and well behaved. They know it's a special programme. They know Say No To Crime is there to help them.
As someone that interacts regularly with inmates, have you come across any of them who has an exceptional story?
One of them who really touched my heart was Bukky who is in the female prison. Sometime in 2009, she was all over the news because she killed her Mum under the influence of drugs after she got back from America. I met her in my first concert in 2009. In 2011, when they launched Open University in Maximum Prisons, she was there as one of the pioneer students. She walked up to me and said with an American accent "Lamboginny, you inspire me men. I was at your first concert in 2009 and after that, I made up my mind to be a different person. You're young, you're hip, I love your golden hair and I can't believe a dude like you would come into the Prison to show love."
As I speak to you, Bukky has written two books in Prison. One of the books is with me and I've promised her I'd try to get it published.
That is really touching. Do you have any similar experience to share?
Another experience was when I helped 32 inmates get their freedom. It was a fabulous moment. These were inmates that were arrested for street trading and environmental offences. They weren't capital offenders. They ended up in Kirikiri because they couldn't pay their fines. I'm not a lawyer but I had to try and do something. So I called a couple of people- PSquare, Stella Damasus, Shan George, Laide Bakare, Tillaman and we contributed money. I got a total of N300,000 and then I started going to courts. I went to Ojo Court, Igbosere Court , Ikeja High Court. Then I started paying their fines. Some of them were N10,000, some were N5,000.
They were in a Federal Prison because they couldn't pay as low as N5,000! How did you learn about their cases?
What I did was I went to their files and when I saw those that were arrested for Street Environmental Sanitation offences and similar ones, I reopened their files. There were 20 of them in Kirikiri Medium Security Prison, 10 in Badagry Prison and 2 in Ikoyi Prison.
Are there more people like them in the Prisons?
Lots of them. I'm using this opportunity to say that street trading is an offence; I'm not saying it's not. But when a State security agency like KAI picks up people from the streets, they should have a KAI Remand Home where they keep them and shouldn't mix them up with people in the Federal Prisons where we have capital offenders, and major criminals. One of the reasons why I decided to help them is because they could be influenced by major criminals. If a young boy selling Gala was arrested by KAI and couldn't get N5,000 fine to pay for his release, a criminal in Kirikiri would tell him to go and do another worse offence for him outside if he can arrange for his fine.
How long had they been in the Prison before you secured their release?
Between 3 months and 6 months. Some of them didn't even know their sentences were over because they were naïve and uneducated, they didn't know they had finished serving their time.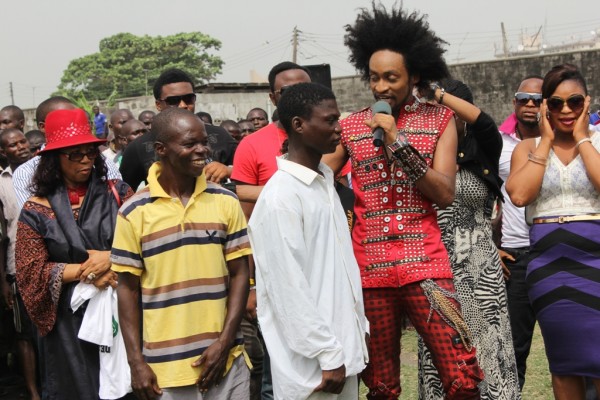 Did you have any resistance from the inmates when you brought in video cameras or tried to take their pictures?
When I started in 2009, inmates didn't allow me take their pictures, they blocked their faces. But over time, they started trusting me. I had to encourage them saying it was a way I could take their message to the outside world and get the needed help for them. Now, you see them holding Denrele, holding Stella Damasus; they want to come to the camera and take pictures. They are no longer hiding, they are bold enough now to come out of their shell.
The good thing about it is that when they come back into the society, they would not mess up but would come out and be better people because they know that if they don't behave, people can spot them out easily.
As someone who interacts often with prison inmates, what would you say is their greatest need?
One of the things they need most is Lawyers. Some of them have been awaiting trial for years and their files have never been opened. Some of them spend years awaiting trial and when they are finally sentenced, it adds to their years spent in prison. One of the things I'm trying to do is to get different law firms to lend their support. The National Legal Aid Council is trying. Sometimes they come into the Prison to try and see how many people they can help as well, but we need more help.
And after they leave the prison, what do members of the society need to give them to ensure that they are properly reintegrated?
Around here, people think the prison is a cemetery. When you go into prison and come out, everybody runs away from you. People look at you like they've seen a dead body. I want the society to understand that prison is a correction home. People need to understand that when someone comes out of the prison, he has undergone reformation and should be given a second chance. I'm not forcing it on the society, I'm only pleading.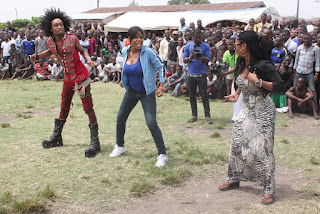 I must say all the work you've been doing in the Prisons is really wonderful. Well done Lamboginny. What is the next step for you in the Say No To Crime Project?
My next project is at the Juvenile Prisons in Abeokuta where young offenders between the age of 16 and 21  are kept. They don't have any proper educational system. So what I want to do is turn the place into some sort of boarding school where they'd have teachers come in and teach them regular classes from JSS1 to SSS3. By God's grace, I also want WAEC to approve the place as a center for writing their exams. Hopefully, the Commissioner of Education would join hands with Say No To Crime to ensure they have permanent, regular teachers. And for those who are not interested in education, we would encourage vocational studies for them.
How does all this affect you as a person?
Sometimes I cry. My project has made me realize it's an empty world. I don't place value on material things. The only thing I place value on is putting smiles on people's faces.
When you speak to the inmates, which words do you use to encourage them most often?
I am not a prisoner, I am a hero. My Mess is My Message.
Lamboginny ft 16 Nigerian Artistes 'I No Go Lose My Head'
Lamboginny's Freedom For Helpless Inmates Concert at Ikoyi Prison

To get in touch with Lamboginny Say No To Crime Project:
Call 08120776757 | 08067626330
Email [email protected]
Facebook http://www.facebook.com/#!/lamboginny
Twitter @lamboginnysntc