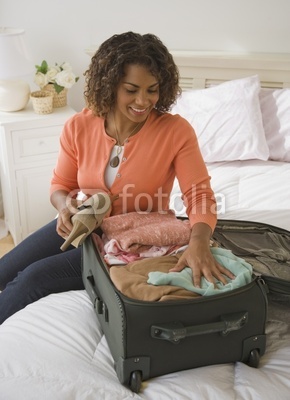 Hi everyone! I hope you had a great weekend. For some inexplicable reason, there's a certain spring in my step this morning, I feel like I can take on the world. Because I'm naturally grumpy, I'm assuming this current state of being is as a result of a well rested weekend. The only time I turned on my computer this weekend was to play a round of Bejewelled Blitz and after that it was back to lying back on the sofa, watching movies and the delightful world of instant messaging on my cell phone.  Then, my cousin sent me a message reminding me that she was coming back home on Sunday and she'd like me to pick her up from the airport. It is NOT one of my favourite errands, but I obliged because I'd missed the girl and honestly couldn't wait to catch up on all the gist of her holiday in the UK.
The minute she entered the car, she began the lamentation. "If you see the suffer I suffered today ehn!" Let me summarize the gist for you guys. Basically, an aunt of ours  had called her last week asking if she had space in her suitcase to bring 'some' things to Nigeria for her.  According to aunty S, it was just "box kekere kan" (a small box). When they brought the "box kekere kan"  the poor girl was thrown into confusion. Not having money for a taxi to the airport, my dear cousin hurled her suitcases, with Aunty's full 25kg flexi bag, across platforms, changing stations to get to the airport.
As she narrated her tale, I asked her why she didn't say she couldn't carry it immediately they brought the luggage. Her response was "You know Aunty S na! If I say I can't bring the things now, that's how it will become a full scale family matter. The real issue is, why do people put people on the spot by asking them to do things that are clearly unfair and unreasonable" I tried to cheer her up, and after plying her with Efo riro with fried plantain, she calmed down. However, it had raised a discourse in the house about the issue of  bringing things to Nigeria for people.
We asked some of our friends who came over for dinner and it ended up being a heated discussion. Apparently, it is something that a LOT of people feel very strongly about.
"Why are Nigerians so unreasonable when they ask you to carry stuff for them? Don't they know you have your own load?"
"Some people will give you a list of things to buy for them as if they're the ones who bought your travel ticket"
"My problem is with people who expect you to start looking for them when you eventually bring the things"
"The worst set of people are those who ask you to use your money to buy stuff for them, thereby shortening your own shopping money rations and then to get your money back from them will be war! Mba! Never again"
It's rather unfair to tar the entire Nigerian populace with the same brush but it appears  that this is a common trend. As someone who has placed an order for a pair of shoes and had them delivered to my friend's place for onward transmission to Lagos, and as someone who has also been given a "portmanteau" of shirts to bring back to Nigeria, I have a little experience with these things. I advised my cousin that next time, when she realizes the person's box is by no means "little" she should just pull out the things she can carry and leave the rest. I know a lot of people who do this. However, as my friend, Tolu mentioned, some people offer to pay for one's excess baggage as the stress that goes into carrying someone else's kaya can't be monetized.
At the end of the day, no man is an island and everybody needs somebody. Nevertheless, we should remember to always be considerate in our demands. Asking your friend to help you buy "5 nice shirts from Hawes & Curtis store" is implicitly saying you trust the person's definition of "nice" so you should be open to the possibility that they may not be what you want. You must also be sure to remember that your impromptu demand for 5 shirts increases the courier's baggage by 5 items which they didn't plan for.
Please share your experiences on this subject and let's have a hearty monday morning chuckle. What's the worst thing someone has ever asked you to carry for them? What's the most inconsiderate thing you've ever asked someone to bring for you across the border? (Some people will ask for 4 cartons of Indomie noodles as if the streets of Peckham are not lined with the stuff.)
Have a beautiful week ahead, remember to stay strong and positive.
Keep a smile on your face. Peace, love and cupcakes!
Toodles!
Photo credit: eu.fotolia.com