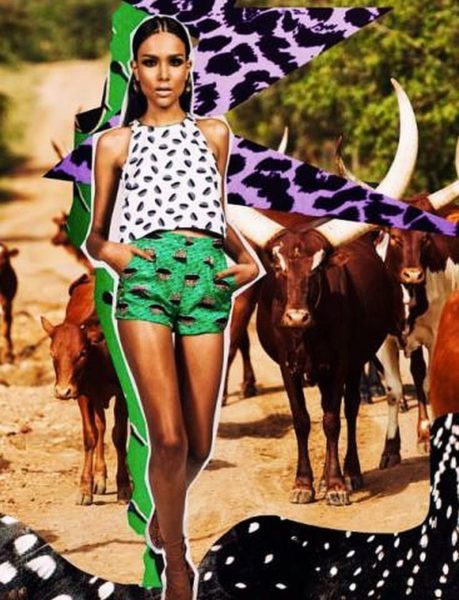 "Wear your earrings on your body" this statement captioned to the image of one of the Jewel By Lisa pieces on Instagram was put into literal translation in their Spring/Summer 2013 "Fula" collection.
The collection campaign showcases a labyrinth of patterns and colors that are typical of the Fulani culture of Nigeria using calabashes, earrings, cowries, wooden spoons, the traditional native cap of the Fulani male and even the stick used to herd their cattle  artistically represented on the fabric. The model used in the campaign had her hair weaved like that of a typical maiden from the North, with a braid running along the center of her hair, complete with gold hoop earrings and dark eyeliner.
Made from silk fabric, the collection was showcased at the Lagos fashion and Design Week 2012, in which the models wore themed shoes with gold embellishments and shoes made from cowrie-patterned fabric.
The collection campaign employed eccentric graphics that clearly show the artistic and detailed pattern and how the designs were derived for this collection. Chic and pleasant, the Jewel by Lisa Spring 2013 collection has embodied the African culture fusing it with modern design that stands out.