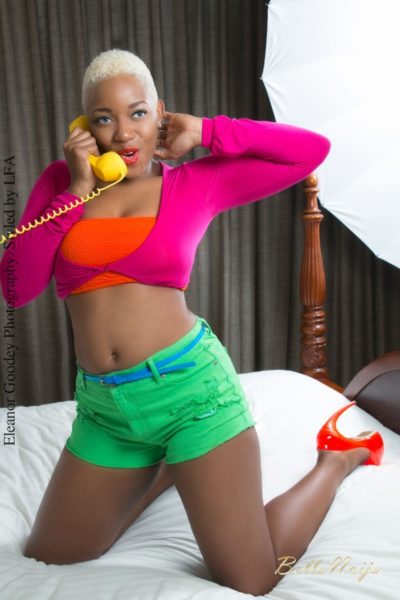 It takes a lot to be a woman, to embody the essence of the ultimate woman. We try, we fail, and so we try again. In the end, we win because it is what we are, it is who we are and there is no way of avoiding that destiny.
In many countries around the world, winter is winding down and Spring will soon emerge while in Nigeria, we are experiencing very warm weather – it's about that time for the new season's colour trends to emerge.
The spring collections are invading the stores across the globe so I decided to work with two of my most reliable associates, renowned photographer Eleanor Goodey and my excellent creative director Jude Jagger to put together exciting images styled by Liam Fashion Agency that will help spell out the colour theme for this season – Bold, Bright & Beautiful Fun Colours.
Listed in order no of popularity, New Season It-Colors for women are:
Tangerine
Green
Yellow
Fuschia Pink
Aqua Blue
Don't be afraid to rock these colours, read on and I'll show you why these are the hottest colour trends of the new season and how they can work for you.
Will bright colours work for me?
Yes, they do. Bright colours go well on any skin colour and tone and give you endless options when it comes to accessories.
I have a corporate job, how can I incorporate these colour trends?
Though this shoot shows the bright colours of the season and you may feel left out because you work in the corporate world; Well, I still have some tricks for you on how you can join the fun party this season.
I'm a girl about my business and aside from music video sets and fashion shoots, I have to delve into the world of business and sit with the bankers and government agents. The dark coloured suits seem to be the antithesis of motivation in the corporate world. So during the long day's work, if you find yourself drowning in the pool of dark coloured outfits during working hours an easy way to put some spark back into your day may be to get some colour in the mix. You always have options that will be sure to help accentuate your femininity, whilst reminding the world that you are a winning woman.
A touch of bright manicured nails or fashion accessories or even a colourful handkerchief or scarf are great options to brighten up your day garner renewed energy, optimism and the promise of a brighter day.
Credits
Photography: Eleanor Goodey
Creative Director: Jude Jagger
Stylist: Liam Fashion Agency