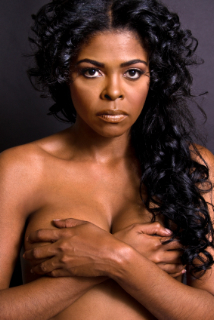 Last week, the news of Angelina Jolie's double mastectomy filled the media. Angelina is one actress who smokes up the screen with her sex appeal and when I heard she had the surgery my interest was piqued as to what would have motivated her to take such a drastic step.
She was reported to have had the surgery because she found that she had a mutation of the BRCA1 gene her double mastectomy was done in order to reduce her chances of having the disease. In her words: "My doctors estimated that I had an 87 percent risk of breast cancer and a 50 percent risk of ovarian cancer, although the risk is different in the case of each woman."
It was an incredibly bold move and it was one I respected and admired even though a lot of people cracked jokes about how she had taken away Brad Pitt's "play things".
Someone said to me that he didn't understand why she would take such a drastic step especially as something else could kill her. I responded that I actually understood where she was coming from. Fears and history can have a lasting effect on a person whether rational or not. For instance, I have a morbid fear of petrol generators because my brother died from an explosion of one of those things. No amount of telling me that diesel generators can kill me just as well will quell my fears. So I understand how history can affect logical reasoning.
With regards the "aesthetic" value of breasts, some comments online said that Angelina whittled down her sexuality. It raised the question of our bodies as sexual elements of our existence. I've heard stories of women who have undergone mastectomy on the road to recovery from breast cancer and they said one predominant question they get asked is "How's your sex life without your boobs?".
There was a show on TV where the guy fell down and his penis was very badly sore. When he got to the hospital, he was told that he had hurt himself and he would need to have surgery to either take off the shaft or go through a more rigorous process of draining blood from the organ. The latter option had no guarantees on whether he would be left with much erectile function. He and his wife decided to take the former to save his life.
What do you guys think? Would agree to slice off a body part as a pre-emptive measure to save your life? Or do you believe that something will still kill you so why not give yourself the best quality of life while it lasts. Do you believe that some body parts are too essential for you to ever consider taking off just in case?
Let's discuss!
Photo Credit: dawnali.com