"My Style has the ability to transform to fit any occasion  I'm not very outspoken, so when I walk into a room, I let my style speak for me" – Eromose Moses-Ohio.
BN My Style is one of our favourite features on the BN Style page, and judging from the responses it gathers, I can safely say, it has our readers interested.
For this edition of My Style we have BellaNaija reader Eromose Moses-Ohio is our style focus for this edition. He is a student in Canada and has a style that he describes as eclectic and vintage. While chatting with him he tells us about his signature style, where he loves to shop and whose wardrobe he would definitely love to nab.
My style is
Eccentric, vintage, urban, afro-influenced, classy and cross trending. I try to mix classy and urban in my outfits. I make my own rules when it comes to styling and I'm never afraid to try new things.
Where Style meets Personality
I am a creative person and I love taking risks because that's what life is all about. I'm not afraid of trying out new trends. As long as they feel and look good on me, I will wear it. I also enjoy playing with colors, although I am very cautious about it.
I Love my Style because…
It has the ability to blend into the occasion but still stands out in its own. I'm not very outspoken, so when I walk into a room for the first time I want my style to speak for me.
Where I love to Shop
I do most of my shopping in stores and online, but sometimes I am lucky enough to pull a few strings and get the clothes brought to me in the comfort of my home.  I shop online at Depius 1924, ASOS, Saks Fifth Avenue and NikeID. My preferred stores include Mexx, Harry Rosen, Banana Republic, H & M, Zara, Club Monaco, Macy's, Foot locker, Finish line. Thats a lot of high brands right? but I try not to be restricted to them alone. Recently I have been patronizing some brands like Les Sauvage (out of Toronto, Canada), Rayrev Inc, The Hype Couture and Destynelt (all based in Winnipeg, Canada). They have amazing designs and they let me express my creativity through their clothes.
Buzzed & Cut
Like some of my style picks my hair depends on my mood and my schedule. I normally get a low cut, sometimes with a fade or I let my hair grow out and get a medium top fade.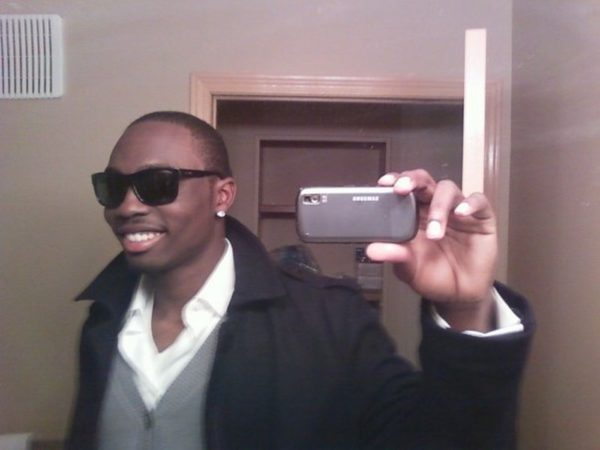 Chains, Wristwatches & Shades
My Kicks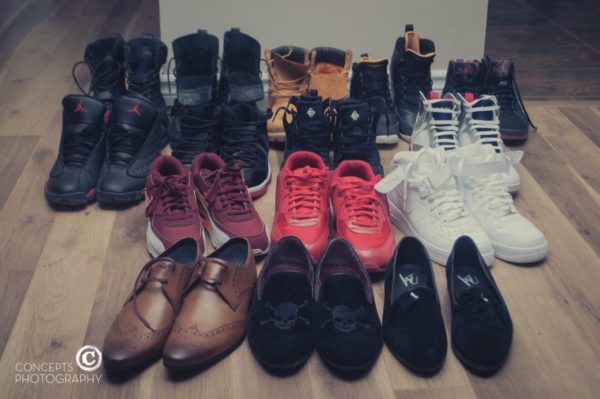 My Shopping Habits
I'm 6″3 tall (1.91m); so sometimes it's hard getting a good fit so whenever I have that difficulty I buy larger sizes and alter them to my measurements. When I shop, I always keep an open mind and try to get a mental image of how I can combine whatever I pick to what I have in my wardrobe.
Sometimes getting a second opinion helps, but I don't let that sway my final decision. I try to stay up to date through fashion blogs, release dates from companies, and social networks. I also know a wardrobe consultant; Ifeanyi Okeke who shares my enthusiasm in certain trends and that helps too.
The thing I think every guy should have
Not one, but a couple. A fancy pen, a lint remover, a shoe horn, a chain watch and a rubber/leather watch (at least).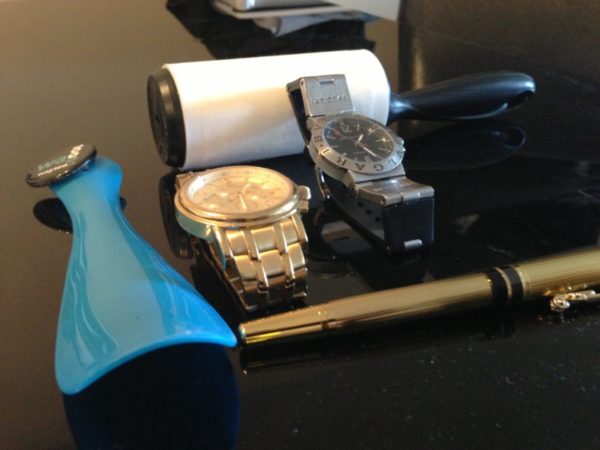 My style advice
Be confident in your style; pairing up your colours properly is always the way to go.
If only I could have this Celebrity's wardrobe
It would be a mix of Kanye West & D'banj's (convenient right?). They both have styles that I respect and admire. I'm sure I'd find some of the best-styled, high end, urban threads in Kanye's wardrobe and the Koko master is the king of the modern afro-centric look. I personally think D'banj should own a line of blazers, but that's another conversation lol.
Which Celebrity guy stole my look
I can't think of anyone so I'd let the comments decide for me. Who do you think I dress like?
You Carry a Man bag? What's in it?
I carry a designer duffel bag and its contents vary. It's spring season where I am, so I have an umbrella, my iPad & a mobile charger, a notebook, cologne, sunglasses and a spare watch.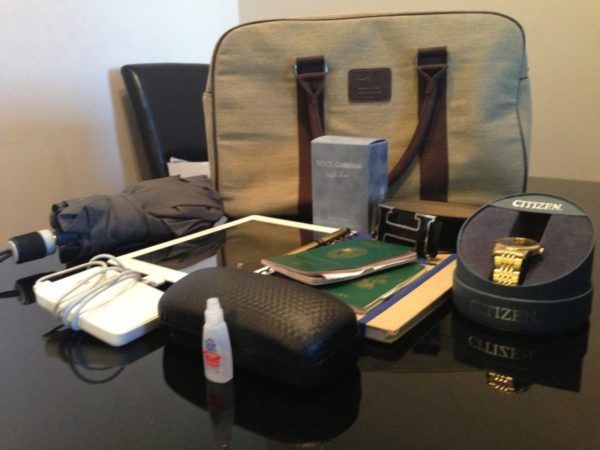 The Gentleman
My Swag
My Style Philosophy
One philosophy I always live by when it comes to my style is 'Style is personal'. I believe you are your biggest critic and your biggest fan, so you have to admire what you're wearing, or at least be comfortable in it.
To see more of Eromose's style follow him on Twitter & Instagram @2HorsesNAnEagle
_____________________________________________________________________________
If you are interested in appearing on My Style, simply send two pictures of yourself or that of a friend depicting a typical day and night look with a short summary of your style to  style(at)bellanaija(dot)com. When your entry is approved, you will be required to send in more pictures and personal commentaries on your style or that of your friend as the case may be!