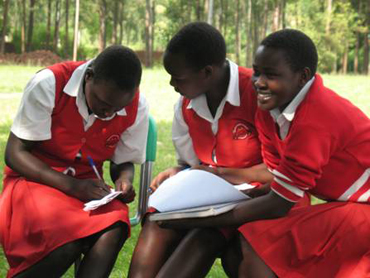 I've always thought that if I had gone to boarding school I might have had a shot at being slightly taller than this. Only slightly because of those pesky things called genes. You see, I always believed that somewhere in the hallowed halls of boarding school was the secret to height. My brothers and cousins told tales of the copious quantities of horrible beans they were fed in Command and NMS, so you can imagine why I believed all I needed to get the extra inches (I so badly craved) was being in that environment. However, beans was not the only thing they talked about during their holidays. They had stories of wicked seniors and how they couldn't wait to become senior students to get away from the onslaught of brutes. Ah! wicked seniors ke! Luckily, I didn't go to the kind of school where "seniority" was a thing. It's one of the perks of being an auta
Last week, I got some really awesome news and I was very excited so I called up one of my bestoes, Jojo and said "you know what? Let's go and eat at Yellow Chilli on Sunday so I can give you the full details of the news. Plus I've not had their Jollof Fiesta in a while so it's a good opportunity." So, yesterday, as we were heading to the Oju Olobun, we were in a little traffic and some ladies were in the car beside us. One of them waved at my friend with a wide smile on her face. As an aproko, I asked her who the babe was. "I don't know her oh. Her face looks familiar sha". I slowed down a bit so we could be side by side and as soon as we did, the lady rolled down her window and mouthed "F.G.G.C Oyo!". My friend smiled at the babe, waved at her and then said to me "Jor je'a ma lo jor" (Please let's go).
"Ah! Why don't you want to stay and exchange numbers with your secondary school friend?" The way JoJo gave me the nasty eye was too funny. "She wasn't my friend jor. She was one of those wicked seniors. In fact, as she just said that "Oyo" all the nasty memories came back."  She told me how the seniors in her school were called "Aunty" and how they made the junior girls fetch water and wash their clothes till their palms went sore.
Fortunately, I didn't have any sad stories to contribute but it made think about the effects of bullying in secondary school, and how the seniors felt when they see those juniors outside school. The outside world can be a leveller.  Imagine being a wicked senior and you end up being on the same registration queue at the university with a junior you had tortured and bullied. Imagine if you'd been bullied as a junior and just when you think it's time to "enjoy" your senior days to pay back in full coin to your juniors, you get transferred to another school. That must really and truly suck!
I asked around in the office for people to share their stories. Jen said in her school there were some SS3 students who tortured SS2 students. I thought there was automatic immunity when you crossed that SS line. Apparently, Airforce Comprehensive School, Ibadan was the centre of bullying and the trend has continued till now. In fact, all the stories I've heard this morning have suddenly put the quest for boarding house beans into perspective.
Okay guys, I hope you have a fantastic super duper week ahead. Keep your head strong, be happy, show love and remember to be kind.
Oh, don't forget to share some of your "Senior Pangolo" stories. Did you go to boarding house? Did you have to deal with wicked seniors? Were you a wicked senior?  Can you share some of the horrible things you did? What was your justification for doing it? Have you seen any of your wicked seniors after school? How did you react? Are there any wicked seniors you would like to meet again? And just for fun, what would you do to them if  you could pay them back richly?
Peace, love and cupcakes!
Toodles!
Photo Credit: booksforafrica.org