Yesterday afternoon I was looking for what to make. At about 2 pm, I still had not eaten (this is what happens when your days are busy!) I was still drinking tea and working when I realized I had some goat meat left over from a catering job I did over the weekend. I quickly brought it out from the freezer and let it defrost.
I was just going to make a quick stew with the goat meat and boil some rice when I suddenly remembered that I used to make curries with goat meat and I have not made it in almost 2 years! I quickly looked up the recipe I had on this blog and I had everything I needed at home. I quickly went to work. Making this meal brought so many memories.
I remembered the last time I made it. I was living in Ottawa and working for an Insurance company. I had come home very tired one evening and Just wanted to make rotis to eat with some hummus I had bought that was supposed to be for my fruits.
Last minute, I decided to actually make real food and this awesome goat curry was born. Eating this meal yesterday reminded me how far I have come in the past few years. I am so thankful for where I am and even more thankful for where I am going. I am happy that some of my happiest memories are around food and each time I revisit a meal, I remember something that makes me heart smile.
What You Need
1lb goat meat (cut into smaller sizes)
1 onion (diced)
2 scotch bonnet peppers (diced)
2 garlic (minced)
2 large potatoes (diced)
1 cup coconut milk
3 tablespoons curry powder (the Jamaican kind)
1 tablespoon allspice
salt and black pepper to taste
1/4 cup cooking oil
1 cup flour
1/2 cup water
pinch of salt
3 tablespoons cooking oil
How To
Season meat with the allspice, salt and black pepper and set aside for 30 minutes.
Heat the cooking oil in a large pot & add 1 tablespoon of the curry powder. Cook, stirring constantly until the curry powder darkens quite a bit and the meat has a fried exterior. Remove the meat from the pot and set aside.
Add the onions, scotch bonnet and garlic to the cooking oil and allow to fry till they are cooked through. For about 5 minutes. Add the remaining curry and continue to fry for 2 more minutes.
Add the meat back to the pot. Add the coconut milk and stir. Cook on low heat for 45 minutes or until meat is tender to a fork. Add the potatoes and adjust seasoning. Meal is ready when the potatoes are soft.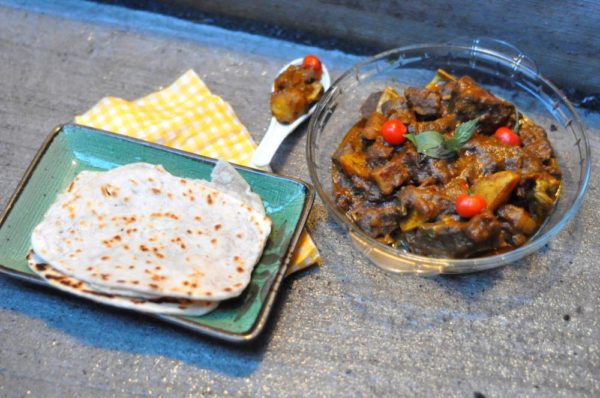 For the Roti – In a large mixing bowl, mix flour and Salt well. Add oil and mix until all lumps are gone. Add water a little at a time till the entire dough comes together as one.
Ensure the dough is not too sticky. Cover and let it rest for 15 minutes. Heat skillet/pan on medium heat. Knead the dough once and divide into golf ball size balls (about 6) Roll the balls and place in an oil pan.
Cook for 1 minute on each side or until you see bubbles appear on one side. Continue with the rest of the balls. Serve hot.