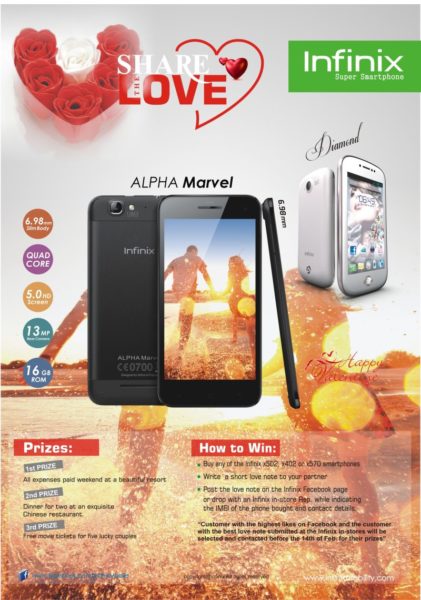 Infinix Mobility, one of the global leaders in the manufacturing of trendy Smartphones, has launched a valentine consumer promotion tagged "Share the Love Promo".
The Promo, which runs between Monday 27th January and Wednesday 12th February 2014, is designed to reward the customers of Infinix phones for the Valentine season.
The grand prize of the promo is an all-expense paid weekend getaway for a couple to a beautiful resort. Other prizes include a dinner for a couple at an exquisite Chinese restaurant and free movie tickets as consolation prizes.
To qualify for this promo, a consumer needs to buy any of the Infinix smartphones: X502 (Alpha Marvel), X402 (Alpha Diamond) or X570 (Alpha); write a short love note to their partner, post the love note on the Infinix Facebook page (www.facebook.com/infinxmobile) or drop it with an Infinix in-store rep while indicating the IMEI of the phone bought and their contact details. Customers with the highest likes on Facebook and the customer with the best love note submitted at the Infinix in-stores will be selected.
Winners will be contacted on Thursday 13th February 2014 to redeem their prizes.
While speaking on the newly-launched promo, Peter Zhou, Infinix Mobility Head of Marketing, said the brand believes in the strengthening of relationships and therefore wants to use the opportunity of the valentine season to re-ignite bonds between couples.
He added that "Infinix Mobility brand promise is to add fun to the way consumers communicate, work and play. In furtherance of this belief, we have designed this promo to encourage consumers to connect better with their spouses. If you look at the promo prizes — weekend getaway, dinner for a couple and movie tickets to the cinema, they were carefully selected to re-enact their love flame. We encourage the consumers to buy the Infinix smartphones and they could be the promo lucky winners".
The Infinix X502 Alpha Marvel comes with a slim design of 6.98mm body and an exquisite metallic finishing which gives an aesthetic appeal. Other features include a 16 GB built-in memory with 1GB ram, a 13MP camera and 5 MP front camera aside the innovative "smile shuttle" technology which enables the phone to snap automatically when one smiles at the front camera.
The uniqueness of the Infinix Alpha Diamond X402 is its special features which include 4.0-inch capacities touch display, 1GHz dual-core processor, 512MB RAM, android 4.1 OS (Jelly Bean), dual-SIM, over 800,000 apps and games, 5 megapixel camera with auto-focus, stylish design and fast 3G internet with Wi-Fi.
Infinix Mobility is a joint venture co-invested by MobiWire (ex-Sagem Wireless), a lean and agile ODM creating mobile device, and Earning Way, manufacturer of smart devices only. With its range of smartphones, Infinix Mobility aims at not only providing high quality smart devices to the public, but also creating an unusual smart lifestyle and upgrading tremendously the way consumers communicate, work and play.
Infinix smartphones are available at all Slot outlets and other major phone dealers. You can also make online purchases at Jumia here: http://www.jumia.com.ng/X502-Alpha-Marvel—Black-87292.html and on Konga: http://www.konga.com/catalogsearch/result/?cat=0&q=infinix+marvel
___________________________________________________________________________
Advertorial – Sponsored Content