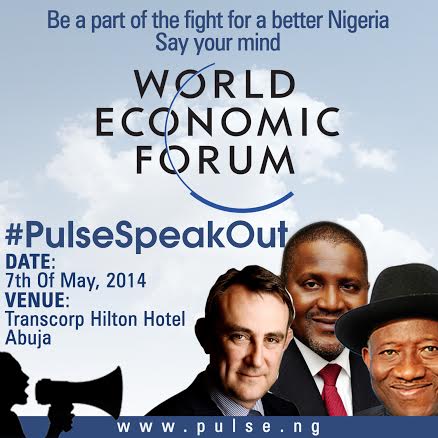 Voice your concerns to Goodluck Jonathan, and other Leaders at the forth coming World Economic Forum (WEF) in Abuja!
Pulse.ng is the official opinion partner of the WEF in Abuja #PulseSpeakOut.
Your Pulse votes and comments will be shown during the sessions of the World Economic Forum to the likes of President Goodluck Jonathan, Alhaji Aliko Dangote and the chairman/CEO Heineken, Jean-Francois van Boxmeer.
Do you feel aggrieved over the incessant cases of insecurity, corruption, poverty, and the lack of infrastructure and human development in Nigeria? This is your chance to put your concerns and complaints on the President's desk.
The conference will see world leaders, global corporate heads and the Nigerian president, deliberate on socio-economic issues in Africa, addressing pressing issues like job availability, security, governance and economic growth.
Your inputs on the issues and concerns of the Nigerians will be very instrumental to the resolution of the Nigerian President and other leaders;
"For Africa to remain relevant, we need to adequately educate our people, as it is through education that we can unlock the potential of our youth to enable Africa to compete globally, and create jobs in the new knowledge economy." – H.E. Dr Goodluck Ebele Jonathan.
Be a part of the fight for a better Nigeria..Say your minds, take the survey here : http://pulse.ng/world-economic-forum/
____________________________________________________________________________
Advertorial – Sponsored Content