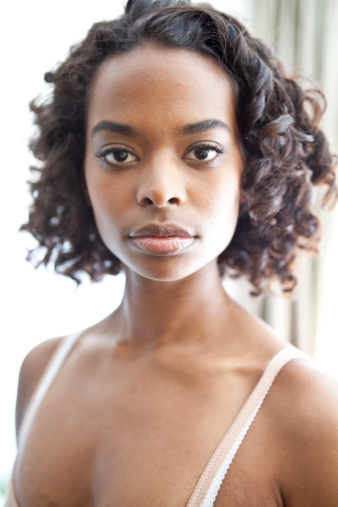 Nonyelum inhales the afternoon breeze as she winds down the window glass of her car. Glover road is warm under a kite of fading sunlight and even at 2:41PM, still innocent of the city's smog. Everything around it is infected with brightness; the flowers grow in neat rows between pointy ridges, and the lives around here- its people, seem to be in a world as barren of any sense of darkness as a desert is of water. She parks beside the brick walled building, watching people go in and out of the gate.
Today the voices come to her, now, just now, sitting in her Honda CRV (she is nineteen minutes earlier than usual); they are obscenely old, disembodied grumblings that coalesce out of the thin air itself. (The other day at the market, she was sure that they emanated from the ugwu leaves) These voices make her think, make her question all the choices she's made. Did she really have a choice, marrying Felix? Young, not too handsome, but rich Felix whom her mother had picked out-  in the same way a dieting over-weight person would go through a nutrition table, searching for essentials. Rich, check; Igbo, check; family background, check.
These voices make her revisit her forgotten feelings for Kunle, her buried past, and leave her, aimlessly searching for the sense of it all. They seem, sometimes, to be whispering in hush tones amongst themselves- they are fierce, accusatory, mocking. What did she just hear? There is the Philippine lady- grumpy, round, freckle skinned- who tries to cross the road to the other side. She is a nanny to the boy whose wrist she's probably hurting with her firm grip. There are the brackets around her mouth so deep, Nonyelumm imagines dipping a coin into it. Is she happy? Nonyelum wonders.
From these voices, Nonyelum could see her life shrinking in front of her; closing in around her like the jaws of a gigantic flower. She could see it sinking from it's daily, trivial sameness as time went by, reducing her into smaller versions of herself. She had this house (in Parkview!), and this husband who wants her to just be as she is (was?): beautiful, unchanging, deserving of his wealth; a trophy he won and quite frankly, never fails to polish. She should be happy, yet she is constantly visited by a familiar nervousness; these elements of fear and untarnished hope for something; a surging, persisting presence of stage fright. Like all these things, all the essence of herself, now, belonged to someone else. Nonyelum feels, again, like she is standing on a stage, about to be booed by the audience. She swallows three times.
It is 2:46PM; Nonyelum thinks that she should be happy with her life. Here is her car; here is the thin diamond around her neck. Here is her husband, whose names she fully took: "my name is Mrs Felix Agu" She would say and shrivel- grow smaller- that she fears when (soon) she gets to the size of a dot, she would simply, disappear, Here is Charles, whom she's waiting to pick from a school of which its tuition was paid in Dollars. Yet she can't get herself to be in this world; to be a denizen of this present. She can't get herself to stop mourning some lost world- though she couldn't tell which world exactly, but someplace that isn't this. This body she wore, with all its capacities, seemed dull.
Nonyelum looks into the rear view mirror. Here is her face and the line of her univocal jaw. Here is her skin as if carved from very porous brown marble. Felix had fallen in love with her beauty; she was supposed to be adorned, made into bronze by an artiste who could capture the essence of her livingness and be preserved for centuries; she was to be hung in a gallery. Now it all seems like a layer of air has leaked out from under her skin.
It is 2:51PM; Charles will be out soon and she is overtaken with a dizzying sense of anticipation and panic. It is a feeling so strong, so peculiar, yet so unknown in certain circumstances that she decided (eight years ago) to call it the Charles Feeling. She loved him, but not hopelessly, and she felt bad for this. This feeling that was, not in any way, void of compassion, but permeated with obdurate particulars of pity; she could imagine a life without him.
She considers for a brief moment, to drive off (to where?) and chase those old dreams, fan the ashes to flames; she thinks. If she leaves for home now, she could pack a bag and head to the airport (and then where?). She could find Kunle (Facebook, Instagram, Google. Didn't he already form a band? Weren't they supposed to have formed a band? Didn't he confess to her, that her voice [Spinto Soprano] was a more potent and inextinguishable satisfaction than living itself?). Maybe if she got to him, she would have found the corner pieces of her life; he would complete the puzzle- he would be the sky.
It is 3:05PM now, the influx of people through the gate increases. It is apparent Nonyelum is drifting back to herself (had she brought out the pork to defrost? And oh, she has to make a costume for Charles later in the evening, right? And pick up Felix' laundry on Awolowo road too?) Her line of vision is fixated on Charles' height. Look at him as he comes towards the car; look at the electric, near quirky walk he emits.
"Hey Mommy", Charles says, desperately friendly. If a peacock had a voice, that'd be his.
He is a spitting image of his father; same solemn brows offset by a boyish grin. He has the same slightly crooked nose, like it had been broken and left to its imperfections. His father, who no longer thinks of her, or if so, no longer actively remembers her beauty he once adored.
This morning, as she made sandwiches for him and Charles, he had stood tall- haggard. He looked marvelous in his blue suit; the coffee steaming in his hand, thinking only of the day that lies ahead of him. She imagined he had thoughts of the drive- the torpid golden serene quietness of Bourdillon road, the thousand million things he has to do at the office. He did not notice the braids that fell on her shoulders and has been there, since on Tuesday of last week.
All her life she had thought of greater, more distinguished marvelous days. Now here is she: an ordinary twenty eight year-old woman on a day in June, on the verge of a desperate emptiness. Here she is, arriving at a destination she never set out for.
Nonyelum will head home now (3:09PM) as she did yesterday and as she will tomorrow, and the next, until Charles is done at Lagos Preparatory School, and at the end of Glover road, turning into Kingsway Road. She will catch a reflection of herself in the rear view mirror. She is still regal, still exquisitely formed in statuesque, still possessed of her formidable earthly radiance, but she is no longer beautiful.
Photo Credit: gettyimages.com
_______________________________________________________________________________________________
Keside Anosike is a 20 year old who spends his days as a realtor and his nights as a dreamer. An avid lover of wine, indie music and art- all forms and types. He's a story teller; a little reluctant to call himself a 'writer' because he feels it's a bit disingenuous to hang his entire identity on an activity he does only 5% of the time.He spends 33.3% of his time sleeping (or trying to sleep) and he doesn't go around calling himself a Sleeper. Or even (more accurately) an aspiring sleeper.