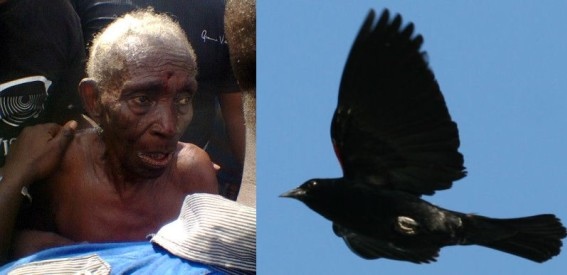 Yesterday, BN reported that an old woman in Ajegunle, Lagos was accused of being a witch for allegedly transforming from a bird to a human being.
Two men claiming to be her sons say she is not a witch, and are angered by the allegations, Punch reports.
According to them, their mother had wandered away from home and had been missing for a couple of days. They reportedly learned about her whereabouts after seeing her picture in several newspapers alongside the witchcraft allegations.
They expressed astonishment that their mother was able to walk all the way to Ajegunle from their Iju Ishaga residence.
Corroborating this testimony, one of the men's wives said she went out to buy some medicine for the old woman. But upon returning, the woman had left the house.
The alleged "witch" has now been released from police custody. Her sons have taken her home, where she is safe and sound.
Photo Credit: Punch/firstalongtheriver.wordpress.com