When a wedding planner exchanges her symbolic work hat for a veil, you know her day will be absolutely gorgeous!
Deola – founder of 2706 Events met Biodun at a wedding she had organized. Her now husband walked up to her and asked, "Will you plan our wedding?" – that cheeky question sealed their fate as the couple wed in the same venue over a year later!
Enjoy their love story and beautiful wedding photos!
***
Pre-Wedding Photos by Jide Odukoya Photography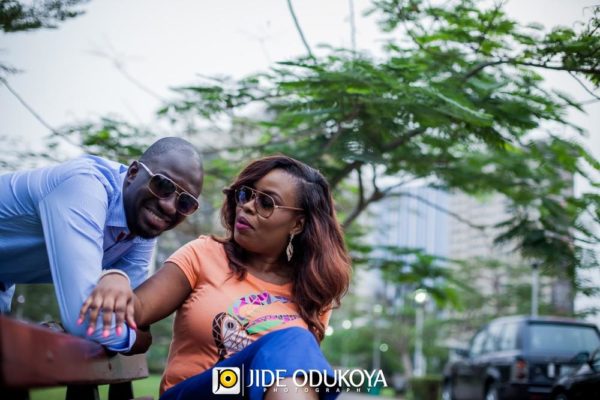 How Did You Meet?
Deola: LOL! I met Biodun in the line of duty. I planned and coordinated a friends wedding in December of 2012. Biodun was a guest at the wedding and was with some friends I also knew. The wedding party had ended and we were rounding up – so he walked up to me and the conversation went like this:
Biodun: "Hello, I'm Biodun, Ive been seeing you go up and down all day, did you plan the wedding?

Me: "Hi, I'm Deola. Yes, I did."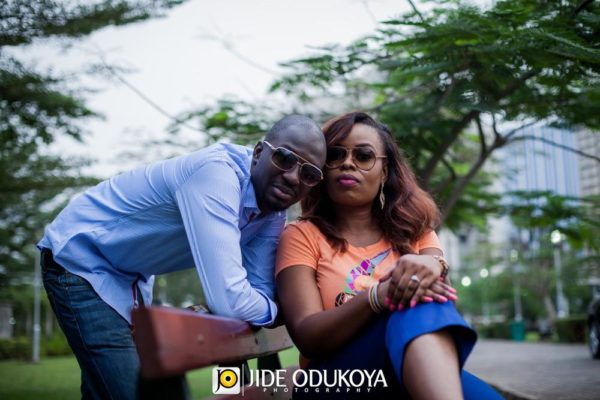 We ended up chatting for another 5 minutes and he asked for my card which I gave him. I remember him saying "So, will you be the one to plan our wedding"… I laughed and thought to myself,  'Seriously? like we only just met'.
Let's just say a year and 3 months later, we got married at the same venue we met and Yes! I planned our wedding!
How Did He Ask?
Deola: Biodun caught me unawares ooo! Of course I knew we will be getting married – we had been discussing in that direction but about when I was going to get the ring – I did not know.
We normally eat out most weekends so it was not a surprise when he said we will be going to Sky Lounge at Eko Hotel and that he had made a reservation. Unknown to me, he had gone to see my mum and sisters and told them his intentions the day before.
We had dinner, gisted (talked) and he asked if I wanted dessert – I was already full so I declined.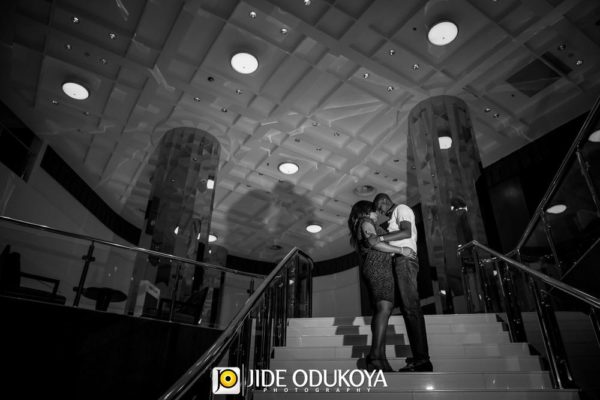 The next 10 minutes happened so fast, I could barely catch my breath. Lights went off, people started singing from nowhere…lights came on (this time, a bit dim) ….Biodun was on his knees …..that moment I knew what was happening and I just started screaming…….He asked me to be his wife and in his hands was 'THE RING'…..with tears of joy, we kissed, I said 'YES' and everyone at the restaurant clapped.
***
As Deola is a wedding planner, she worked with many vendors she's familiar with in the industry – including tried and trusted Omon of Beauty Cook Studio and Debbie for her glam squad, while she left her able team to take care of the wedding so she could enjoy her day.
The bride had so many fun moments including making a mini music video to Surulere with her bridesmaids that you just have to watch! (scroll down).
She also walks the BN wedding lovers though her wedding choices, and advice to hire a planner for your special day, so you can enjoy the moments with the love of your life.
Advice for Couples Getting Married:
1. PRAY! PRAY!! PRAY!!! Commit all you do in God's hands. Remember your marriage should be more beautiful than your wedding.

2. Hire a Planner: I can not stress how important this is. A planner amongst other things helps you decide your budget, prioritise what is important, advices you, helps you cut costs and coordinate your special day.

You may be the most organized bride on the planet, you will not be able to coordinate your wedding whilst you are on the stage with your husband. Your loved ones and friends will also not be able to handle it professionally.

Luckily, as a planner, I work with a lot of vendors and so I already knew the vendors who will be involved at my wedding. My team of coordinators and ushers did a perfect job in ensuring everything went extremely well.

3. Enjoy the day!
BellaNaija Weddings wishes Deola & Biodun a blessed and beautiful married life, according to God's plan.
***
Wedding Video! – WHPH Media
Adeola & Biodun – Ready For Anything from WHPH Media on Vimeo.
Wedding Photos by Libran Eye Photography
Additional Photography by Jide Odukoya Photography
My makeup!: "My bridal make up for both traditional and wedding was done by 'Ore mi' and colleague in the wedding industry Omon of Beautycook Studio."
My hair!: "I use Debbie for most of my brides and she is always my first choice and go to person for bridal hair – when it was my turn to get married, she hooked me up nicely. She did my bridesmaids' hair as well."
When the bride was getting ready, an impromptu idea sprung up – the bridal party made a mini music video to 'Surulere' by Dr. Sid & Don Jazzy. It was so much fun!
Surulere Mini Music Video! – by WHPH Media
BNW: How did you choose your dress?!
Deola: My main priority was comfort. I wanted something nice and simple. Got on a flight to London and picked this up from Ellis Bridal – It originally had long sleeves but had them reduce the sleeves when I went in for my fittings.
"The Boo's suit was made by King Hakbal. I fell in love again when I spotted Biodun in church (I was peeping from the car). And I quote @groominspiration when he posted the picture of Hakbal dressing Biodun – "Nothing beats getting a bespoke suit made and having the designer on hand on your big day to dress you up".
You can see Hakbal (in a green suit) dressing Biodun. Pure dedication! Buy Nigerian!"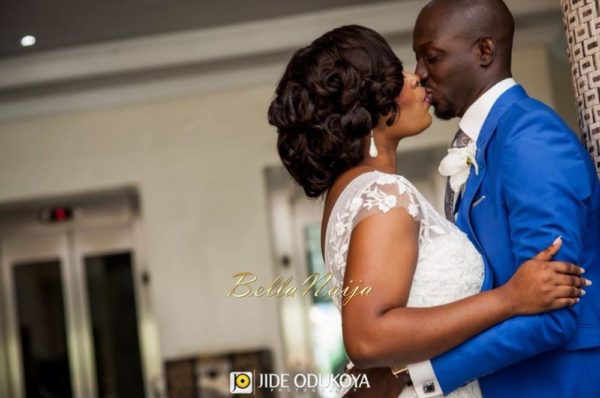 The Cake!: "I wanted individual cakes and luckily The Cake House had done something similar for one of my couples in February. "

"We chose John Legend's 'All of Me' for our first dance. It's one of our favourite songs and and I remember when the song came on…..it felt like there was nobody in the room apart from Biodun and I……Nothing mattered anymore……it was Magical. I think Jide Odukoya best captured it in this image…"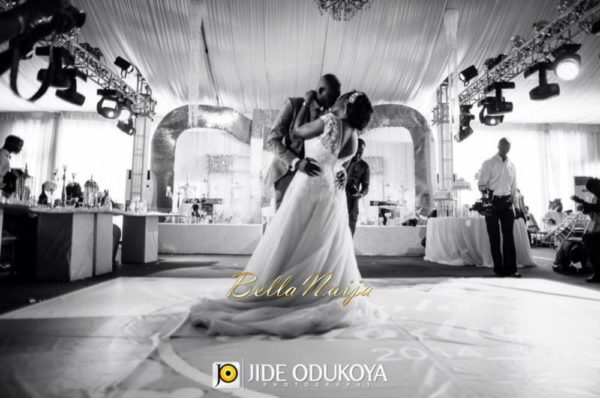 "I always knew I wanted April by Kunbi to make my reception dress and she did a fab job!"

Traditional Engagement
"With my Aso Oke, I just wanted something different from the norm. Mrs. Emmanuel did a fantastic job in designing and making the Aso Oke. Attention was paid to every little detail – from the bronze and gold embroidery to the bead work on the hands of the Buba (top) and bottom part of the wrapper."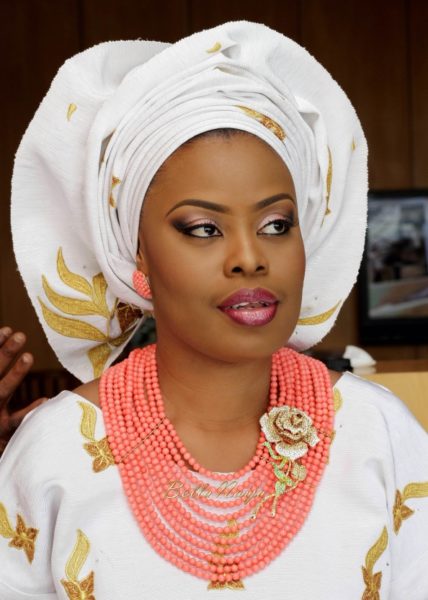 "I got two sets of different beads – I can be a diva at times 🙂 and both were absolutely gorgeous – I wore both for picture purposes and made everyone in the room vote for which was perfect for my outfit."
"For my second changing on the Traditional Wedding Day – My fitted Buba and Iro was designed by Phunk Afrique and fabric was bought from Oyeog."
***
Pre Wedding Photographer: Jide Odukoya Photography
Email: info (at) jideodukoya.com | Instagram: @jideodukoyaphotography
Traditional and Wedding Photographer: Lanre Balogun – Libran Eye Photography
Email: info (at) libraneye.com | Instagram: @lb910
Videography: WHPH Media | https://vimeo.com/whphmedia | instagram.com/whphmedia
***
Wedding Planner, Coordinator & Ushers: 2706 EventsEmail: info (at) 2706events.com | Web: www.2706events.com | Instagram: @2706events | Facebook: www.facebook.com/2706events
***
Wedding Info
Dates
Traditional Wedding: March 20, 2014
White Wedding: March 22, 2014
Venues
Traditional Wedding: Red Carpet Event Centre
White Wedding: Grandeur Event Centre
Colours
Traditional: Purple & Yellow
Wedding: Turquoise & Silver
Wedding Attire
Dress: Ellis Bridals | www.ellisbridals.com
Bouquet: Rume Florals | Instagram: @rumeflorals
Reception Dress: April by Kunbi | instagram.com/aprilbykunbi
Groom & Groomsmen Suits: Bespoke by King Hakbal | info (at) kinghakbal.com | www.kinghakbal.com | instagram: @kinghakbal
Bridesmaid Dresses: Laviva Bridal Concept | www.lavivabridals.com | instagram: @lavivabridals
Traditional Attire
Aso Oke: Mrs. Emmanuel | 0803 307 4070
2nd Traditional Outfit: Fabric by Oyeog and Designed by Phunkafrique – instagram.com/phunkafrique
Aso Ebi – Purple Guipure and Yellow Gele: Kwahmule Fabrics
Beads 1: SeunD's beads | +447405501249 | instagram: @seundsbeads | www.seundsbeads.com
Beads 2: Beads by Oma | +234 8138814577 | instagram: @beadsbyoma | www.oma.com.ng
Vendors
Wedding Cake: The Cake House | 08033008600
Traditional Wedding Cake: Kravins | 08020715047
Food 1: Malas
Food 2: Wine & Gold
Food 3: Golden Pot
Chow Mein: PSC Food
Drinks and Bar Services: Spronks Creations Ltd
Alcoholic Cocktails 1: Spronks Creations Ltd
Alcoholic Cocktails 2: Water to Wine
Non Alcoholic Cocktails 1: Mandies Cocktails
Non Alcoholic Cocktails 2: Dainty Cocktails
Dessert 1: Helado Delicia
Dessert 2: Sweet Cravings Desserts
Cupcake Tower: Helado Delicia
Chocolate Fountain: Sweet Craving Desserts
Small Chops 1: 12 Baskets
Small Chops 2 & Asun: Keemchops
Fish and Chips: Grind grill café
MC: Tee A
Wedding Band: Demola Olota
Traditional Wedding Band: Faith Band
Wedding Decor: Aquarian Touch
Chiavary Chairs: Archoive
DJ: DJ Lami
Alagas: Sokoyokoto & Mrs. Sewoniku
Security: Solutions
Wedding Invitations: The Wedding Store
________________________________________________________________________________
We love weddings as much as you do – get in touch for inquiries, inspiration & more!