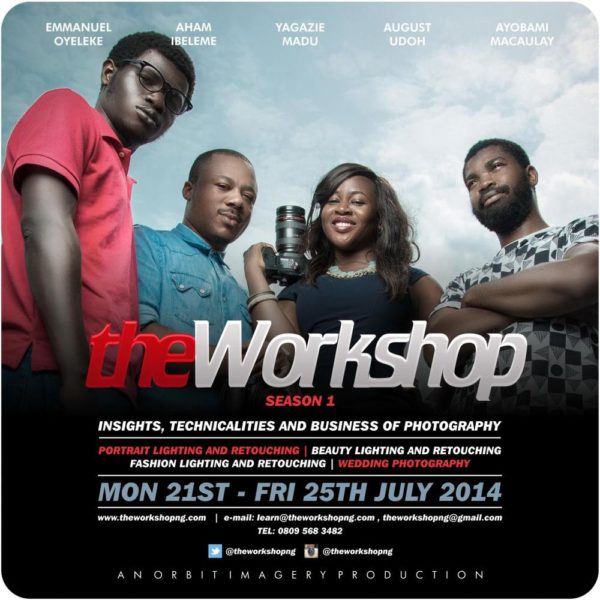 Are you an aspiring photographer? Want to hone in on your photography skills? How about learn from some of the best in the industry?
Then you should attend The Workshop Season 1! It is a one-week intensive program that will take participants through the tricks of the photography game and provide in-depth, practical and hands-on photography instructions that can be used to dramatically improve your day-to-day creative skills. It also provides practical insight for those hoping to enter the business of photography.
With the guidance of Aham Ibeleme, August Udoh, Emmanuel Oyeleke, Gazu Madu and Macaulay Ayobami, you will learn to shoot and edit photographs for portraiture, beauty, fashion and weddings, get involved in interactive knowledge exchange sessions with the instructors and other participants and most importantly have fun.
For this edition, registration will be available for ONLY 20 participants. Partakers will be signed on strictly on a first come first serve basis.
See the outline;
Introduction to Photography (Basics and Demystifying the Technicalities) (B&D)
Learn Beauty Photography, Lighting and Retouching with Beauty and Celebrity Photographer Aham Ibeleme (B Aham-1)
Learn Portraiture, Lighting and Retouching with Portrait and Celebrity Photographer August Udoh (P August-2)
Learn Fashion/High Fashion Lighting and Retouching with Fashion and Celebrity Photographer Emmanuel Oyeleke (F Emmanuel-3)
Learn High End Wedding Photography with Stunning Wedding and Portrait Photographer Gaz Madu (W Gaz-4)
Sharpen your Photography Business Skills with Macaulay Ayobami (B Macaulay-5)
See the schedule below;
Classes with Aham Ibeleme
Date: Monday 21st July 2014
Classes with August Udoh
Date: Tuesday 22nd July 2014
Classes with Emmanuel Oyeleke
Date: Wednesday 23rd July 2014
Classes with Gaz Madu 
Date: Thursday 24th July 2014
Classes with Macaulay Ayobami (1 Hour talk from 12PM – 1PM with Question & Answer segment)
Date: Friday 25th July 2014
Date: Monday 21st – Friday 25th July 2014
Time: 10AM – 11:30AM (Lecture) | 11:30AM – 12PM (Break) | 12PM – 2PM (Practicals)
Venue: Suite 5 Amethyst Block, All Seasons Plaza, Lateef Jakande Road, Agidingbi, Ikeja, Lagos
To register and view the fees, click here.
Get to know the speakers, check out their Work and for regular updates on the classes and more, Follow The Workshop on Twitter: @TheWorkshopNG and Instagram: @TheWorkshopNG
____________________________________________________________________________________
Sponsored Content