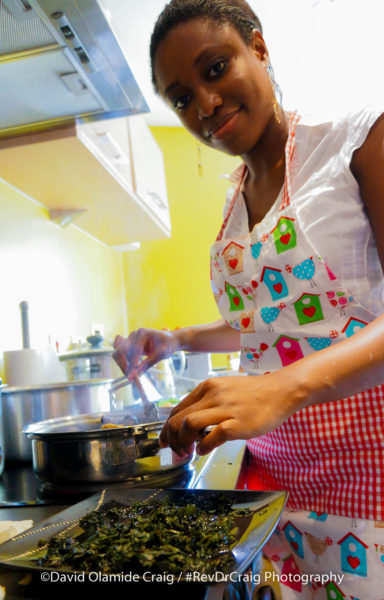 If you couldn't pronounce the words above, don't worry, I can't too. Somehow in my head, it is stored as akpurukuku gunam gunam. Don't ask my why, it just is. Funny, that pronunciation flashes across my memory at very odd times and I find myself chuckling unexpectedly, getting me weird looks from people around me. I have resolved to keep the 'mgbam' instead. I am a lost cause regarding its prefix. In case you are wondering, Ofe is the Igbo word for 'soup' and Okazi is a vegetable. Usu is a word I had never heard before. If you would have asked me to take a guess, I would have said it is another spelling for 'Osu' (outcast) seeing that okazi is also spelt ukazi and same with oziza vs uziza.
I have never seen this made before. I only saw it once and it was not even a clear picture. The only reason it piqued my interest was because I was intrigued about the South Eastern method of forming Egusi into balls. My Ijebu grandmother taught me how to use onions, and that has worked for me since like forever.
Being a food blogger, I have the privilege to be exposed to different food cultures from across Nigeria, and I have to thank the people who are willing to share their knowledge with me. I never thought this soup was within my reach, until Serah Ogidi.P kindly gave me some of her stash of Usu. Without her, it wouldn't have been possible. I also have to thank Chichi G, Susan H, and most especially Chibruoma Iroegbu who painstakingly dictated the recipe to me over the phone.
Google is a resource for even the weirdest of things; but for this mgbam, no such thing exists. Whatever you see below is my interpretation based on the instructions I was given. This is also my first time of cooking Ofe Okazi. Nigerian food bloggers have the responsibility and privilege of being custodians of Nigerian food culture. Many dishes and food items are getting lost probably because of the lack of documentation, particularly food from the South East and South South which I find to be quite insular. Despite self proclaiming to be the poster child for 2014 Nigerian cooking, I still realise that some things must be preserved – well except there is a modern way to achieve the same thing.
Today, I humbly and proudly say  there is now a documented resource for akpuruakpu mgbam. Today, I will also be showing you a quick and easy way to use a hand mixer to make amala. Let's cook.
What You Need
1 or 2 tablespoons of Usu – white chalk like substance NOT Potash
1 cup of ground Egusi
Dry pepper
Fresh pepper
Okporoko – stock fish
Dry fish – like azu mbas a or mangala
Ground crayfish
Assorted Meat
Palm Oil
Achi – powdered
Salt
Beef Stock
Water
Shredded Okazi leaves – fresh or dry
Achara
Isam – perwinkle
I would like to state that I could not source achara where I live, and I had run out of periwinkles
How To
Boil your meat with a lot of stockfish and dry fish. You need to get a very rich stock out of boiling your meats because you should not have to add seasoning cubes and possibly salt when you start cooking the soup.
Now to the hard part. Making the Mgbam. You have two options. The traditional way using a mortar and pestle or the cheat 2014 way using a chopper bowl.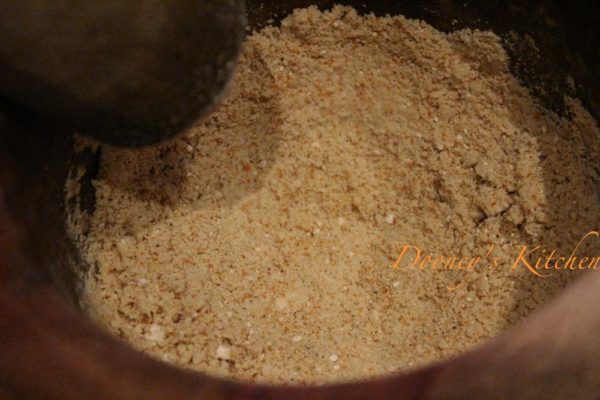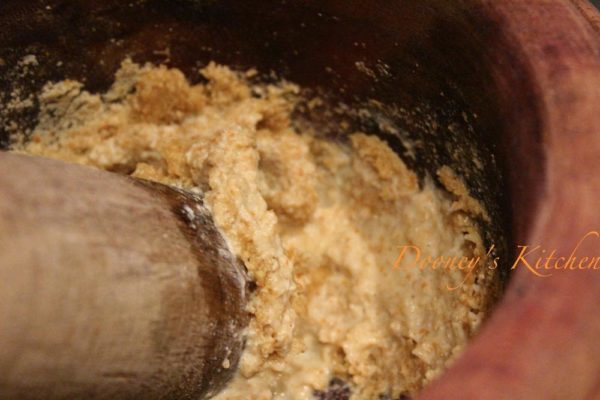 In a small mortar, add the ground egusi, ground Usu (you can choose to blend the whole egusi seeds with usu), dry pepper/fresh pepper and salt. Start to pound with the pestle until the egusi gets compacted, then you add hot water. Roughly about 2 tablespoons. The hot water is to aid the release of  the natural oils from the egusi. Keep pounding until you begin to notice the egusi form into a dough-like paste. Keep pounding, and the egusi will become even more oily. When the mortar comes off clean, that's your cue that you're done.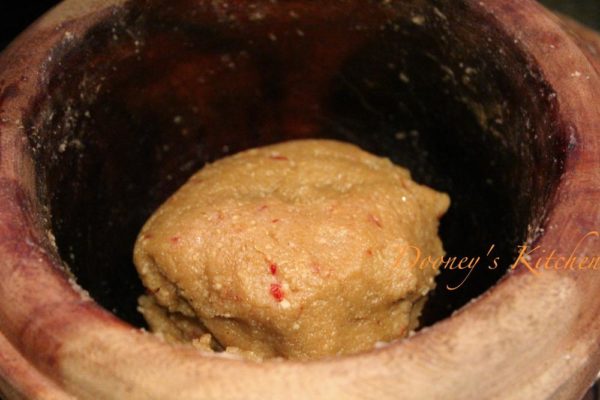 2014 Cheat Method
Pour all the ingredients from above into a chopper bowl and whizz until the egusi forms a dough. Depending on the quantity that you have, you may need to transfer into a mortar to finish it off when the blades no longer spin the egusi dough, but the best part is the majority of the work has been done for you, in less time and less arm cardio, well unless you are like me on the perpetual quest for toned arms, then you can pound away from scratch.
Moulding the Mgbam: Squeeze portions of the dough in your palm and squeeze out the oil until the egusi dough starts to feel dry. Pinch the dough, flatten and manoeuvre with your thumb, index and middle finger into an oval shape. Repeat until you exhaust the egusi.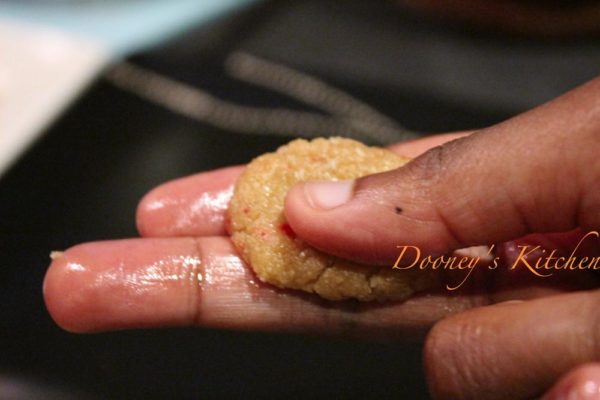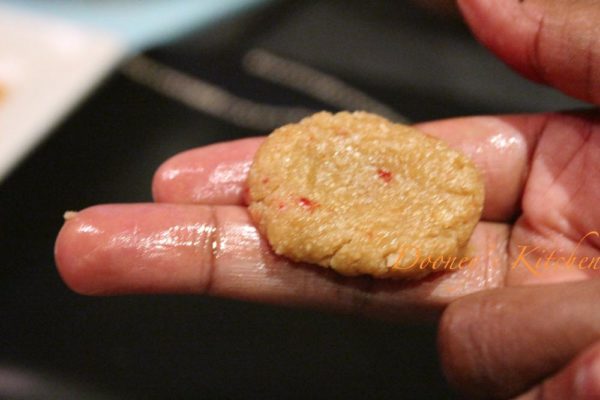 Fill a big pot half way, add palm oil and bring to a boil. I took some cook's artistic license here by adding some ground crayfish into the water, for extra absorption of flavour. Drop in the mgbam and let it boil until it turns completely white. This would take quite some time and you would need to top up the water again. You will know the mgbam has cooked completely when it is also white inside when you bite into it.
Take out the mgbam from the pot and transfer into another boiling pot containing assorted meats, shredded stockfish, isam, dry fish, palm oil and fresh pepper and achara (if you are using). This is a rich stock that forms the base of your soup. The flavour of the stock should have a deep robust flavour. If you are not quite there yet, add a tablespoon or 2 of ground crayfish, leave to boil for about 2 minutes and it should do the trick.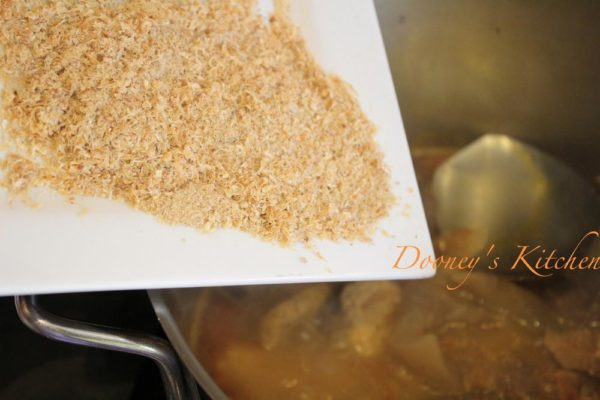 Allow the mgbam to boil in this stock for 5+minutes to absorb the flavours in the pot. Mix 1 tablespoon of crayfish with 1 tablespoon of achi powder. The crayfish is needed to prevent the achi from forming lumps. You only need a little achi to thicken the soup, because ofe okazi is not a thick soup at all.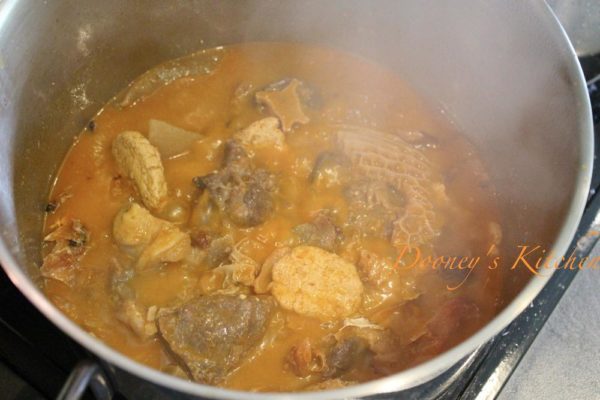 Add the achi-crayfish mix to the pot and stir quickly. Leave it to cook  for about 5 – 7 minutes to thicken the soup. If you have never cooked with Achi before, a little caveat. It would look at first as if the soup is not getting any thicker. DO NOT be tempted to add more. That is a rookie mistake I myself made a few times years ago with achi and ended up with a thick globby mess, before I got the hang of it. Give it some time and the liquid stock you started with would get thicker and take on a pleasant light yellowish orange colour.
Add the shredded Okazi leaves to the pot, stir and give it another 3 – 5 minutes, take off the heat and serve.
Amala process
Take the plantains out of the freezer and leave to sit on your kitchen worktop for 30 minutes, which will make it easy to peel off the skin. It will be best to chop the plantain in small pieces before blending to a smooth puree.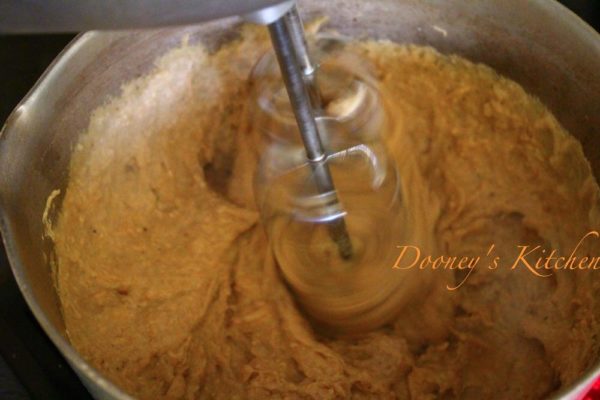 Transfer to a pot/saucepan. Where you would have normally gotten out the wooden spoon, get out the hand mixer and attach the whisk rods.
Set the engine in motion and whisk. Start slow to prevent the puree from splashing all over the place. As the puree thickens, increase the speed and keep it at a speed you are comfortable with.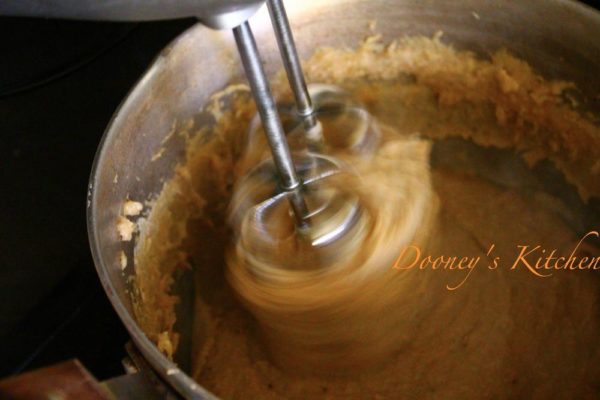 Because the whisking motion is faster than what turning with a wooden spoon will achieve, it makes the plantain amala much quicker.
As the mixture, thickens as a result of heat, the amala wraps itself around the whisk rods, in a rapid circular motion, making it very light and fluffy.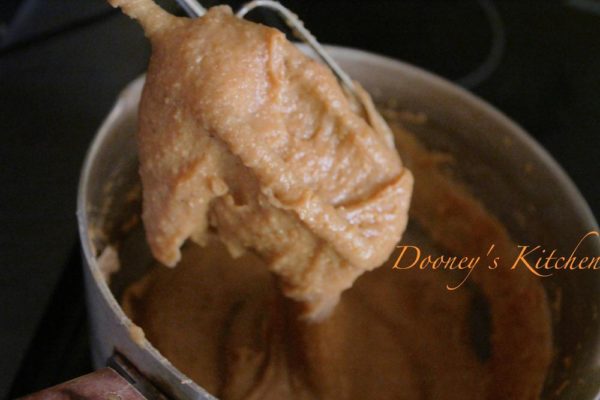 So here's what it looked like when I served it!