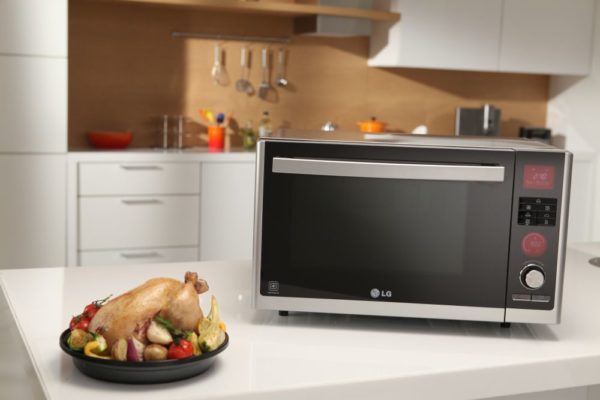 Home cooking has no doubt been transformed by the arrival of microwave ovens. This trusty heat-and-eat device in our kitchens has come a long way since being used mainly to heat up milk and frozen dinners. Despite the fact that it makes cooking easier and healthier, many of the conventional versions sacrifice that gourmet taste in the process which informed the introduction of the Lightwave Charcoal Microwave Oven by LG Electronics – a global leader in Home Appliances.
With capabilities such as the Charcoal Lighting Heater, Grill Temp Control and Multifunctional Cooking, the LG Lightwave Oven is revolutionary.
The Charcoal Lighting Heater enables users cook with a revolutionary charcoal filament for tastier, all natural, deep & even cooking in a shorter time. Charcoal Heating is the world's 1st heating grill that enhances water heat absorption, cooking more naturally and efficiently compared to conventional sheath, like real charcoal grilling.
Speaking on the new product, Hyunwoo Jung (General Manager, Home Appliances Division, LG Electronics West Africa Operations), said: "At first glance, it may appear to resemble a microwave oven, but it out-performs both microwaves and convectional ovens through its advanced technology. Thanks to the LG Charcoal Lightwave Oven, meals can now be prepared in a third of the time of a traditional convection oven. This ground-breaking appliance takes cooking to the next level of innovation, with a range of unique features to complement any cooking experience."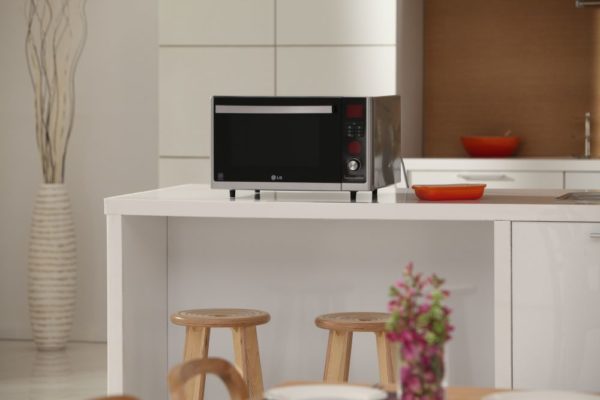 LG's Lightwave Charcoal Oven enable users enjoy the speed (and energy-saving) capability offerings of a microwave, without forfeiting the taste, texture and flavor of traditional cooking in convection ovens. Thanks to its world-first Active Convection, tasty and even cooking is ensured, brought about by four strategically located heaters. Two are placed at the top of the oven, while two more heaters are situated at the rear, creating a powerful and consistent flow of heat. Energy saving is also ensured as the speed of the convection fan and heat of the grills are adjustable, enabling heat to penetrate food more deep and evenly for better cooked and deliciously tasting food.
The Charcoal Lighting Heater uses a charcoal filament to maintain a more even heat-flow that gives food that healthy, natural flavor. With the Charcoal Lighting Heater, dishes such as chicken or lamb become delectably crispy on the outside and irresistibly juicy on the inside. The Lightwave Oven also produces meals that are healthier than those cooked in conventional ovens by allowing food retain its natural flavors.
LG's Lightwave Oven is also equipped with the Grill Temp Control feature. Unlike conventional grill microwaves that have only full power heating and a fluctuating temperature that turns on and off, Grill Temp Control provides multi-level temperature cooking. Through auto cook menus, you are afforded an increased selection of temperature settings, making it simpler than ever to create a diverse array of gourmet meals at home. Also, stable temperatures provide enhanced taste and cooking performance.
In addition to the Grill Temp Control, the easy to use gourmet cooking with New Lightwave System includes 6 unique Cooking Modes which are: Delicate Baking (With low heat and low fan speed for light baking of delicious desserts), Gentle Simmering (Which keeps all four heaters on low heat to keep food hot; like its right out of the oven), Moderate Cooking (with medium heat and medium fan speed for everyday baking and cooking), Even Browning (with only top heaters on medium heat, grills food for a crispy and delicious taste), Crisp Roasting (with high heat and high fan speed for gourmet oven cooking and grilling) and Rapid Searing (with top heaters on high heat, provides a golden caramelized crust for meat, fish and poultry). The 6 cooking modes create over 32 menus. The LG Microwave oven allows for more without sacrificing your space or style in the kitchen.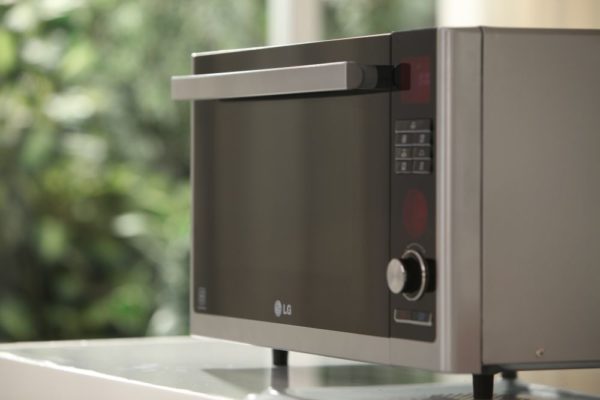 LG Lightwave Charcoal Oven also helps save time and energy through effortless cleaning. Easy Clean Coating is a special protective coating that prevents stains from seeping deep into the interior coating, making cleaning over 10 times easier compared to other competitors with no cleaning products needed for more hygienic usage. The White VFD / Dual White Display is easy to read and ensures precision cooking. Its timeless design and reflective pull-down door add a definite sense of style to any kitchen.
Other benefits of the LG Lightwave Oven are the Slow Cook function which allows you to cook all types and quality of meat so they all turn out tender and full of flavor; the Food Dry function to dry fruit, veggies, and beef into healthy and nutritional snacks and tasty jerky without chemicals and preservatives; the Proof Function for home-made yogurt or raising yeast dough; the Keep Warm function to keep food warm until ready to serve and the Plate Warming function to warm plates to a hot and comfortable temperature.
The Charcoal Lighting Heater™, underpinned by LG's proprietary Lightwave technology, uses a charcoal filament to maintain a natural flow of heat that penetrates deep into dishes, creating the crispy-on-the-outside, juicy-on-the-inside results that make mouths water. Using the Lightwave Oven reduces unnecessary salt and fat in dishes, while sealing in vitamin C and other nutrients to create healthier meals. LG's Lightwave Oven also helps to lower energy consumption by making the cooking process more efficient.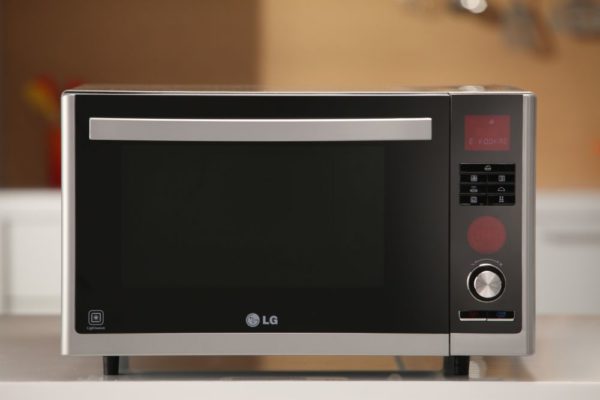 LG Electronics has taken into account the health effects and hassle of conventional microwave cooking as well as consumers' lack of time and energy for gourmet cooking, and have provided the solution in the form of the Lightwave Oven which enables tastier, time and energy saving as well as convenient cooking. This reaffirms LG's commitment to providing consumers with the "Good Life".
Winner of the Reddot and iF Design Awards, the LG Microwave Oven with Charcoal Lighting Heater enables consumers achieve natural deep & even cooking and gourmet taste without the smoke!
_________________________________________________________________
Advertorial – Sponsored Content