Dorcas Shola Fapson was a breath of fresh air when she debuted in the hit MTV Base series – "Shuga".
In the series, she played the role of Sophie, a University student who had a sugar daddy (dating an older man) and loved to party. Her character was undeniably one of the most loved.
In an interview with Jam Jam TV, the dark skinned beauty chats about often being mistaken for her character, her experience starring alongside Tiwa Savage and Ice Prince, why she is single, Oscar winner Lupita Nyong'o and bleaching.
Check it out!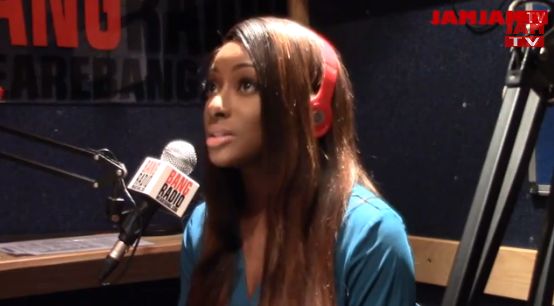 On if people confuse her for her character: "I…At first people were like, in Nigeria, people were like…do you know what's funny?, do you what's crazy?, In Nigeria at the premieres or after the premieres, or say I am staying at my hotel, you will get sugar daddies that will see me and say 'come to my hotel room', they don't know me from anywhere, they just see and think that I am a runs babe. And I will be like 'excuse me kinda thing'. No…
But a lot of people are confused as well because I have a British accent. Like a few days ago, I was in Stratford and a guy came up to me and said 'ah, Sophie you are not dead?, ah Sophie you have a British accent', I was like yes acting, it's not that serious.
But, yeah, I don't get people thinking I am an ashawo or stuff like that. When I was in Nigeria, like I said, a lot of these Sugar Daddies and Uncles, that's how they speak to girls, it's just normal for them and when you reject them, it's kinda like 'woah, I have money and you are rejecting me' that kinda thing"
On acting with Tiwa Savage: "It was amazing because before I flew to Nigeria, no, when I landed, I got the breakdown of the characters and who was playing who and I was like 'Tiwa Savage, yes', because in my head Tiwa has been my big sister for years, so when I met her, I was like 'hey sis' and she was like 'yeah and you are?' I was like 'your sister'. She is really cool. We used to chill on set, offset, she would watch my scenes, I will watch hers. You know we just used to mess around, be silly, and just so humble. I have never met an artiste of her caliber that is so humble on the first day I met her."
On being single: "I am telling you…it's a Crinkum-Crankum situation I don't understand. No…the thing is, I think a lot of people are scared to talk to me because they think I am talking to so many people, but I am not taking to anyone, that's what's crazy about it. People are scared…not scared…but I don't know if they are intimidated or feel they are not meant to talk to me like I have 10 guys but I don't, honestly I don't"
On Lupita Nyong'o: "…she did the first season in Kenya and she played a similar character to Sophie. Not so much as vulgar as Sophie, but she was kind of similar to Sophie. So I have been getting a lot of comparisons."
On Team Lupita and Team Dencia over Bleaching: "I am team black empowerment. I am not on either team. I don't necessarily agree with bleaching but I don't necessarily agree with putting someone's hustle down. If that's how she's getting her bread, if that's how she's making her money, kudos to her. I am not going to put her down and say what she is doing is wrong because she is not the only person, she is not the first to person to sell bleaching cream, if she doesn't sell it, someone else will, so who are we to judge, it's not my place. I don't bleach and I don't think I will ever bleach. I am team dark skinned, but I am team empowerment, however you are getting your money, is however you are getting your money."
Watch the interview