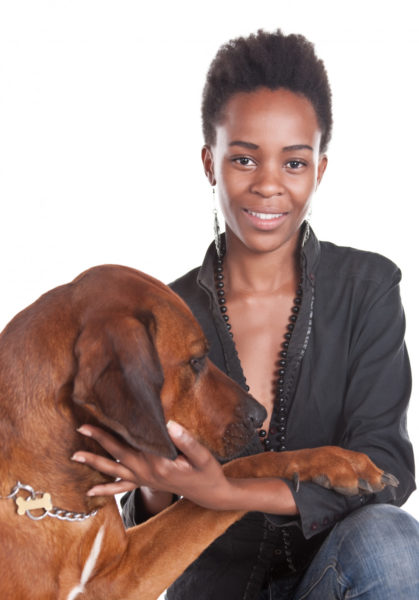 Last Sunday, I visited my father. When I arrived home, I noticed that the gate was not locked. As I was no stranger, I opened the gate and ushered myself in. I made a mental assessment of the cleanliness and well-being of the compound where I grew up. Almost immediately after my assessment of the house, I saw a lovely creature seated at the entrance to the main house. It was my dog – Billy the Queen. She walked up to me and gave me a welcome peculiar to dogs. She wagged her tail and prostrated to me. I rubbed her head and raised her forelegs in acknowledgement of her greetings. When I dropped her legs, she then moved in front of me and ushered me straight to the kitchen where my father was.
I greeted my father and asked him how he and the dog were faring. He said fine. After father and daughter discussion, when I was about leaving, the dog walked me to the gate. Before I shut the gate, I went down memory lane on how this awesome creature came into our lives and what I have learnt from this dog.
Billy was given to us, sometime in 2001, as a gift from my father's client who shared the same name with my younger brother. My father didn't want to accept the gift but he didn't know how to reject it either. On the fateful day of the dog's arrival, a 5-day old dog, my father left the house to avoid the owner of the dog. He told my mother not to accept the dog. When the dog came, my mother didn't know how to reject the cute thing. She accepted it. My father was not happy but he accepted the fact that the dog had come to stay.
Billy is a cross breed of Alsatian and Doberman. She has a beautiful brown and black body. I love her. I had no younger sister, so I adopted her as a sister.
Billy was very aggressive to strangers. She was a dog that could bark and bite. With family members and regular visitors to the house, she was very friendly. I remember one instance a carpenter came to my house. The dog didn't bark. My father was surprised because he didn't know the man. I told him that the carpenter had come on several occasions to work for us. Seeing him regularly made the dog see him as a part of the family. A boy mistakenly threw his ball into our compound. He didn't want to knock on the gate to retrieve his ball. He tried jumping the fence. Billy gave him the scare of his life.
Billy was a duty conscious dog. Even if he was eating the juiciest of bones, as soon as there was a knock on the gate, he would abandon the food and run (not walk) towards the gate. He would sniff around to determine if it was a stranger or not. Without seeing or hearing the person, Billy knew where the person that knocked belonged. If she didn't bark, we would know it was a house member. If she barked, we would know it was a stranger. The only time Billy barked for a house member was when my father was outside the gate. Billy knew the sound of his horn. As soon as my father horned, Billy would be restless. If you were in the kitchen, she would run in there, bark and run out to the gate, as a way of drawing your attention.
Billy didn't like to be caged. She wanted her freedom. If you chained her, she would bark until you released her. If you released her, she would not be destructive. She would sit quietly until duty or meal called. If she was tired of sitting, she would move around to ensure that there were no trespassers.
Billy taught herself how not to mess up the compound. She had a particular section of the house where she did her fecal business.
Billy did not like household fights. If there was an argument that led to shouting, Billy would run in and pace up and down to calm the situation. If she noticed that your voice was louder, she would scratch you a little as if to say "calm down". In most situations, the person would kick her and yell "get out". Billy never gave up until peace returned.
Billy liked human companionship. Our family house is a spacious bungalow. We liked to sit outside to take fresh air. Billy was the unsolicited companion that would rest by your side. It was fun seeing her head placed on your feet. She would sit quietly by your side. In moments like this, I would talk to her. She never talked back. She was the perfect listener. If I cajoled her into saying something, she would make "uh mh uh mh" sounds. She would struggle to talk just to please me. My sister, Ify, once asked me, "what will you do if Billy suddenly turns into a human being?" I told her that I would suddenly turn into a dog.
Billy was not a glutton. Whenever she was satisfied, she would walk away from the food. If I served her, I would yell, "my friend come and finish this food. Who would eat it?" If she was still hungry or not satisfied, she would be restless and walk around you to show her dissatisfaction. If she persisted and you still remained OBI AKPO (hardened mind), she would drink water and leave.
Sometime in 2004, I was at home with Ify. It was just the two of us. We didn't see the need to wake up early. We continued resting in our room. Billy waited patiently. We were not forth coming to open the door. Billy by-passed all other windows and came to our window, barking. She thought something bad had happened to us. We greeted her and she ran to the door. As soon as Ify opened the door, Billy almost hugged us. Her greeting was more than the usual prostration. It was more of a "Thank God you are safe". We compensated her with a royal breakfast. It surprised us that a dog could be very observant, sensitive and caring.
Billy never led you astray. If you followed her lead, she would lead you to who you were looking for. I didn't tell her I was looking for my dad, but she led me to him. If I had come home to stay for some days, she would not lead me. I wonder how she read minds.
I wish human beings behave like this dog. It would be refreshing to follow a human's lead and not fall into your own grave. It would be nice knowing that someone is happy that you are alive and well, not for any other reason. Wouldn't it be nice seeing people of integrity diligent in their duty, against all odds? The world would be a better place if people knew their boundaries and kept to them. It would be nice to grant people all forms of freedom and seeing them not abuse it. The world would really be a better place if we could learn from Billy the Queen.
Photo Credit: Dreamtime | Lucian Coman