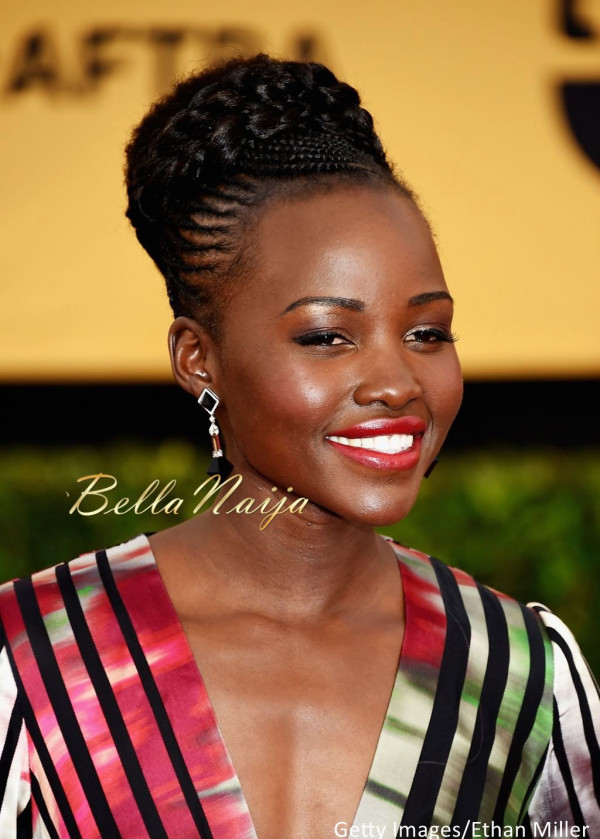 What a braided beauty!
It is without a doubt that Lupita Nyong'o stunned at the Screen Actors Guild Awards yesterday. Sunday 27th January 2015.
Even though she came dressed in a beautiful floral and striped Elie Saab gown, it was her crown braid and rouge lip that had our attention. She may not have had decades of experience in fashion and beauty, but she makes it look so easy.
Let's take a look at how you can get her look.
Makeup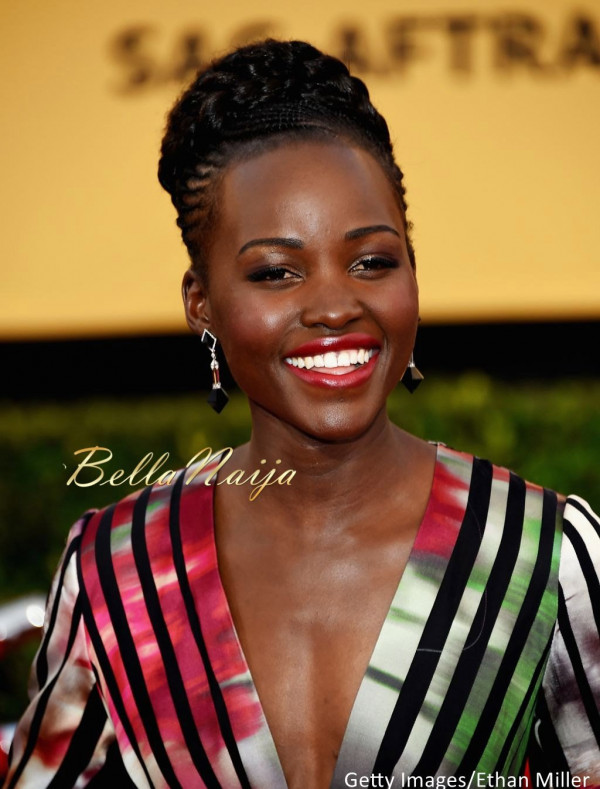 Lupita has never been one to shy away from bold colours – and with the bold red lip, luminous skin and elongated brows incorporated into her look at the SAG Awards, we know she is going to keep the great looks coming. Her makeup was done by makeup artist Nick Barose; who was also responsible for her Golden Globes Makeup Look (Click here if you missed it).
Nick went for a 40s glam inspired look with a modern, effortlessly chic edge. He also incorporated some inspiration from the movie "Gone with the Wind" for her elongated brows and red lip.
To get the look he used;
Face
• NEW Visionnaire [LR 2412 4% – Cx] Advanced Skin Corrector
• Visionnaire Yeux Advanced Eye Contour
• Teint Idole Ultra 24H Foundation in Suede 540
• Effacernes Waterproof Concealer in Dark Suede
• Translucence Mattifying Powder in Suede 500
• Blush Subtil in Plum Noir
• Armani Fluid Sheer in 10
Eyes
• Le Sourcil Pro Brow Pencil & Highlighter in Brun
• Artliner Liquid Liner in Noir
• Color Design Eye Shadow in Fashion Label and Colour Du Jour
• Le Stylo Waterproof Long Lasting Eye Liner in Golden Riviera
• Hypnôse Mascara in Black
Lips
• Kiehl's Scented Lip Balm #1 Cranberry
• Le Crayon Lip Contour in Garnet
• L'Absolu Rouge Lipcolor in Caprice
Here's more details on how to get the look according to PopSugar.com;
Nick stared off by using a four-step technique – he applied a moisturizing lip balm to smooth her lips, then applied the Lancôme Effacernes Waterproof Concealer and finished off the step with a beauty blender for a sheer appearance around her lips.
Next he applied the Lancôme lipstick in Rouge Caprice directly from the tube for more pop and used a lip brush for the corners of her lips; and finished the lip with the Lancôme Lip Crayon in Garnet on her cupids bow and outer corners.
Nick also exaggerated her brows with a dark brown brow pencil, a thin layer or eyeliner on her lids, the Lancôme Blush in Plum Noir on her cheeks and a little highlighter for a lit-up glow.
Speaking on her makeup look Nick said; "The lip is like the leading actress, the brow is the supporting role, the liquid eyeliner is the nominee, and the blush is the presenter," Barose explained. "It's about harmony. If everything is winning on the face, it's too much".
Hair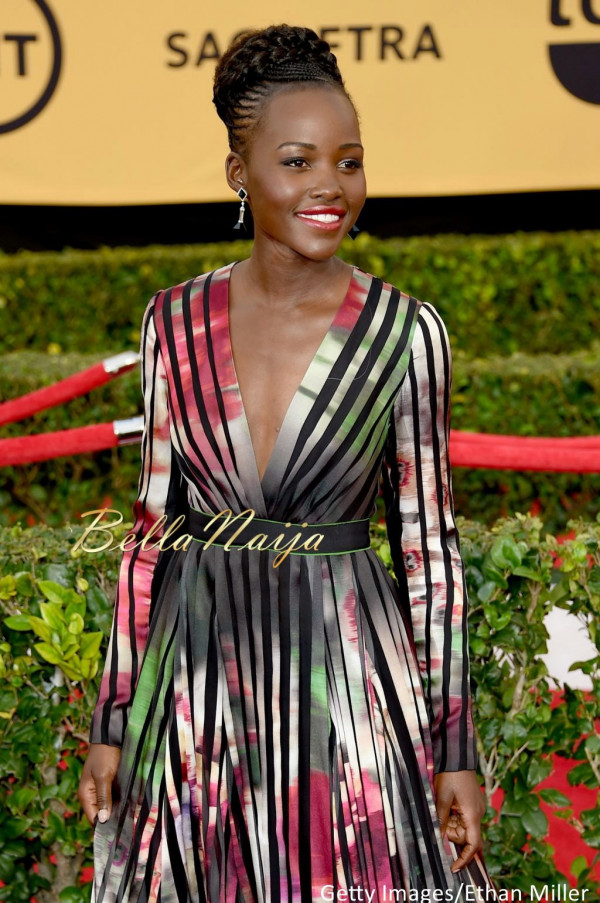 I won't be surprised if we see more women rocking braided buns this season after this look by Lupita. She rocked a beautiful crown braid which stared with cornrows in curved designs and then led to an afro puff surrounded with braids.
We love how regal she looked and it didn't take away from her makeup or dress.
***
So guys, what do you think about her look? Would you try it?
Photo Credit: Getty Images/Ethan Miller