A bride's letter to her parents uninviting them from her wedding has gone viral.
The bride, 23-year-old Alyssa Pearce, posted the letter last year on a social networking site, ahead of her wedding to her 28-year-old husband, Alex, Daily Mail reports. Since then, it has been shared thousands of times.
Here is the letter: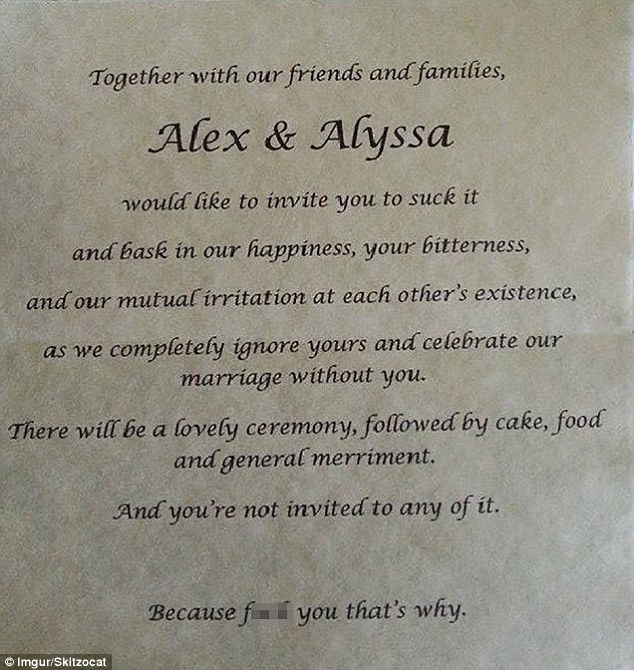 It reads:
Together with our friends and family, Alex and Alyssa, would like to invite you to suck it and bask in our happiness, your bitterness and our mutual irritation at each other's existence… As we completely ignore yours and celebrate our marriage without you.

There will be a lovely ceremony, followed by cake, food and general merriment.

And you're not invited to any of it. Because f*** you that's why.
Pearce, who is a PhD student, ran away from home at age 16, after a bad family fall-out due to a difficult relationship with her father. She hadn't had a relationship with them in 7 years, and was surprised to hear that they wanted to come to her wedding.
"It's been seven years since I ran away and I've reluctantly met up with them maybe half a dozen times," she said. She also stated that her parents never tried to speak with her directly, and that they would always send messages through her grandparents.

After months of considering whether to invite them, she "snapped."
"I went home and wrote my parents the de-invitation. I opened up a word document, found the nicest calligraphy font I could, loaded up the printer with some of the lovely parchment paper left over from the other invitations, and wrote,' she said.
I then found a nice matching envelope, addressed it with a fancy gold pen, and posted it. I mean, if you're going to send someone a memorable "stuff you", you may as well go all-out.
Writing and sending that letter made me feel so much better about all the stress I'd been under. Not only had I refused to allow myself to be bullied into something I didn't want, but I also took a stand. 
While it may have been childish and immature, it made me feel as if I'd taken back power from them," she said.
 Photo Credit:  Daily Mail/Joanne Marie Photography