With barely 24 hours left until the Abia State elections are re-conducted, many residents in Aba are thinking twice about coming out to vote, as caskets with threatening inscriptions have littered the streets for over two days.
According to Vanguard, the warnings inscribed state that if people fail to vote for an Ngwa governor, they will be killed.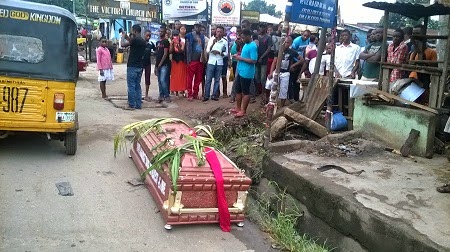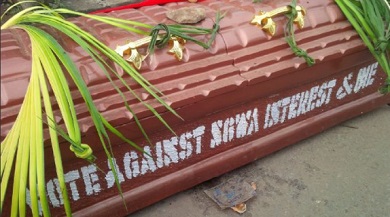 You will recall that INEC ruled that governorship election results in the state were inconclusive, hence the decision to re-conduct the elections.
Candidates of the  two major political parties involved in Saturday's elections, PDP's
Okezie Ikpeazu,
and APGA's
Alex Otti have denied responsibility for the coffins, and are blaming each other for the situation.
Otti, described it as "a despicable, shameful and barbaric act by desperate and frustrated politicians."
Ikpeazu said " such is the handiwork of the opposition who have shown their desperations in various ways since the beginning of the governorship contest."