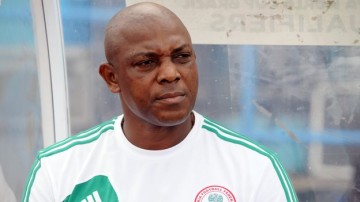 Soccer fans in Kaduna on Wednesday expressed disappointment with the re-appointment of Stephen Keshi as Head Coach of the Super Eagles by the Nigeria Football Association (NFA).
The coach was on Tuesday re-engaged for two years by the association after a prolonged re-negotiation of his contract and behind-the-scenes settlements to be finally concluded.
They told the News Agency of Nigeria (NAN) in Kaduna that his return was not acceptable as he failed to secure the country the ticket to the last Africa Cup of Nations staged in Equatorial Guinea.
John Fwah, a former Sports Editor of the defunct Kaduna-based New Nigerian Newspapers, said the decision by NFA was in bad taste as the performance of the coach was poor.
"I am not happy with his return. His performance was below expectation. The team needs a serious-minded coach that will improve their performance,'' he said.
Vincent Akinbanmi, a Kaduna-based sport journalist, also said the decision by NFA was wrong.
"When coaches perform badly the way Keshi did, the best option is to let the coach go.''
He said the usual practice was when you set a target and a coach failed to meet it, you allow the fellow to move on.
"I hope the decision will not further affect the backward slide of the national team in the World FIFA monthly ranking."
"Nigeria's ranking has gone down very well. We need a good coach that will propel us forward,'' noted Akinbanmi.
For James John, a trader, the return of Keshi as head coach "shows that the NFA has special interest in him''.
He said his performance with the team was not encouraging and ought to be replaced.
"I don't think the NFA made the right decision because when you look at his performance, it is below average."
"We need someone who will bring back joy and glory to the nation," John said.
"Football is the only game that brings Nigerians together irrespective of religion and tribe. Our Eagles since Keshi took over has been boring,'' John said.
He said the national team had always thrown away their chances of scoring goals during matches.
"Their matches are so disappointing that one begins to wonder if they train well ahead of matches."
"If we want to promote soccer, we should select a good coach that will promote discipline in the team."
"Players in the national team will need to be disciplined so that at competitions, they will realise that the game helps to promote unity in the country.''
Ahmed Sani, a sports fan, said the way forward would be to recruit an experienced foreign coach.
"The head coach, Keshi, should be sent on attachment to be groomed for the future assignments."
"His return is unfortunate as he will take things for granted,'' Sani said.