Hi BNers!
It's Wednesday and time for you to get the scoop on sales, discounts and bargain deals happening.
***
Get a 35% Discount off a Month Makeup/Gele Training at the Makeup Academy
Join the beauty and makeup industry; learn how to start a successful makeup business and more The Makeup Academy's 'One Month Flawless Makeup & Gele Training'.
With a reduced price from N85,000 to N50,000  you can enjoy a 35% discount and still get the best from experienced instructors who will guide and coach during the training.
At the end of the one-month training you stand to gain a pro makeup box filled with products discounted at an additional N50,000 directly from The Makeup Academy's US suppliers and sponsors.
There will also be a discounted portfolio shoot at the end of the training as well as lots of job referrals and more!
For more information call 09025518497 or add on BBM 2AD2799A.
---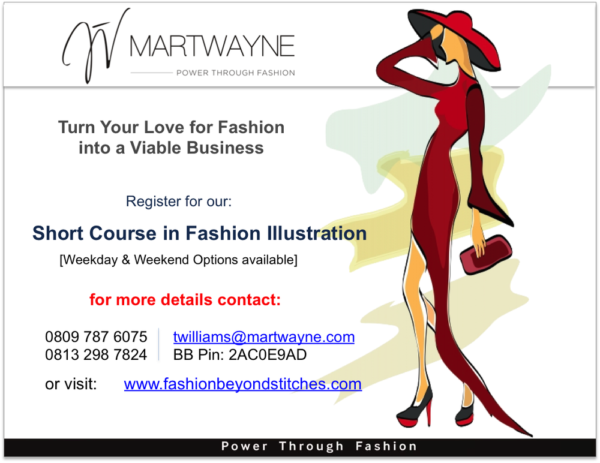 Get 12.5% off a Short Course in Fashion Illustration with Martwayne!
The Short Course in Fashion Illustration teaches how to draw and clothe a fashion figure from scratch!
The whole idea is to teach you how to communicate your design ideas on paper.  This is perfect for you if you are meeting with your customers and when developing a fashion portfolio.  It is suitable for beginners who have no idea how to draw and also for experienced illustrators.
Modules:
–  Principles of the Angular Figure & The Fully Fleshed Fashion Figure
–  Facial Features & Hair
–  Giving Life to Your Figure & Creating Movement
–  Basic Clothing Types, etc
The course is available in two options: The Weekend Option (Saturdays only) begins 2 May, 2015 for 8 weeks; and The Weekday Option (Wednesdays & Thursdays) for 4 weeks at 12 noon to 3pm for both options.
The course costs N40,000 but payment before the 29th of April, 2015 will get a discount of 12.5%, that's N5000 off! Fees are all inclusive of your drawing and writing materials, textbooks and your training certificate.
Account Details:
Name:  – Martwayne Dynamiques
Number: 101 411 8569
Bank: Zenith
For more information please call 08132987824 or add 2AC0E9AD on BBM. You can also email [email protected]
_________________________________________________________________________________
Sponsored Content