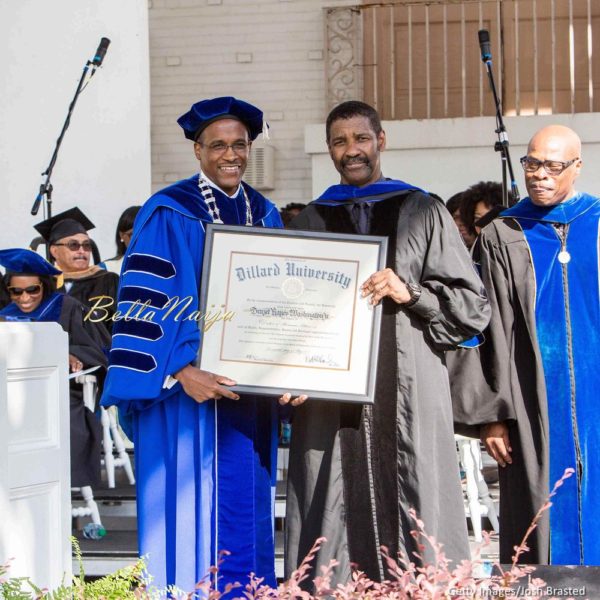 If you need a pick me up to get you through a bad day, this video right here is IT!
At the 2015 graduation ceremony of Dillard University, New Orleans, actor, Denzel Washington gave a stirring commencement speech.
There are a number of valuable nuggets of wisdom in his speech. We'll share a few of them below:
Put God First:  He went on to say "I've been protected. I've been directed.I've been corrected. I I've kept God in my life and it's kept me humble. I didn't always stick with him but he's always stuck with me; so stick with him."
Fail Big: Do what you feel passionate about. Take chances… professionally. Don't be afraid to fail. Don't be afraid to think outside the box. Don't be afraid to dream big. But remember, that dreams without goals are just dreams. And they ulitmately fuel disappointments. So have dreams, but have goals – life goals, yearly goals, monthly goals.
You'll Never See a U-Haul Behind a Hearse: I don't care how much money you make, you can't take it with you.  The Egyptians tried it… they got robbed. That's all they got. You can't take it with you. And it's not how much you have, it's what you do with what you have.
While You're on Your Knees in the Morning, Say Thank You:  Say thank you for wisdom, for grace, for understanding, for parents. Say thank you, in advance for what's already yours. True desire in the heart for anything good is God's proof to indicate that it's yours. And anything you want, good, you can have; so claim it. Work hard to get it. And when you get it, reach back pull someone else up. Each one, teach one. Don't just aspire to make a living. Aspire to make a difference!
BellaNaija strongly urges its readers to take these words close to their hearts.
Watch the video here:
Photo Credit: Getty Images/Josh Brasted