BellaNaija presents "Celebrating You! Class of 2015" We called for submissions of graduating students who had excelled in their course of study. We acknowledge the fact that everyone who has graduated this year is a winner. We, therefore, want to celebrate people who have gone over and above the norm. People who have gotten meritorious distinctions and awards from their institution of study. We hope that you are inspired and we look forward to receiving more entries.
Today's feature turns its spotlight on 21 year old Ifeoma Momah who was recently awarded a 1st class degree in Business Administration and International Logistics. Ifeoma told BellaNaija, that her mother raised her all by herself since she was 2 years old.  She described herself as "a very friendly person" who cares about others. She also goes on to say "I am a disciplined, goal oriented , focused and determined person."
It is therefore, not very surprising that this best graduating student, class of 2015 Business Department at the Okan University, Turkey is being celebrated for her academic excellence. Ifeoma is looking to continue with the spirit of excellence as she goes on to get her Masters degree in International Business and management.
Read and enjoy her story below:
***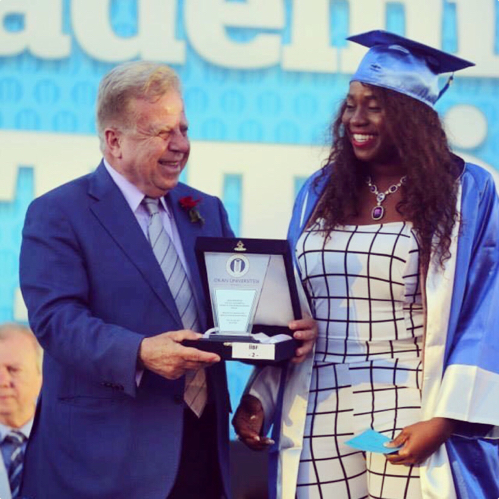 The Path to University
The weather was something else especially the Winter period, I dreaded this period . It was extremely cold. I would wear tights under my jeans,wear two pairs of jeans,so many layers of jackets, gloves and caps , apply a reasonable amount of "Rub" on my chest and feet yet I would still be freezing. This was when I really missed Nigeria.
The whole environment was so new to me. I remember going to class the first day. I got so many stares as there were very few black people in the whole school,there were just two black girls in the school and I was the only black girl in my class.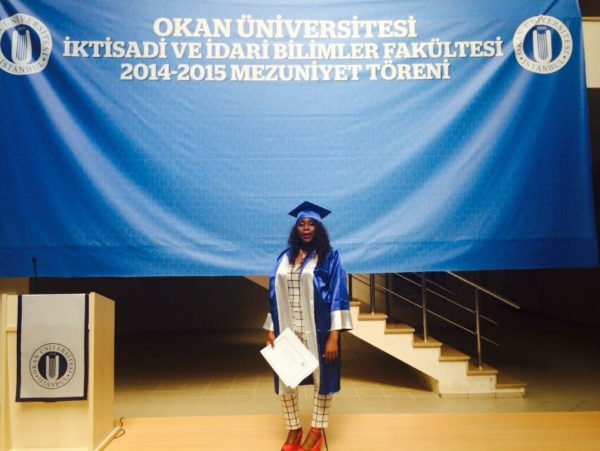 Language Barrier
Communicating with my classmates was very difficult as they could not speak English. It was a little bit awkward because whenever we tried to talk we used hand signals and just laughed. They were fascinated with my hair and the fact that I could speak English. It was more difficult in the dormitory because no one could speak English, not even my roommates. We used Google translate to communicate; sometimes it doesn't translate properly and you can't really express yourself. It was really frustrating. I kept saying to myself  "how am I going to survive like this"? How will I cope for 4 years? I started to wonder if I had made a mistake coming to Turkey.
Anyway I took the courses for the first semester and Turkish was one of them as it was compulsory. I was still trying to get used to the new environment and I ended up failing Turkish. I had to repeat it the following semester. Then,  I had an A.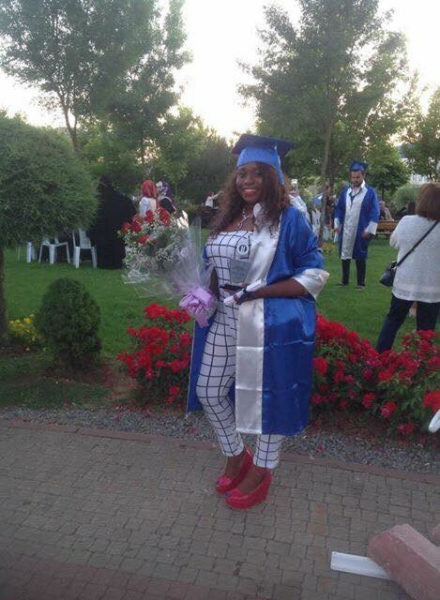 Determined to Get the 1st Class
I loved all the business courses most especially Financial Accounting , Corporate Finance, Managerial Economics, Supply Chain Management,International Trade,Entrepreneurship and so many other courses. I have always loved Business.
Everything was going on fine till my second year when I met statistics which gave me such a tough time. This was one of the most difficult courses for me. On a normal day I don't like Math. Statistics is a different type of Math…on an advanced level.
After all the crying, frustration and constant studying I finally passed with a B. By this time my GPA was already 3.9 out of 4. I really wanted to maintain my GPA as I was already on a first class and didn't want it to drop.
In my 3rd year, I went on an Erasmus exchange program to Spain. The Erasmus program is one in which your school has agreements with other schools in Europe and you can go to any one of them for a semester or two. The European Union gives you monthly allowance, you just have to pay for your flight. Despite being advised not to go, as it could pull down my grades. It was such an amazing experience as I met a lot of people and got to travel to Lisbon, Portugal.
You know that feeling when you are about to finish but there's so much pressure. It was my 4th year and I did not care how I looked or what I wore. I wanted to graduate with a high first class that was all that was on my mind. I was very obsessed with my GPA and by this time the obsession was just overwhelming because I was in my last year and I could not afford to make any mistake.
I met another really difficult course "Project Management in Business". I found this course a bit complicated and I was frustrated because this was the first semester of my last year and if I messed up my G.P.A would drop drastically. I studied non-stop. I ended up with a B in this course.
Right from when I started, I had always been on a first class and I tried my best to maintain it. I worked very hard because my mum is a single mum and she deprives herself to ensure I have the best. I had so many sleepless nights and attended all my classes.
One thing I had to give up was my social life. You would never find me outside unless I went grocery shopping. I never went partying or to anyone's home for parties . I also had no boyfriend as I could not juggle both and was not ready.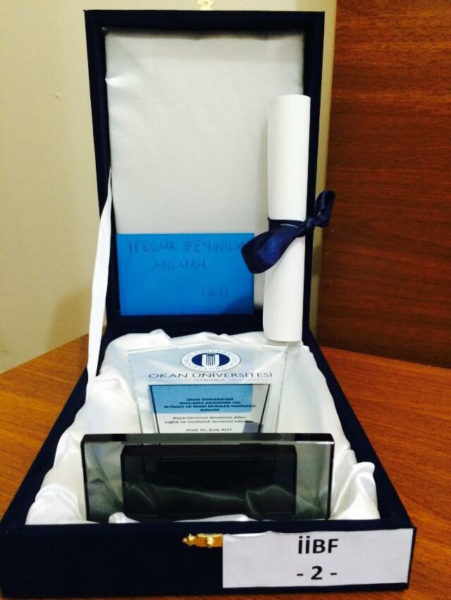 Success
God saw me through this particular period of my life. It was one of the toughest moments and very stressful too. I wasn't myself. As the end gradually approached, I was called by my Dean's secretary telling me I had to come to the Dean's office. I went and was given a certificate and congratulated for being on the Dean's list. I wasn't told I was the best in my Department. It was such a surprise on my Graduation day, not only was I the best in the whole Business Department (both English and Turkish) but I was the 2nd Best in the Faculty. I ended up graduating with 3.88 out of 4 as the Best graduating student in my department and the 2nd Overall Best in the Faculty.
I felt so honored because I didn't just do well in school but I ended up learning Turkish Language. Initially when I first came I couldn't speak it and I almost regretted coming to Turkey but God had better plans which I could not see.
Overall Lessons Learned
If you want something go for it, want it as much as you want to breathe. Be extremely cautious and careful about the people you allow into your life. Be very selective when it comes to friends and watch out for users and frenemies. The kind of people you surround yourself with will influence how far you will go in life. Your plans and desires should be written in your heart and every single thing you do has to work towards your goal including how you eat. Most importantly pray, pray without ceasing ! Do not underestimate the power of prayer.
The Holy Spirit really helped me. There were several times I saw exam questions in my dream and also times I was lead to exactly where to read. Never lose focus. Stay true to who you are, never change to please anyone. What people think of you is none of your business.
Do not forget it's your life, own it!
_________________________________________________________________________
If you want to be part of this inspiring and amazing feature or if you know someone who is part of the Class of 2015 who should be featured here, please send an email to features(at)bellanaija(dot)com. We look forward to reading from you and sharing your academic excellence.