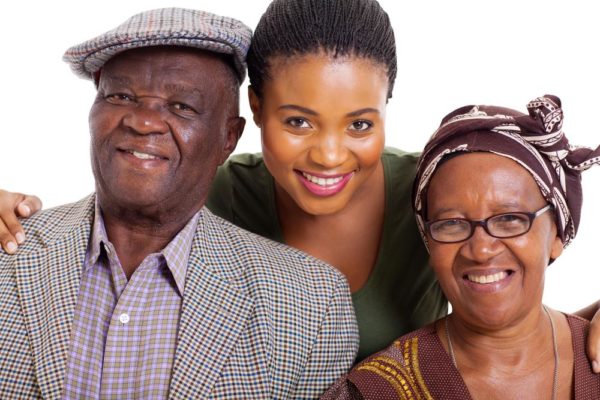 A few months ago, I met a Hispanic woman in her late 60s with early onset dementia. Care for her husband had been taken over by the Adult Protective Service; but since she was ineligible based on technicalities, she had to take care of herself. So, she was unable to drive to the store for groceries, unable to get to the bank for cash… essentially unable to do anything. Living in Houston without a car to drive requires a higher level of grace The woman was also on the verge of losing her house: she hadn't made payments in over 11 months and the bank was going to repossess. It was a dire situation and I was filled with trepidation for her.
"Where are her family members?"
That was my default Nigerian response to the idea of an elderly person who is helpless and alone.
Family association is an essential element of our existence as Nigerians. In fact, one of the wide spread reasons for starting a family is for the purpose of care in old age. As one of my friends put it, "The default retirement plan for the average Nigerian is to have children." It is believed that in order to not end up like the woman I described, they have to insure themselves by having children who will take care of them in their old age. "If I have 5 children, at least 1 of them will let me live with them when I'm old."
Error!
I wonder if proponents of this position have considered the possibility that none of the children will offer to take up this role. I wonder why more people haven't consider the role of assisted living facilities for old people. So, I decided to research why the option of a retirement home was not more readily available.
Putting our old people in a home is just not our thing.
The reason for this is pretty simple: we do not have the requisite socio-cultural infrastructure in place for assisted living for old-age pensioners. It is for this reason that we defer to the position that when we're old and frail, someone will take care of us. This has also gone on to foster the social stigma that surrounds what would ordinarily be a common-sense decision to admit oneself into a home.
In a news report by Leadership Newspaper: Dr. Anthony Abimeku Magaji, 87 said the idea of old peoples home is alien to Nigeria. "I will never accept my children taking me into an old peoples' home. Rather, I will stay and die in my house like my father and grandfather did because our culture demands that we stay in our homes no matter the condition,"
I really believe that culture is dynamic, and one of the most limiting factors of our growth and development as people is the rigidity of our mind set.
Is the thought of a care home really that abhorrent? For the purpose of this article, I ran a search on the old people's homes, or care facilities for the elderly and I found an interesting thread on a Nigerian web board, Nigerian Village Square. The person who posted the thread said he was away at the North Pole and wanted to find someone to care for his 76 year old mother. Here are a couple of responses people gave (I'll paste the relevant bits)
"I am not sure there are any "elder care homes" or "sheltered homes" or Nursing homes in Lagos However with all the unemployment in Nigeria, AV why not just hire people who can stay with your parents 24 /7 or take shifts. Hire Carers. Before this relative goes off to Univeristy get the person to look for people in the village, or around who will take care of your parents like their own and you just pay them.
In Nigeria there is always people looking for work, You will be helping someone else by giving them a job, you also will have rest of mind knowing your parents are being taken care of."[sic]
I spent the entire night reading up on care homes in Nigeria; and I was surprised to see that there are quite a number. Of course not all of them had updated websites, but it was good to see that they actually exist(ed). The costs range from 30,000 to 75,000 Naira per month for boarding. If there's no relative to take care of your grandma, you can always consider an alternative.
The point about finding a relative to take care of one's beloved aging parent is not without its ills. These relatives sometimes end up using your love for your old parents as a tool for siphoning money. You'll find yourself in a situation where they keep calling you to say, 'Baba fell down the stairs and needs to be taken to the hospital. Bring 200,000 Naira'
In a month, Baba would have fallen down enough to deplete your account of 1million Naira. The financial strain and drain will almost have you wishing one of those falls will take Baba to the Pearly Gates.
"U might have to wait till i set up one. U've just given me a very good business idea
The old people's home available at Yaba opposite Queens is not where u'll want to take ur parents to."[sic]
Yup! There's always someone thinking of a quick money scheme. But that's not the most interesting part of this person's comment. The bit about the old people's home in Yaba being in such a deplorable state that one would rather not take one's parents there just made me sad. Why don't we have a culture of maintenance and why do we not uphold the right to human dignity!?
"What are you doing in the North Pole! Surely you are not there for the rest of your life?! You are needed by your aged parents, take some time off, return to Lagos choose a reliable short term live in carer and make rapid plans to relocate your work to Lagos so you can assist in their care and spend the last few years with them. You will be blessed."
There's always someone who believes there's nothing that should supersede taking care of your parents. Yup… even if it means putting your life on hold. After all, your parents sacrificed so much for you. I usually counter that argument with: the parent CHOSE to have children. The child didn't have a say in the decision. Why should kids be emotionally blackmailed into taking care of them?
In a care facility, old people get to mingle with people of their age group. They have common interests and will have dedicated staff taking care of them. This, to me, beats having Grandma sit at home in your flat on the 15th floor – doing nothing but watching African Magic from when you leave for work till you get back.
I believe that every individual should make provision for their old age and a time when they're too sick to take care of themselves. I don't think people should be 'guilted' into looking after their parents or grandparents. Anything done more out of obligation than love seems rather empty. The thought that I'll live to 90 and then be a nuisance to my children fills me with dread!
Have a a beautiful week ahead. Remember, work hard while you're young and strong… so that nobody is calling around to find where to 'dump' you when you're 86! Be kind… because the chances of 'That wicked Baba' being pushed down the stairs are very high.
Live. Love. Laugh.
Toodles!
Photo Credit: Dreamstime | Michael Zhang