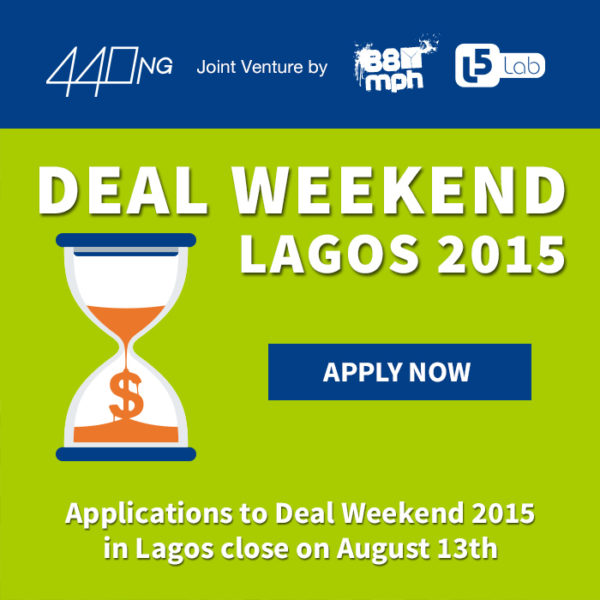 440 (the Nigeria-focused tech startup investment fund that is a JV between L5Lab and 88mph) has launched Deal Weekend Lagos, a 24 hour event on 4th – 5th September 2015 in which startups will compete to receive equity investment of between $100,000 and $250,000.
440 guarantees that at least one deal will be signed in the 24 hours and that startups will receive mentorship from respected investors in the ecosystem who have all built their own businesses and can give their networks, expertise and funding.
Startups can apply at www.440.ng until 13th August. Applicants will be notified if they have been accepted by 21st August 2015.
440 are seeking to fund strong teams with web-mobile companies that are revenue generating, have demonstrated that there is a market for their product and are now looking to scale rapidly.
Deal Weekend will include impressive investors who have themselves built successful businesses. So far we can confirm Kresten Buch of 88mph, Chika Nwobi of L5Lab, Elo Umeh of Twinpine Mobile, Bastian Gotter of iRoko and Olumide Soyombo of LeadPath. More will be confirmed soon.
__________________________________________________________________________________________________
Sponsored Content