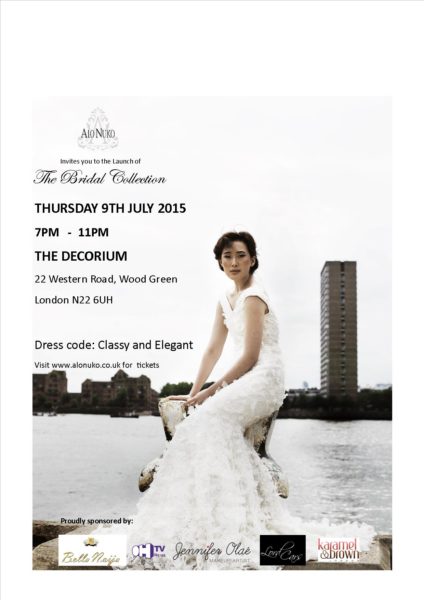 AloNuko is calling on all brides living in London to come and celebrate with them!
20-year-old fashion designer Gbemi Okunlola, also seen on BBC's 2011 Young Apprentice, started her career as London's youngest fashion designer at the age of 11 and now she is launching her new bridal collection: AloNuko.
The fashion designer will be giving 400 guests a first look at 15 hand-stitched bridal gowns in a catwalk fashion-style show at the launch of her brand new luxury bespoke collection.
"Setting up my own business from such an early age, was one of the most challenging things I've done so far, but the reward and satisfaction that comes from pursuing and nurturing your talent makes it worth it," said  Okunola, CEO, AloNuko
Date:  Thursday 9th July 2015
Time: 7 PM – 10 PM
Venue: The Decorium, North London, United Kingdom
Contact: For more info/general enquiries/ticket purchase, call 07534346700 | e-mail: [email protected] | Visit www.alonuko.co.uk
__________________________________________________________
BellaNaija is a media partner with AloNuko.