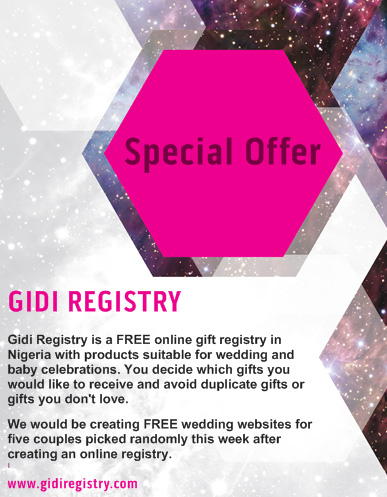 Gidi Registry is a FREE online gift registry in Nigeria by MarkoTech Advance Systems Ltd with products suitable for wedding and baby celebrations. You decide which gifts you would like to receive and avoid duplicate gifts or gifts you don't love.
All you have to do is:
Create your FREE gift registry at www.gidiregistry.com
Share your registry with your family & friends
Your guests purchase gifts from that registry (Gifts are removed from the registry after being purchased so no duplicates)
Depending on the guests order, it gets delivered to you or to them and they deliver it to you
We would pick FIVE couples randomly from gift registries created to build their websites.
We are always adding new products to our growing inventory. We also deliver to multiple states. Find out more on our website: www.gidiregistry.com. Also follow us on instagram: @gidiregistry.
_______________________________________________________________________________________________
Sponsored Content