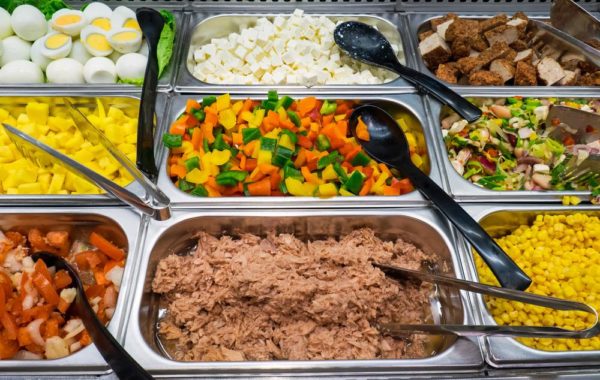 "Why is this line not moving nau?", "See how that one is taking everything, is she the only one here? No wonder she's on the big side", "So because I paid for it means I should just be eating anyhow? No now. That's not being civil", "Did they pay for me or I paid with my money? Abeg o. Me I no dey send anybody". Any of these sound familiar at all? These are the kinds of comments (and even much more) you hear at buffets.
Some weeks ago, I had lunch at a nice place. A really nice place and errr, let's say it wasn't cheap. It was more of a day I chose to give myself a treat because it was much deserved. So I thought to myself, since this place is so big, they'll surely have a lot of variety which I can choose from and I'm sure I'll have healthy options too as per, team FitF
. So I walked in, and they didn't disappoint me, but my taste buds and stomach did. They began to crave the unhealthy "tasty" foods and when I saw the options I had to choose from, I began to wonder when last I had a cheat meal (as per, unhealthy food) so I chose to indulge. And when I say indulge, not the mogbomoya type o.
And then, I began to try out the dishes made available. Something here, something there, a little of this and a little of that. It wasn't long before I noticed a family that had walked in. It wasn't me pocknosing o, the thing is they just sat 2 tables away from me and they were in my view. It was a family of four; one teenage looking boy, one 'lekpa' light skinned sister that looked like she was in her early 20's (I may be wrong), and their parents. So they also went about their business, and I could see them having their own share of indulgence.
But in the midst of it all, I particularly paid more interest to the girl because she was "odd". I'll explain. First off, the sister kept carrying her nose (and mouth, and eyes) up each time someone passed with their plates heaped with sumptuous servings and I wondered why. Well, it all came together for me when I saw what her servings were about. While everyone else went for pounded yam, pepper soup, spaghetti, chips, burgers, rice, chicken, fish, etc, she went for fruits. Initially, I had thought she was just starting off et al but nada, this was her own meal. My Miss-Healthy-Lifestyle went for grapes, and then, bananas, an apple, a bowl of fruit salad, etc and the icing on the cake? Green tea! I was dazed. I couldn't believe this was happening in Nigeria! It was too good (or maybe not as good) to be true. In my head I was asking "Is this how you intend to waste the money being paid? Abi your own payment is half of mine?"
But yet, I still envied her. At that point, I began to tell my stomach "you betrayed me. I could have done what she did too" but my mind quickly cut me short saying, "hell no. You know you were hungry right?" and then, I just ended the blame game. Anyway, back to Miss-Healthy-Lifestyle and her family. What struck me about the situation was the irony of it all. In that same scenario, I saw her dad and mum take all sorts of foods up till the point that when they got up to leave, they could hardly even walk and their stomachs bulged like children who had kwashiorkor. At that point, I didn't really feel like any money was wasted anymore because her parents had eaten all and even more of what she should or could have eaten.
Usually, there are always those 3 sets of people always present at buffets. The ones who eat too little, the ones that eat what their stomachs can take and the ones that eat beyond what they can take and constantly, I see quite of number of them being judgmental towards those that do not fall in their category. I remember having breakfast at a hotel I had stayed at when I attended a wedding some months ago. Breakfast happened to be a buffet and thankfully, it was complimentary.
So I got into the dining hall just about the same time as Mr-It's-Just-Breakfast. He went over and picked a sunny side up egg, 2 slices of bread and took a cup of coffee. That was it. But this other guy, Mr-I'm-Entitled-To-My-Complimentary-Robust-Breakfast walked in and had a bit of everything (maybe larger than a bit).
When he was done, he went over to the sausages corner and apparently, there was no sausage left. He brought the issue to the attention of the attendant and the person apologized about the situation and went on to explain to him that they wouldn't be making any more since breakfast was almost up. Hmmm. My people! You needed to have seen the way this guy flared up. He started shouting about it and creating a scene. I began to wonder if he was on a sausage-based medication and he was going to die if he didn't have that sausage. But even more importantly, I was worried about what my "Mr-It's-Just-Breakfast" was probably going to do or say. His facial expressions weren't looking good at all. Anyway, at that point, I picked my phones from my table and left before correct kasala go burst.
Oh well! For the love of food. The one that baffles me even more are buffets at weddings. These days, you don't even want to approach the service table. You see people quarreling and arguing over the line cause one person is taking too much time or too much portions when others have not gotten. In short, people go as far as forgetting the essence of why they were there (for the couple) and make it about "the food sef. It wasn't enough. It wasn't sweet. It was small", etc. as though they paid for it.
At the end of the day, let's think about it, it's just food o! It's just food. After eating heavily, the toilet would still call out your name and you won't have the food in your system forever. Worst of, you just might have severed relationships or possible relationships (I'm using the word "relationship" loosely) because of your conduct at that buffet.
So please my dear Bellanaijarians, what is the basis for judging someone else at a buffet? Is there anything as too much cause they tell you "eat as much as you can"; or is there such a thing as too little which amounts to "wastage" of the money paid? Do you think there are any slight chances that we could probably exercise a certain level of caution when it comes to matters of food especially buffets or it's totally not possible? Please share your thoughts below and while you're at it, please also share what category you belong to among the three and why you choose to act as such. It'll be interesting to find out.
Photo Credit: Dreamstime | Elxeneize