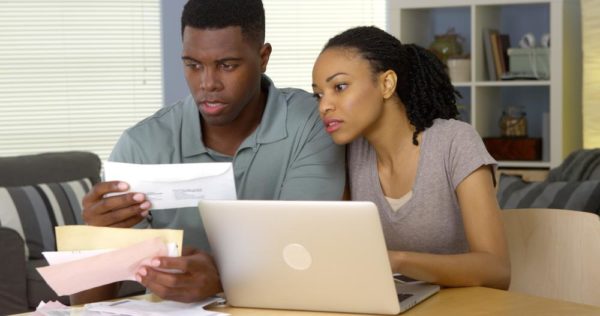 I visited my friend Marilyn recently and while I was there, she received a package from a popular online vendor. She hurriedly discharged the dispatch rider, removed the packaging and promptly buried the wrapper deep within the garbage bag. Her reason was that she did not want her husband to return home to meet any residue of a new purchase in the house. She had recently harassed and begged him for money to buy some supposed necessaries including money to make her hair, on the pretext that she was very (very) broke. Now, this allegedly insolvent madam was making online purchases running into thousands of Naira.
She reminded me of Isanah, my colleague to whom I had sold a lovely party dress some months before. After paying me, she immediately removed the tag and said she was going to hide the dress underneath the clothes in her cupboard for a while before she decides to wear it. If her husband asks, she would claim to have had it for months prior to its appearance and afterall, by that time, it would be sufficiently reeking of house-odour. Hmmmn…
These might not be strange to a lot of people. Both ladies were intending to outsmart their husbands as to their financial capacities, claiming not to have cash at hand so as to obtain money from their spouses. The philosophy behind this in a spousal relationship is 'my money is my money while his money is our money'. This simply posits that it is preferable to spend 'his' money on just about anything conceivable but then pretend to be broke and refuse to spend 'her' own money except on things that benefit her personally. She can, thereafter, choose to spend her own money in his absence as she pleases. Some women take it an extra mile by refusing to buy household items which are for the entire family's benefit or even worse, decline to buy their baby's necessaries because they believe such expenditure is solely meant for the husband's income. Her own money is assigned to personal needs, clothes, make-up, hair and such other stuff.
Women usually have different reasons why they choose to be stingy with their money and even information on how such money is spent. Some of it arise from the patriarchal belief that a man is the head of the home and as such should be responsible for buying the essentials not just for his wife but also the children. The wife is the helpmeet who is only to extend financial help at irregular intervals and at her own discretion. Today's economy is however not favourably inclined to this system and in a dual-income household, both parties are required to pitch in to ensure the smooth running of the home. Issues arise when one party the husband is not as financially prudent as hoped or is living above their incomes and in a bid to streamline same, the wife may resort to hiding earnings and expenditure so she can have a semblance of financial independence.
As much as it is wise and prudent to have personal and private income as a wife and mother, it is also advisable in the interest of a smooth running marriage to be somewhat open with finances. The idea of hiding from a spouse to make purchases gives the impression of dishonesty. It is important to reach an acceptable compromise which promotes spousal unity as well as financial freedom to expend resources in a liberal and balanced manner.
Photo Credit: Dreamstime | Rocketclips, Inc.