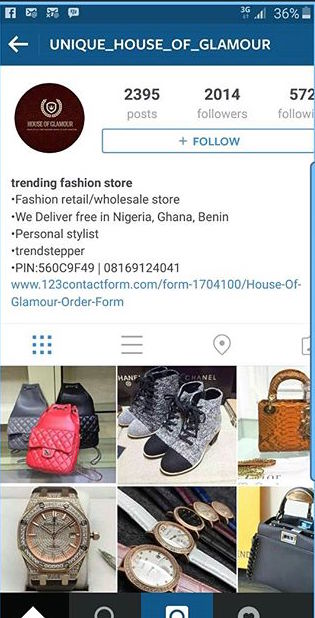 My cousin is getting married in a few weeks. As I love weddings, she has been keeping me updated with wedding plans. She is not a regular online shopper but she had seen a pair of sparkly shoes she liked on the page of an Instagram vendor.
Who is an instagram vendor?
Well, several enterprising entrepreneurs (and a few scammers) sell their goods via Instagram. They typically display photos of what is available for sale, include an email address and/or phone number (for calls and WhatsApp) where they can be contacted and buyers pay into their bank accounts. With the high cost of rent, power and other accompanying business costs, Instagram has helped lots of small businesses and entrepreneurs reach their clientele.
In many cases, these transactions work well with minimal fuss.
Back to my cousin, this past weekend, she messaged saying the shoes had not been delivered yet despite promises from the vendor and full payment on her part.
How the Scammer got Nabbed
Coincidentally, I was scrolling through my insta feed and saw a series of posts by @nhn_couture. She was "exposing" an Instagram Shopping scammer. It was the same person my cousin had bought from!
You can see a selection of the screenshots below;
In summary,
He had approached her to post a flyer about his business on her page, she declined but decided to support him by purchasing items worth over N90,000 from him for her daughter.
She paid into the specified account
The items never arrived
Instead, he blocked her on Instagram
She put her investigative hat on and managed to find out his real name (he used someone else's bank account to receive payment)
Since then, he has been pleading with her, coming up with all sorts of excuses and stories
The Begging Texts
Unfortunately, most victims will not get their money back. Hopefully this will help prevent others from falling into the trap of these thieves.