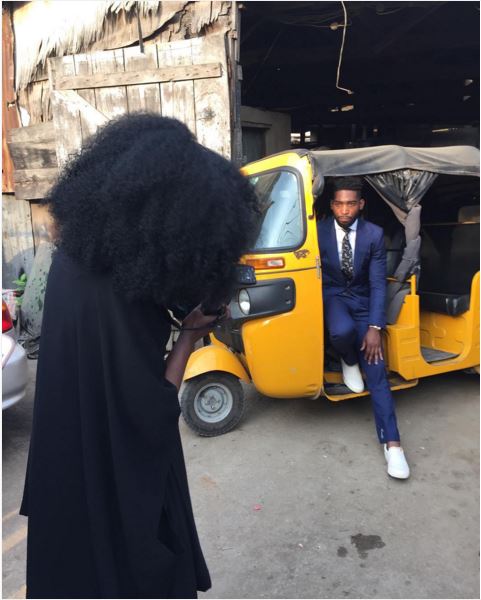 I was just minding my business (well, not exactly) when I started going through someone's Instagram page.  The person had pictures of herself and Nigerian international act Tinie Tempah. It was then I realized that he was in Abuja. My Abuja! And I heard no word of it. I quickly ran to his page to see what he was up to while in the city, and to say I was disappointed would be putting it mildly.
Tinie Tempah decided to further prove the West's African-Jungle-Safari stereotype right with the kinds of pictures he posted, instead of at least showing another side of Nigeria (or Africa as he puts it) that they've never seen or heard of.
Tinie Tempah must have travelled out of Abuja's metropolis to get all the pictures he posted. Maybe to some remote village in Niger state or Nasarawa State. The pictures showed women hawking and carrying things on their heads, while the rest were taken in brown soiled villages with bare footed children playing football. A perfect set up for all those Aid for Africa campaigns.
In other shots he had children filed behind him; in another one he was photographed addressing a village council and guess what he captioned it? "I roll with the chiefs back in Africa"
So, my question to Tinie is: Didn't you see any Instagram worthy thing about Abuja? (besides the two armed police guards you snapped with) Why did you decide to ignore the good things about Nigeria and instead saw the need to reinforce what the West assumes of Nigeria and Africa as a vast land filled with nothing but thatch houses and barefooted hungry children. You could have at least taken a photo of your hotel room so your 600k + followers don't assume you slept in an open field or in a cave with Lions and Tigers crying at night.
Maybe I find this disturbing because it is coming from a Nigerian. Karrueche Tran was here in Abuja and she not only Instagrammed the orphanage and IDP camps she visited, but also shared images of her partying and posing in front of the Abuja Hilton. She gave her millions of followers a true idea of what life is like down here. A co-existence of the rich, not so rich and the poor – where development and underdevelopment both interface.
That was what I expected of Tinie.
That would have been the one good thing that you'd have done for your "motherland" as you aptly described it on your Instagram.
Photo Credit: Instagram/Tiniegram