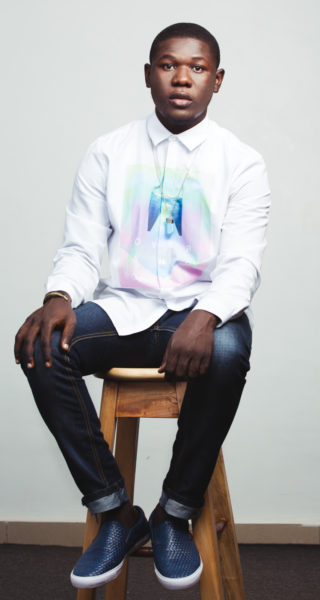 Welcome to my world!
My name is Richard Akuson. My friends call me Richie and the more notorious ones – RiRi (even though I literally have nothing on Rihanna). I am 6-ft tall and probably the darkest person in every gathering. I used to mind, but now I don't. It has become inconsequential to my being.
I'm in my 5th year studying for a Law degree and will be turning 22 on July 26th. And honestly? I'm truly apprehensive about that. Generally because I'd imagined that at 22: I'd have probably conquered the global fashion industry and most probably intimately dined with Karl Lagerfeld and Anna Wintour after my CFDA award win or the MET Gala – not because they're the coolest persons on earth – but simply because I'd have gotten that much important.
But alas, I'll be 22 in a matter of months, and really, the closest I've come to that is an exclusive interview with Karrueche Tran. See why time is of the essence and getting older is a lot harder for me than for most people I know?
I was born and brought up in Nasarawa State. I'm the second of 3 boys, my mum – an educator and my dad a public servant. My earliest meet with fashion would most definitely be those – ThisDay Style and Leadership's Le Vogue magazines that were complimentary to my dad's newspapers. With them I felt completely at home – and completely understood. I could finally tell what I wanted and who I wanted to be; an authority in fashion. They were escapism of sorts, until I could finally lay hands on Vogue (courtesy my good friend Ade Bakare at some point) and its likes.
Although I'm yet to win my CFDA award (or any award for that matter) or have that all-important dinner with Anna and Karl, 2016 has started-off on a properly good note for me. Add a new full-time job at BellaNaija to my periodic writing commitments at Marie Claire South Africa, Cosmopolitan Nigeria and Haute Fashion Africa, which in my opinion are all leading-up to that global domination.
So, until that dinner or award win, I'll keep you updated with all of my life's happenings: from my journey through self discovery, pursuit of happiness to global fashion domination
**
Dear Diary,
I have a confession to make.
I love the things of the world and I'm sick and tired of hiding and apologizing for that. Somehow that's supposed to make me vain, shallow, etcetera. But I'm done acting as though I don't care for the things that my eyes, body and soul crave for: those shiny – super expensive things that make my heart beat faster, and my breath ceases at the sight of them.
In part, the want for real luxury makes me want to do and be better, just so I can afford that one-of-a-kind red sole Louboutin or that Chopard wrist watch.
My desire hasn't changed at all from back when I was only an impressionable young boy, flipping through the pages of magazines and wanting all of it.
Some of those childhood dreams have always included owning a home in New York – a luxury apartment by all means in the heart of Manhattan, a suite in The Ritz London and something nice and cute in Prague – just because of the way it rolls off my tongue; and just maybe – something with the view of the sea in the new Lagos. I want tons and tons of limited edition designer items, proper couture and a lifestyle befitting of a modern day aristocrat.
Or an heir.
But yes, I'll definitely have some sort of limitless credit card that can get me the best yacht experience and a good first class flight experience must be a given. I'm not sure I want to own any private jet or yacht. That'll make it all too easy and boring. I want to still be able to do all those things that'll remind me of days like this, when I'm busy typing with a sore hand and sleepy eyes, after typing a ridiculously long Jurisprudence essay.
Talking about school. I hate school. I hated it since before I realized that I really did. But then again, I guess you can't amount to a lot without it. Well, maybe you do, maybe you don't. I just can't take that chance.
But if I was some super-brainy tech wiz, I wouldn't have bothered going to school at all – maybe the foundationals, but nothing beyond that. Maybe I'd have just stayed home and developed a frigging mind blowing tech app, that would have fetched me millions of $$ by now.
But let's ride back to reality. I'm still here sharing these "stupid" thoughts, with total strangers who are most likely judging me already. "Shit, who d** fuck does he think he is?" – which I doubt I can really answer with convincing certainty myself (well, isn't that the point of this whole journal – for self discovery?)
I just know that I want so much. Too much maybe. And somehow the little that I've done to further my get-rich-right scheme is probably the years that I've spent in school studying for a professional degree and being able to put words to paper.
I know, they aren't enough. But everyday that I want, and I desire something, I get better at something new. Or just the same old things. Working tirelessly on reaching that goal.
Maybe I've spent too much of my growing up years watching movies or living in a bubble called dreams. But what's a man without dreams?